Greek Chicken Bites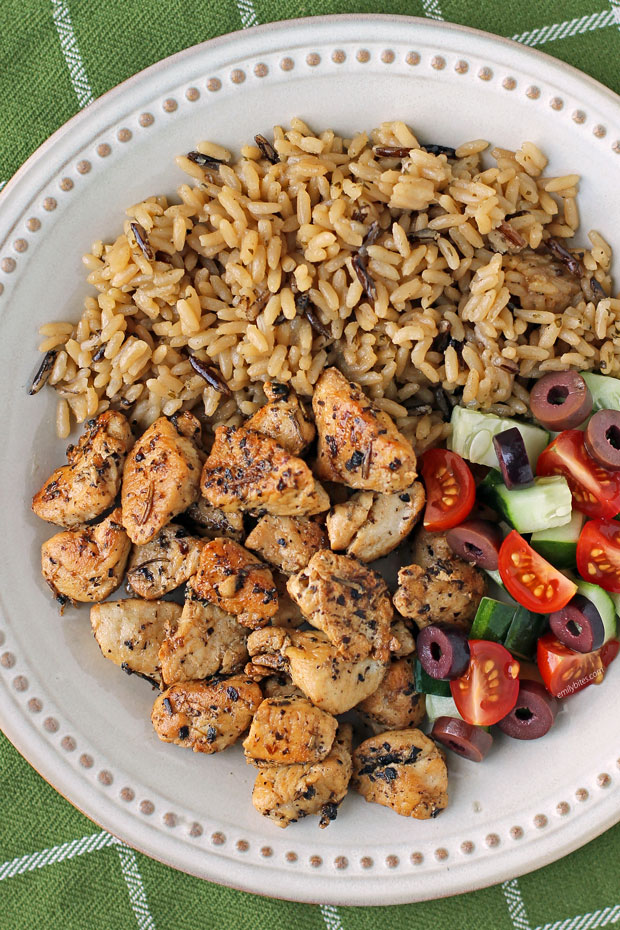 These easy Greek Chicken Bites come together in a snap for a perfect weeknight meal or lunch prep starter. Eat 'em plain for a low-carb main dish, make a rice or quinoa bowl with veggies and Greek dressing, put them on a salad with some Feta cheese, wrap them in a pita with some tzatziki sauce (I have a great tzatziki recipe here). However you serve them, you'll find these Greek chicken bites are super versatile and delicious! My Blackened Chicken Bites are one of the recipes I make most frequently, and once I saw what a success they were with readers as well, I thought I should share more flavors of my chicken-bites-in-a-skillet! These Greek ones are full of herb-y goodness and brown up perfectly in the pan. I can't wait to see and hear about the creative ways you choose to serve them, so definitely let me know in the comments, or tag me in a photo on Instagram!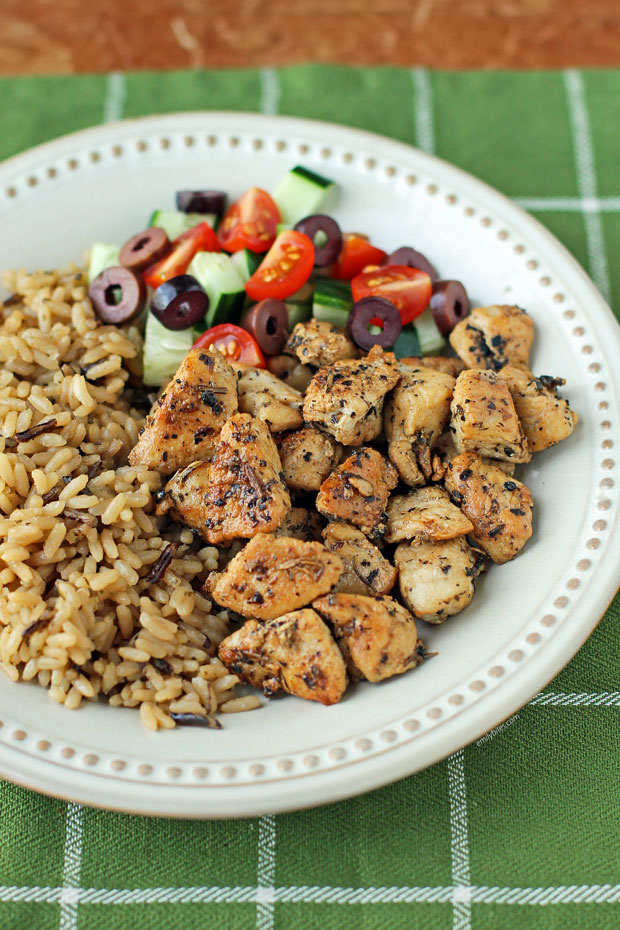 When I weighed my finished Greek Chicken Bites they were almost 13 ounces total. I decided to call it 4 servings of 3 ounces each (which would be 12 ounces) because it's simpler, but just an FYI that your servings may be slightly bigger that 3 ounces. With that said, each filling 3(ish) ounce serving of Chicken is just 168 calories, 1 gram of carbs, or 1 WW Point! To view your current WW Points for this recipe and track it in the WW app or site, click here!
Looking for more tasty, lightened up, Greek-inspired recipes? Check out my Greek Turkey Burgers with Tzatziki Sauce, Spinach and Chicken Phyllo Bake, Open-Faced Greek Steak Sandwiches, Crustless Spinach and Feta Quiche, One-Pot Mediterranean Chicken and Orzo, Greek Chicken Quinoa Salad, Greek Chicken Tacos, Mediterranean Topped Grilled Chicken, Greek Layer Dip, Hummus and Feta Omelet, Greek Orzo Pasta Salad, and so many more in the Greek category of my recipe index!
Greek Chicken Bites
These easy Greek Chicken Bites are versatile and flavorful - perfect for salads, wraps, and more!
Ingredients
1

tablespoon

olive oil

½

teaspoon

dried basil

½

teaspoon

dried oregano

½

teaspoon

dried rosemary

½

teaspoon

minced garlic

¼

teaspoon

salt

1/8

teaspoon

black pepper

1

lb

raw boneless skinless chicken breasts

,

cut into small bite-sized pieces
Instructions
Add the oil to a large saute pan or skillet and bring over med-high heat. Once the oil is hot, add the basil, oregano, rosemary, garlic, salt and pepper to the oil and stir into the oil. Cook for 30-60 seconds until fragrant. Add the chicken pieces to the pan and stir to coat in the oil and herbs. Cook, stirring occasionally (not frequently, because you want to give it time to get a little golden brown on the bottom before flipping), for 4-6 minutes until the chicken is cooked through. Remove from heat and serve.
Notes
To view your current WW Points for this recipe and track it in the WW app or site, click here!
WW Points per (3 ounce) serving: 1 (Points calculated using the recipe builder on weightwatchers.com)
Nutrition Information per (3 ounce) serving:
168 calories, 1 g carbs, 0 g sugars, 6 g fat, 1 g saturated fat, 26 g protein, 0 g fiber (from myfitnesspal.com)
MYWW SMARTPOINTS PER (3 ounce) SERVING: (SP calculated using the recipe builder on weightwatchers.com)
Green: 3 SmartPoints/ Blue: 1 SmartPoints/ Purple: 1 SmartPoints
Weight Watchers Points Plus:
4 per (3 ounce) serving (PP calculated using a Weight Watchers PointsPlus calculator and the nutrition info below)