Blackened Chicken Bites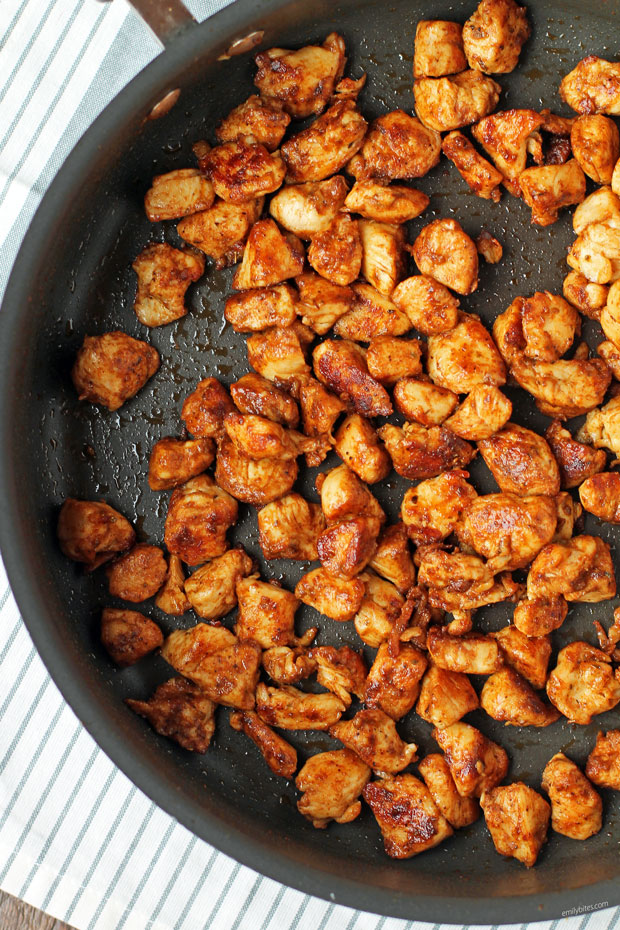 These Blackened Chicken Bites are one of my family's favorite quick and easy weeknight dinners. I make them all the time and usually serve them with a veggie of some sort (often green beans or broccoli) and a side of rice (chicken flavored rice-a-roni is my daughter's preference). I love to cook new recipes, but having a few go-to meals in my back pocket that I know I can throw together quickly and please everyone is a lifesaver! Spicy blackened chicken has always been a favorite of mine, but even my two-year-old likes Blackened Chicken Bites. One of my favorite WW-friendly fast food meals is the blackened chicken tenders from Popeye's, so whether I'm in for the night or out on-the-go, Cajun chicken is the way to my heart (and stomach). This dish is so full of flavor, and a serving of these Blackened Chicken Bites is just 176 calories, 2 grams of carbs, or 3 Green, 1 Blue or 1 Purple WW SmartPoints! To view your WW PersonalPoints for this recipe and track it in the WW app or site, click here!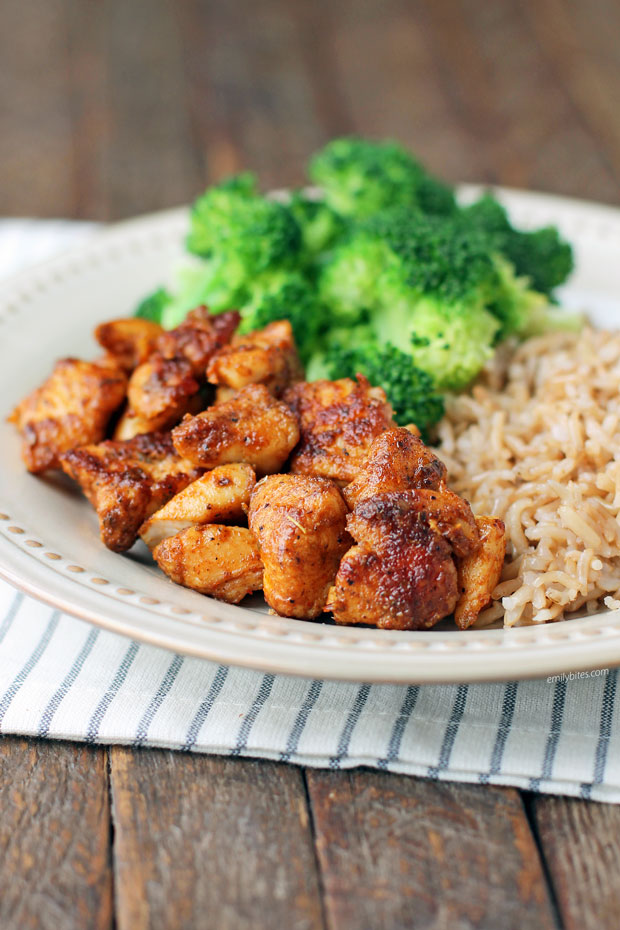 Don't be intimidated by making your own Cajun seasoning, it will only take you a couple minutes to measure out a few spices, and chances are you have most of them (if not all) in your cupboard already! I love to add flour as well because it helps the chicken get a bit of a crispy "crust" around the edges when cooked that I'm completely obsessed with. I also have a great tip for cutting up chicken. If you don't have a pair of kitchen shears, get one! Whenever I trim the fat off meat or cut up chicken breasts into strips or chunks for a recipes, I always use kitchen shears. It just goes so much faster than using a knife (for me, at least).
I weighed the Blackened Chicken Bites after cooking to determine the serving size, and they weighed a little over 18 ounces total. I wrote the recipe as 6 servings of 3 ounces each, but I figured this information might be helpful in case you want to split the servings differently.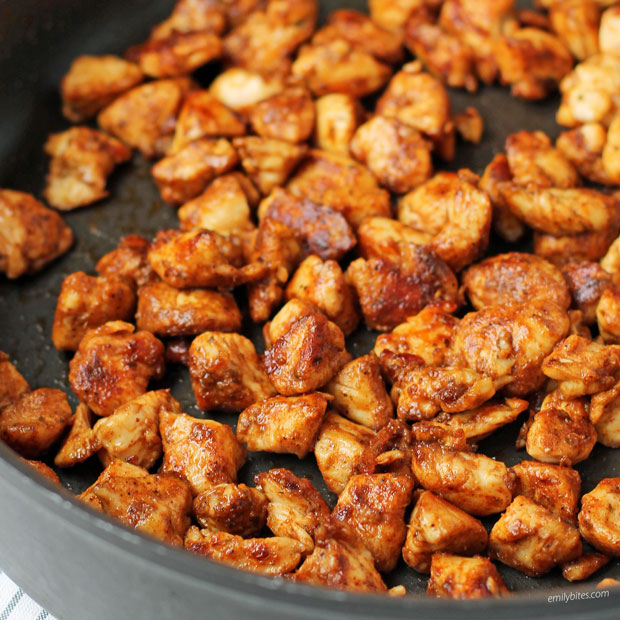 Looking for more tasty, lightened up comfort food recipes? Check out my One-Pot Buffalo Chicken Mac & Cheese, Swedish Turkey Meatballs, Chicken and Dumplings Casserole, One-Pot Creamy Garlic Chicken Pasta, Chicken Divan, Bubble Up Cheesy Chicken and Broccoli Bake, Stuffed Turkey Bundles with Gravy, One-Pot Dirty Spicy Rice with Chicken and Sausage, Crispy Cheddar Chicken with Cream Sauce, Chicken Pot Pasta, Beef Enchilada Pasta Skillet, Meat and Potatoes Bake, Rustic Sausage and Potatoes Skillet, Beef Stroganoff, Beefy American Goulash, and so many more in the Comfort Food category of my recipe index!
Blackened Chicken Bites
These flavorful Blackened Chicken Bites are one of my family's favorite quick and easy dinners!
Ingredients
1

tablespoon

all purpose flour

1 ½

teaspoons

paprika

1

teaspoon

garlic powder

1

teaspoon

chili powder

¾

teaspoon

dried oregano

½

teaspoon

ground thyme

½

teaspoon

onion powder

½

teaspoon

salt

½

teaspoon

black pepper

¼

teaspoon

ground cayenne pepper

1 ½

lbs

raw boneless skinless chicken breasts

,

cut into small bite-sized pieces

1 ½

tablespoons

olive oil
Instructions
Combine the flour, paprika, garlic powder, chili powder, oregano, thyme, onion powder, salt, black pepper and cayenne in a small dish and stir to combine into a Cajun spice mix. Place the cut up chicken in a zip-seal plastic bag and add the spice mix. Seal the bag and shake/massage the contents until the chicken pieces are coated with the spices.

Add the oil to a large saute pan/walled skillet and bring over med-high heat. Once the oil is hot, add the chicken pieces (you don't want to overcrowd the pan, so depending on the size of your skillet you may want to work in two batches instead of one) and stir to break them up and coat them in the oil. Cook the chicken for 8-10 minutes, stirring every couple minutes (you don't want to stir super frequently because the chicken needs time to brown and get a "crust" on each side). Once the chicken is cooked through and browned on the outside, remove from heat and serve.
Notes
To view your WW PersonalPoints for this recipe and track it in the WW app or site, click here!
Nutrition Information per (3 ounce) serving:
176 calories, 2 g carbs, 0 g sugars, 7 g fat, 1 g saturated fat, 26 g protein, 1 g fiber (from myfitnesspal.com)
MYWW SMARTPOINTS PER (3 ounce) SERVING: (SP calculated using the recipe builder on weightwatchers.com)
Green: 3 SmartPoints/ Blue: 1 SmartPoints/ Purple: 1 SmartPoints
Weight Watchers Points Plus:
4 per (3 ounce) serving (PP calculated using a Weight Watchers PointsPlus calculator and the nutrition info below)