Chicken Tamale Bake
This easy Chicken Tamale Bake is spicy, savory, a little sweet, and oh, so delicious. I should probably admit that I've never had a traditional tamale. I have no idea if this recipe mimics authentic Latin American tamale flavors. What I do know is that it tastes amazing, and that's all that really matters, right? I love the combination of lightly sweet corn cake with a bit of heat from the chiles, cayenne pepper and enchilada sauce. Add hearty chicken and melted cheese and we've got a hit on our hands! This Chicken Tamale Bake is a family favorite, and with the corn cake smothered in enchilada sauce and covered with chicken and cheese, it's easy to see why. Plus, a serving of this dish has just 270 calories or 8 WW Freestyle SmartPoints! To view your WW PersonalPoints for this recipe and track it in the WW app or site, click here!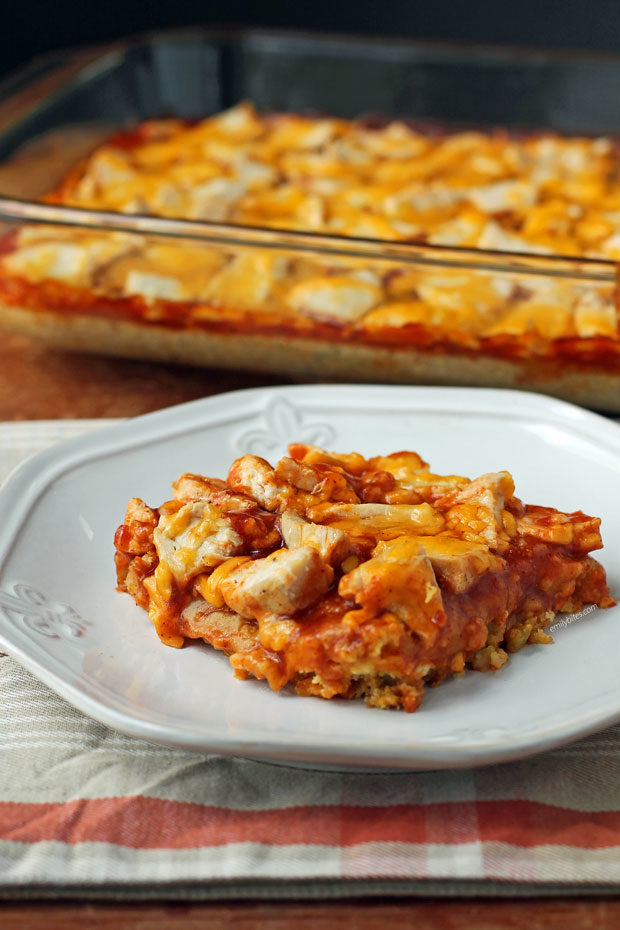 "What's in a name? That which we call a rose by any other name would smell as sweet." It turns out that not all my Facebook fans would agree with Juliet! I've heard that some people shun any recipe using the term "casserole," so I wasn't sure whether I should use it for this dish. To me, a casserole is just any combination of ingredients layered or mixed together, usually baked in a 9×13 baking dish. What's not to love?
I decided to ask my Facebook readers. Though the majority were casserole lovers, several people mentioned that the word has a negative connotation. The dislike is apparently related to cream of (chicken/mushroom/etc) soups. Since you won't find any of those in this Chicken Tamale Bake, I decided to call it a "bake." That way casserole lovers and haters alike will try it! A special shout out to all you Minnesota readers who suggested I call is a "hotdish." I've never heard that term before! However you'd like to refer to this Chicken Tamale Bake, I know it will not disappoint. You may even want to call it a casserole. Try it. It may just change your mind about them!
Looking for more tasty, lightened up casserole recipes? Check out my Bubble Up Cheesy Chicken and Broccoli Bake, Meat and Potatoes Bake, Cheesy Buffalo Chicken Chickpea Bake, Cottage Pie, Bubble Up Pizza Casserole, Chicken Divan, Bubble Up Chili Cheese Dog Casserole, Spinach and Chicken Phyllo Bake, One-Pot Cincinnati Chili Spaghetti Bake, Chili Cornbread Bake, Bubble Up BBQ Chicken and Beans Bake, Cheesy Buffalo Chicken Potato Bake, Layered Chicken Enchilada Bake, Teriyaki Chicken and Rice Casserole, Eggplant Parmesan Casserole, Bubble Up Chicken Pot Pie Casserole, Chicken Parmesan Quinoa Bake, Bubble Up Enchilada Casserole, Chicken Cordon Bleu Pasta Bake, and many more in the Casseroles section of my recipe index!
Chicken Tamale Bake
This easy Chicken Tamale Bake is spicy, savory, a little sweet, and oh, so delicious!
Ingredients
4

oz

50% reduced fat sharp cheddar cheese

,

shredded (I use Cabot)

1/3

cup

skim milk

1

large egg

,

lightly beaten

1

teaspoon

ground cumin

1/8

teaspoon

ground cayenne pepper

1

(14.75 oz) can of cream-style corn

1

(8.5 oz) box of corn muffin mix

1

(4 oz) can diced green chiles, drained

1

(10 oz) can enchilada sauce

10

oz

cooked (chopped or shredded) boneless skinless chicken breast
Instructions
Preheat oven to 400 degrees. Lightly mist a 9 x 13 baking dish with cooking spray and set aside.

In a large bowl, mix together 1 ounce of the cheese, the milk, egg, cumin, pepper, corn, muffin mix and green chiles in a bowl until combined. Pour the mixture into the prepared baking dish and bake for 20 minutes until the layer is set (an inserted toothpick should come out clean).

Using a fork, liberally poke holes all over the surface of the corn cake layer. Pour the enchilada sauce over the top and spread across the surface of the corn cake. Sprinkle the chicken evenly across the top and follow with the remaining ¾ cup shredded cheese. Return the dish to the oven and bake for another 15 minutes. Allow to cool for 5 minutes before cutting into 8 servings.
Notes
To view your WW PersonalPoints for this recipe and track it in the WW app or site, click here!
Nutrition Information:
270 calories, 32 g carbs, 9 g sugars, 8 g fat, 4 g saturated fat, 19 g protein, 1 g fiber (from myfitnesspal.com)
MyWW SmartPoints per (1/8th of the recipe) serving: (SP calculated using the recipe builder on weightwatchers.com)
Green: 9 SmartPoints/ Blue: 8 SmartPoints/ Purple: 8 SmartPoints
Weight Watchers Points Plus:

7 per serving (P+ calculated using the recipe builder on weightwatchers.com)
very slightly adapted from Cooking Light