Buffalo Deviled Eggs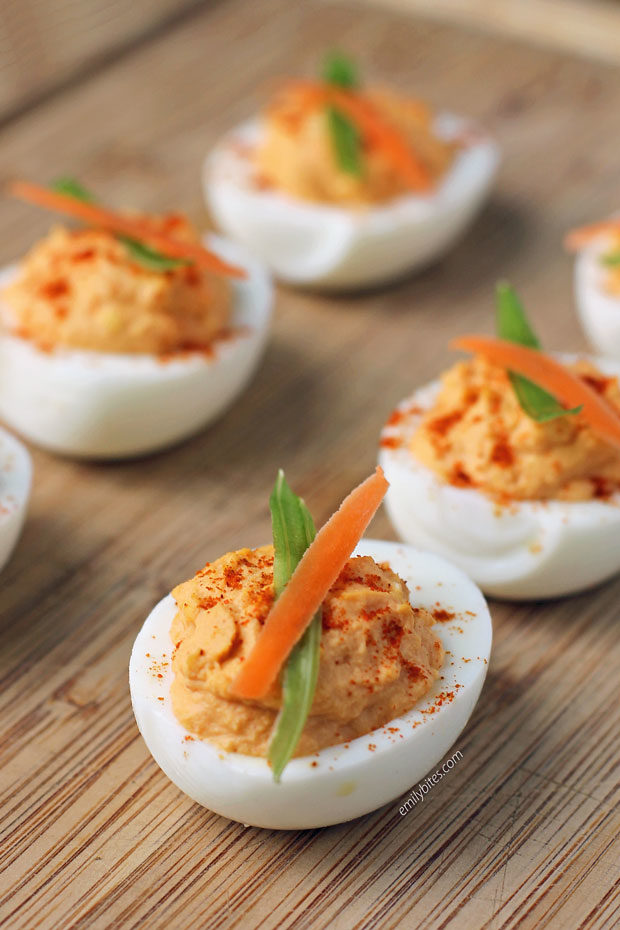 Maybe it's the Buffalonian in me, but these Buffalo Deviled Eggs are my favorite deviled eggs that I've ever eaten. I love wing sauce and blue cheese dressing, but wow, they're incredible in deviled eggs. I know all the blue cheese haters are going to ask, so yes, you can use ranch dressing. Just know that as a Buffalo native, it pains me to agree to that!
I see fun twists on deviled eggs on a lot of hip restaurant menus these days, so with Easter coming I thought I'd try a variation of my own. If you have a surplus of hard-boiled eggs after the holiday next weekend, you need to try this. These Buffalo Deviled Eggs have just the right amount of spice from the wing sauce and paprika, and the filling is rich and creamy with a tang from the egg yolks and blue cheese dressing. I garnished mine with strips of celery and carrot (a Buffalo wing's partners in crime), but you can leave yours bare if you like. Each of these Buffalo Deviled Eggs has just 48 calories with ZERO carbs or 1 Green, 0 Blue or 0 Purple WW SmartPoints , making them a healthy, low carb snack you'll love. To view your WW PersonalPoints for this recipe and track it in the WW app or site, click here!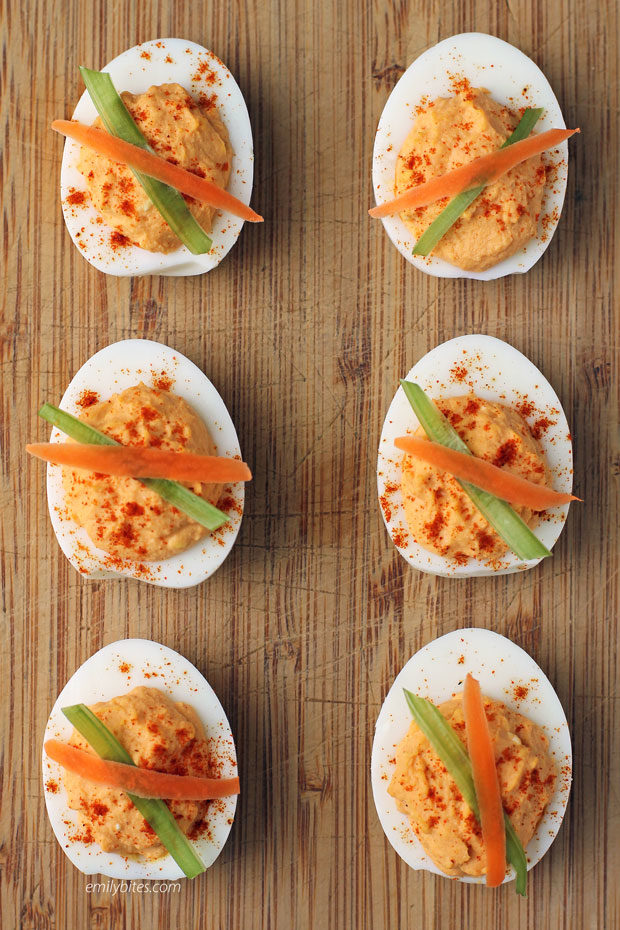 The recipe below outlines my own tried-and-true method of hard-boiling eggs, but if you have a preferred method, feel free to use your own. On my stove, this way gives me perfect yellow hard cooked centers at 12 minutes resting, but I left a range since everyone's stoves are slightly different. If you want to hard-boil the whole dozen eggs, you can always use half for these Buffalo Deviled Eggs and the other half for my Mom's Easy Egg Salad or classic Deviled Eggs recipes!
Looking for more tasty, lightened up recipes full of spicy Buffalo wing flavor? Check out my Buffalo Chicken Dip, Buffalo Cauliflower Wings, Buffalo Chicken Braid, Cheesy Buffalo Chicken Chickpea Bake, Buffalo Chicken Stuffed Sweet Potatoes, Buffalo Chicken Tacos, Cheesy Buffalo Chicken Potato Bake, Buffalo Chicken Soup, Buffalo Chicken Pasta Salad, Buffalo Chicken Taquitos, Buffalo Chicken Lasagna Roll-Ups, Buffalo Chicken Enchiladas, Slow Cooker Buffalo Chicken, Buffalo Wing Hummus, Buffalo Chicken Mac and Cheese Muffins, and more in the Buffalo Flavor section of my recipe index!
Buffalo Deviled Eggs
These Buffalo Deviled Eggs are a healthy, low carb snack bursting with spicy, creamy Buffalo flavor!
Ingredients
6

raw large eggs

2

tablespoons

Buffalo wing sauce

,

I used Frank's Red Hot Wing Sauce

2

tablespoons

blue cheese dressing

¼

teaspoon

Paprika

Optional: strips of celery and carrot

,

I shaved them off using a vegetable peeler
Instructions
To hard boil the eggs, place the raw eggs at the bottom of a large pot. Pour water in the pot until the water is 1-2 inches over the top of the eggs. Place the pot on the stovetop uncovered and turn the burner to high heat. Bring the water in the pot to a boil. When the water comes to a full boil, cover the pot with a lid and turn off the heat to the burner. Leave the pot on the burner, covered, for 11-13 minutes.

While the eggs sit in the covered pot, fill a mixing bowl ¾ way with ice water. When the time is up on the eggs, use a slotted spoon to remove them from the pot and transfer them to the bowl of ice water to stop them from cooking. Leave them in the bowl of ice water for a few minutes until fully cold.

Peel the eggs under cold running water (I've found it's much easier). Slice the eggs in half lengthwise and scoop the yolks out into a mixing bowl. Use a fork to mash the yolks as much as you can. I usually add a little splash of water to the mashed egg yolks and mash again to get them smooth. Add the wing sauce and blue cheese dressing and stir together until well combined and smooth. Spoon or pipe this filling back into the hollows of the egg whites. Sprinkle paprika over the tops of the eggs and if using, top with the celery and carrot garnish.
Notes
To view your WW PersonalPoints for this recipe and track it in the WW app or site, click here!
Nutrition Information per piece:
48 calories, 0 g carbs, 0 g sugar, 4 g fat, 1 g saturated fat, 3 g protein, 0 g fiber (from myfitnesspal.com)
MyWW SmartPoints per (1 piece) serving:(SP calculated using the recipe builder on weightwatchers.com)
Green: 1 SmartPoints/ Blue: 0 SmartPoints/ Purple: 0 SmartPoints
Weight Watchers Points Plus:
1 per piece (PP calculated using a Weight Watchers PointsPlus calculator and the nutrition information below)