Baked Cauliflower Mac and Cheese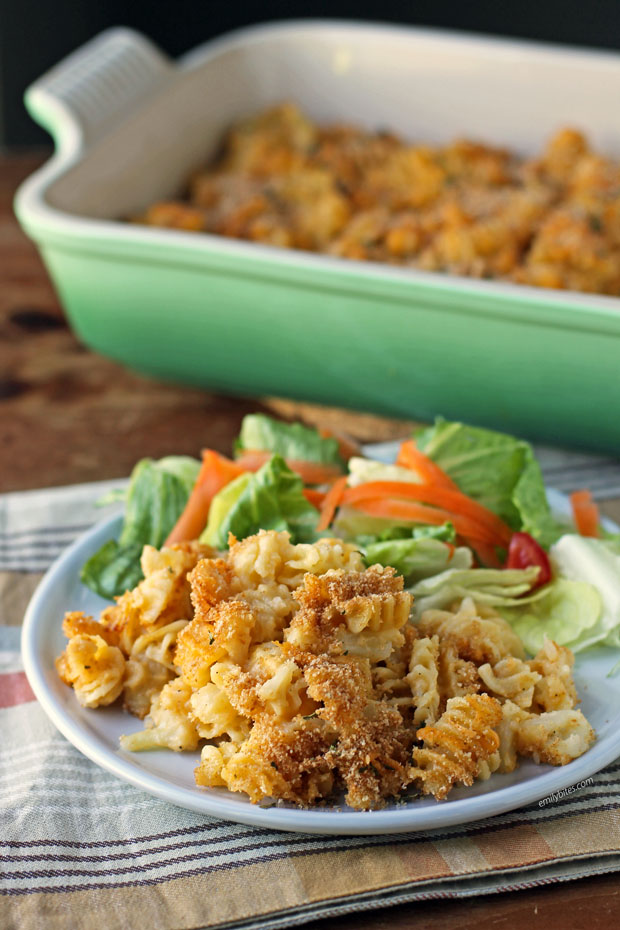 This Baked Cauliflower Mac and Cheese is so good that no one will guess it's lightened up! My husband and my sister both loved it and I'm honestly not sure I would have noticed there was cauliflower in there if I hadn't already known. I actually used cauliflower in two ways in this recipe, it's pureed in the sauce and also tossed in with the pasta. When I thought about making cauliflower mac and cheese, I knew I wanted to include it both ways. I found an awesome cauliflower cream sauce recipe from Life as a Strawberry and went from there! The pureed cauliflower makes the sauce thick and rich and it tastes so good mixed with the sharp cheddar. This Baked Cauliflower Mac and Cheese is a great way to add some vegetables to your meal while enjoying the comfort food you crave. Plus, a 1 ¼ cup serving is just 265 calories or 7 WW Points! To view your current WW Points for this recipe and track it in the WW app or site, click here!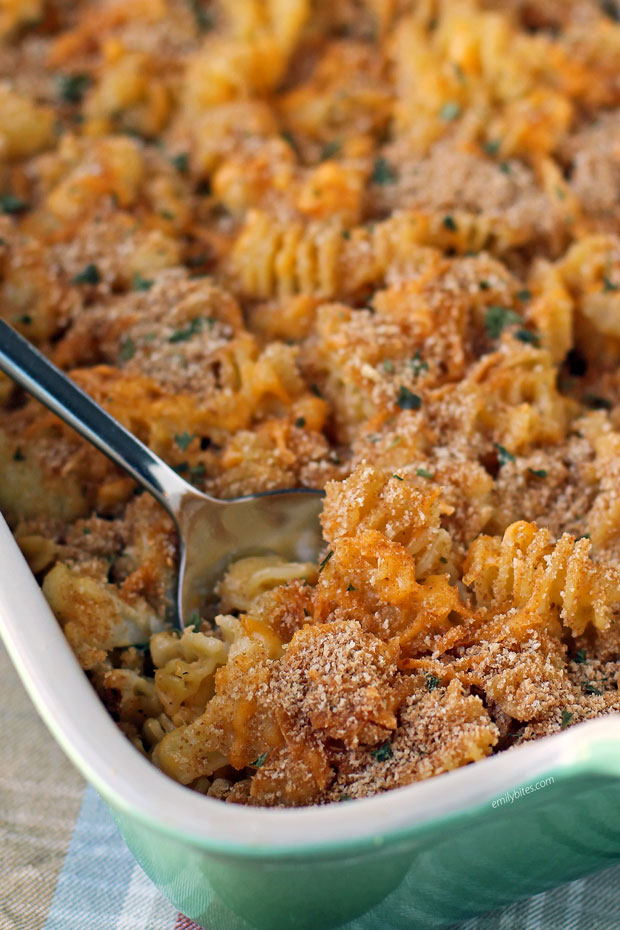 While I love a creamy stovetop mac and cheese (like my One-Pot Buffalo Chicken Mac and Cheese), I also really enjoy the firmer, less saucy texture of a baked mac and cheese. My husband prefers his mac and cheese "drier" so baking it is right up his alley. Plus, topping it with toasty breadcrumbs is always a plus! I will admit, this recipe does dirty a few more pots and pans than my one-pot varieties, but in my opinion (and my family's) it was worth it. We'll definitely be making this baked cauliflower mac and cheese regularly!
Looking for more lightened up comfort food pasta recipes like this Baked Cauliflower Mac and Cheese? Check out my One-Pot Cheesy Chili Mac, One-Pot Creamy Tomato Pasta with Chicken and Spinach, One-Pot Turkey and Veggie Spaghetti, One-Pot Creamy Garlic Chicken Pasta, One-Pot Creamy Chicken Piccata Pasta, One-Pot Barbecue Chicken Mac and Cheese, Pasta with Chickpeas, Beef Enchilada Pasta Skillet, Chicken Pot Pasta, Sausage Ricotta Pasta, Italian Wedding Pasta Skillet, Beefy American Goulash, Beef Stroganoff, Slow Cooker Kickin' Chicken Pasta, Sausage Tortellini Skillet, Cheesy Taco Pasta, Creamy Stovetop Mac and Cheese and more in the Pasta section of my recipe index!
Baked Cauliflower Mac and Cheese
This Baked Cauliflower Mac and Cheese uses cauliflower two ways, but you'd never know it!
Ingredients
1

large head of cauliflower

1

cup

vegetable broth

¼

teaspoon

salt

½

cup

water

,

divided

7

oz

50% reduced fat sharp cheddar cheese

,

shredded, divided (I use Cabot)

¼

teaspoon

black pepper

1/8

teaspoon

cayenne pepper

8

oz

dry wheat pasta

,

medium sized shape (elbows, radiatore, rotini, medium shells, etc)

¼

cup

dried plain breadcrumbs

1

teaspoon

dried parsley

¼

teaspoon

garlic powder
Instructions
Chop the cauliflower into florets and discard the unused stem area. Divide the florets in half (I weighed my florets and had about 28 oz, so I divided them into two 14 oz piles).

Place half the cauliflower florets into a medium saucepan and add the vegetable broth and salt. Cover and cook over med-high for 10 minutes. Stir the cauliflower and re-cover. Cook over medium for another 10 minutes. Keep covered and turn off heat. Allow to sit for about 5-10 more minutes.

While you wait, salt a big pot of water and bring it to a boil. Add the remaining cauliflower florets and the pasta and cook for 7-9 minutes (you want the pasta just under al dente). Drain in a colander and set aside.

When step two is complete, transfer the cauliflower/broth mixture to a blender and add ¼ cup of water. Blend until you have a smooth puree. Return to the pot over low heat and add an additional ¼ cup of water, 6 ounces of the shredded cheese, the black pepper and the cayenne pepper. Stir until the cheese is melted and everything is smooth and well combined. Remove from heat.

Preheat the oven to 375 and lightly mist a 9x13 casserole dish with cooking spray.

Combine the drained pasta and cauliflower with the cauliflower cheese sauce and stir together until coated. You can add a bit more water to the sauce if needed. Transfer the mixture to the casserole dish and spread in an even layer. Sprinkle the remaining ounce of shredded cheese over the top.

Place the breadcrumbs in a dry skillet and bring over medium heat. When the bottoms begin to brown, stir and continue cooking and stirring until the crumbs are golden. Remove from heat and stir in the dried parsley and garlic powder. Sprinkle the breadcrumb mixture over the top of the casserole. Bake for 20-25 minutes and serve.
Notes
To view your current WW Points for this recipe and track it in the WW app or site, click here!
WW Points per (1 & 1/3 cup) serving: 7 (Points calculated using the recipe builder on weightwatchers.com)
Nutrition Information per (1 & 1/3 cup) serving:
265 calories, 39 g carbs, 5 g sugars, 7 g fat, 4 g saturated fat, 17 g protein, 8 g fiber (from myfitnesspal.com)
MYWW SMARTPOINTS PER (1 & 1/4 cup) SERVING: (SP calculated using the recipe builder on weightwatchers.com)
Green: 7 SmartPoints/ Blue: 7 SmartPoints/ Purple: 3 SmartPoints
Weight Watchers Points Plus:
7 per (1 & 1/4 cup) serving (PP calculated using a Weight Watchers PointsPlus calculator and the nutrition info below)
Adapted from Life As a Strawberry