Crispy Chicken Parmesan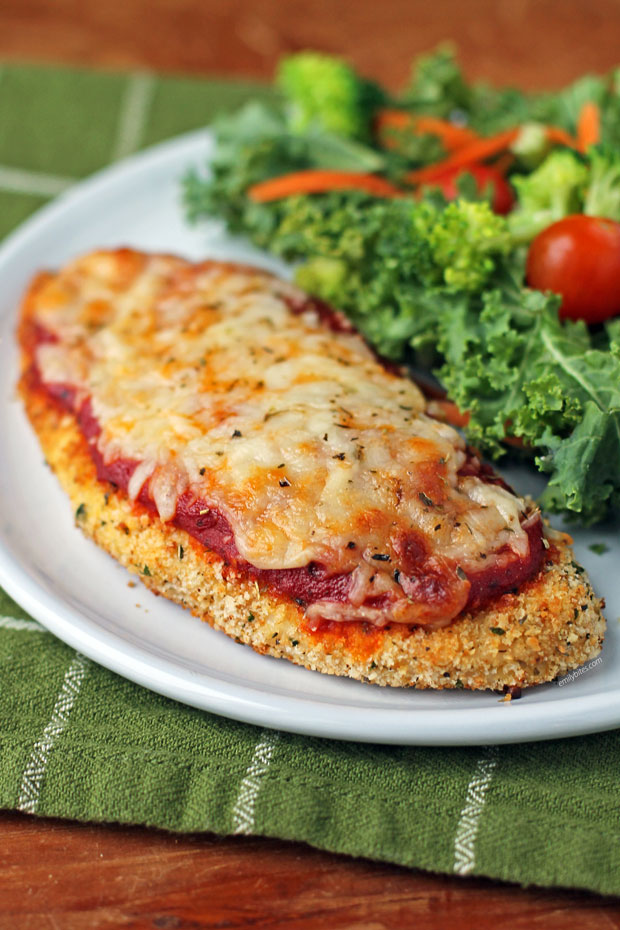 This easy, lighter crispy Chicken Parmesan features juicy chicken breasts in a crispy seasoned coating, topped with red sauce and stringy Mozzarella cheese! This is one of the dishes my husband and I both crave when we want comfort food, so this recipe is one of our go-to dinners. While this Chicken Parmesan is lightened up a bit, it's still a very satisfying portion that offers all the classic flavor of the original. You will never believe each hearty piece is just 315 calories or 5 WW (Weight Watchers) Points! To view your current WW Points for this recipe and track it in the WW app or site, click here! I usually serve this with either pasta or a salad on the side, but zucchini noodles or roasted vegetables would pair nicely as well.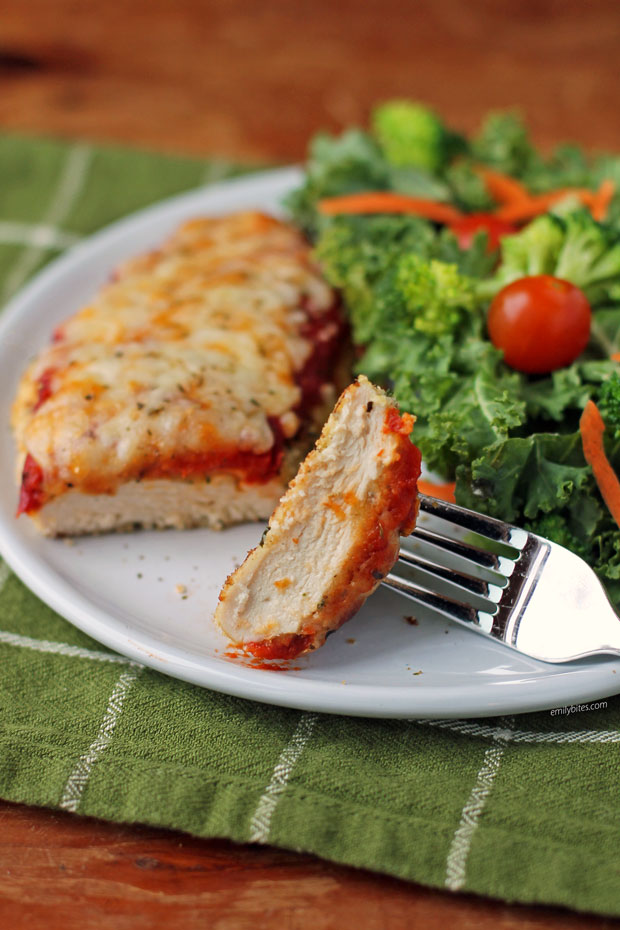 Since I've been blogging about lightened up comfort food and Weight Watchers-friendly recipes for over 10 years now, I did already have a Chicken Parmesan recipe posted here from January 2011 (right after I first started). It was more fussy and I haven't made it in years, having replaced it with this version in my everyday cooking. There are definitely recipes from early on in my blogging journey that I still make all the time, exactly the same way, like my Barley Beef Skillet. Some though, like the former Chicken Parmesan recipe I had posted, don't really feel like me anymore as I've learned more and my cooking style has adapted. I much prefer the flavor and ease of this Chicken Parmesan recipe, so I decided to scrap the old version and share this one with you instead. I hope you love it as much as I do!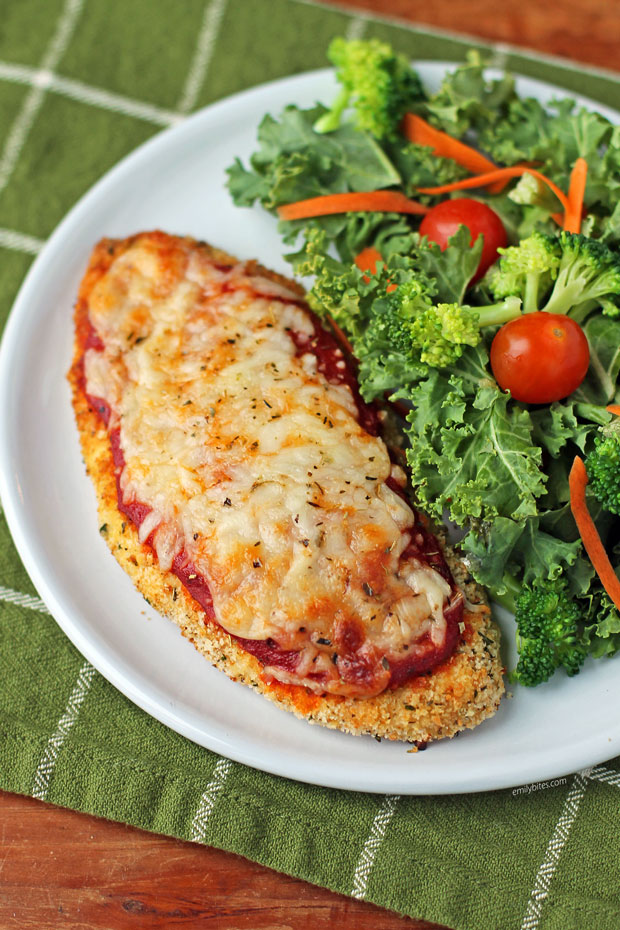 Looking for more ways to make your chicken breasts delicious? Try my Apple and Brie Stuffed Chicken, Cream Cheese Stuffed Everything Chicken, Pimento Cheese Stuffed Chicken, Baked Hot Barbecue Chicken Tenders, Mediterranean Topped Grilled Chicken, Cheesy Bacon BBQ Chicken, Tuscan Olive Chicken, Fiesta Stuffed Chicken, Chicken Cordon Bleu, Baked Chicken Tenders, Bruschetta Topped Balsamic Chicken, Lemon Pepper Iced Tea Chicken, Cheesy Chicken and Stuffing, Thai Chicken Skewers, Chicken Piccata, Slow Cooker Buffalo Chicken and many, many more in the Chicken section of my recipe index!
Chicken Parmesan
This easy, crispy Chicken Parmesan is lighter comfort food with all the flavor you crave!
Ingredients
4

(5 oz each) boneless, skinless chicken breast cutlets

,

(20 oz total)

¼

cup

seasoned breadcrumbs

¼

cup

panko breadcrumbs

1

tablespoon

grated Parmesan cheese

½

teaspoon

Italian seasoning

½

teaspoon

dried parsley flakes

½

teaspoon

salt

¼

teaspoon

black pepper

¼

teaspoon

garlic powder

1

large egg

,

beaten

2

teaspoons

olive oil

½

cup

pasta sauce

,

I used Mid's Traditional Meatless

½

cup

2% shredded Mozzarella cheese
Instructions
Pre-heat the oven to 425. Line a baking sheet with parchment paper and set aside.

Place the chicken breasts on a cutting board and cover with parchment paper. Use a meat mallet to pound the chicken breasts to an even thickness of about ½" thick.

In a shallow dish, add the seasoned breadcrumbs, panko breadcrumbs, Parmesan cheese, Italian seasoning, parsley, salt, pepper and garlic powder and stir to combine. Prepare the beaten egg in a separate shallow dish. Dip each chicken breast into the egg and flip around to coat. Hold up the chicken and allow any excess egg to drip off. Lay the coated chicken in the crumb mixture and flip to coat. Press the breadcrumb mixture lightly into the chicken.

In a large skillet, add the oil and bring over medium-high heat. When hot, add the chicken breasts and cook for 4-5 minutes until the bottoms are golden. Flip the breasts and cook for another 3 minutes on the other side to do the same. Transfer the breasts to the prepared baking sheet.

Top each piece of chicken with 2 tablespoons of pasta sauce and 2 tablespoons of shredded Mozzarella cheese. Sprinkle with a bit more Italian seasoning if desired.

Place in the pre-heated oven. Bake for 15-20 minutes until chicken is fully cooked through.
Notes
To view your current WW Points for this recipe and track it in the WW app or site, click here!
WW Points per serving: 5 (Points calculated using the recipe builder on weightwatchers.com)
Nutrition Information per serving:
315 calories, 14 g carbs, 3 g sugars, 10 g fat, 3 g saturated fat, 40 g protein, 1 g fiber, 494 mg sodium (from myfitnesspal.com)
MYWW SMARTPOINTS PER SERVING: (SP calculated using the recipe builder on weightwatchers.com)
Green: 7 SmartPoints/ Blue: 5 SmartPoints/ Purple: 5 SmartPoints
Weight Watchers Points Plus:

8 per serving (PP calculated using a Weight Watchers PointsPlus calculator and the nutrition info below
Adapted from Café Delites