Chicken Teriyaki Stir Fry
I'm pretty sure this Chicken Teriyaki Stir Fry is going to become a regular meal at our house! My husband loved it, I loved it, and it's super easy to make – my favorite! This stir fry is a perfect weeknight meal because it comes together quickly and is just 361 calories or 8 Green, 5 Blue or 5 Purple myWW SmartPoints per serving! I used broccoli and matchstick carrots this time, but feel free to experiment and add or substitute vegetables like snow peas, water chestnuts, red bell peppers, etc. I like to eat a serving of this Chicken Teriyaki Stir Fry over ¾ cup of sticky Jasmine rice. It's perfect together and I love when the rice gets coated in the extra sauce. SO good.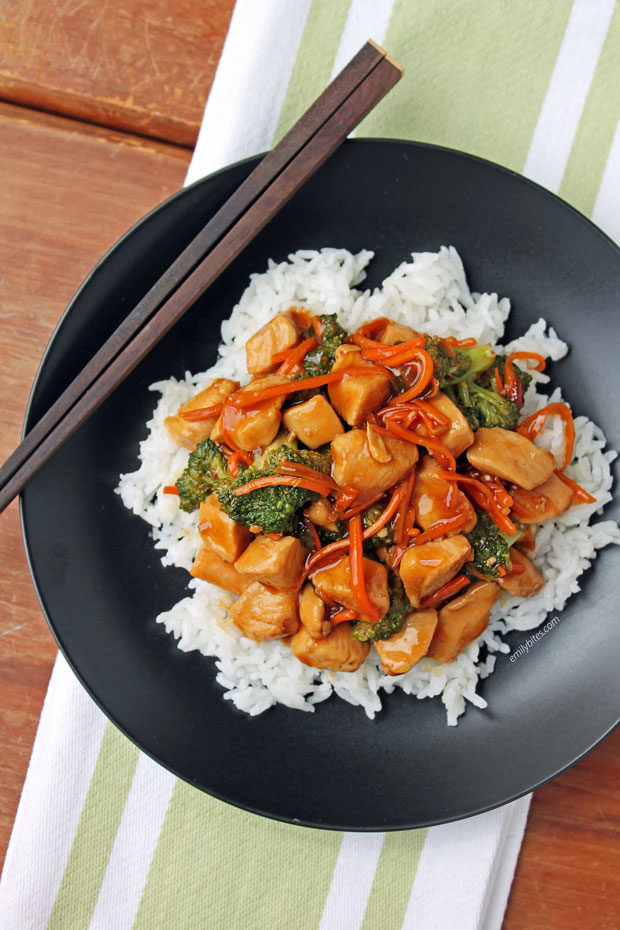 Looking for more lightened up Asian-inspired meals like this Chicken Teriyaki Stir Fry? Check out my Teriyaki Steak Lettuce Wraps, Asian Chicken Wonton Cups, Thai Turkey with Carrot Noodles, Asian Sesame Chicken Salad, Slow Cooker Thai Butternut Squash Soup, Lemon Sesame Snow Peas, Cashew and Basil Chicken Lettuce Wraps, Teriyaki Chicken and Rice Casserole, Slow Cooker Korean Beef Tacos, Chicken Fried Quinoa, Thai Peanut Chicken Wonton Cups, Thai Chicken Skewers with Peanut Sauce, Chicken Egg Rolls, Spicy Sesame Noodles with Chicken, and more in the Asian section of my recipe index!
Chicken Teriyaki Stir Fry
This Chicken Teriyaki Stir Fry is a perfect weeknight meal because it comes together quickly and tastes delicious!
Ingredients
2/3

cup

low sodium soy sauce

½

cup + 2 tablespoons

water

,

separated

3

tablespoons

brown sugar

2

teaspoons

honey

1

teaspoon

ground ginger

1

tablespoon + 1 teaspoon

canola oil

,

divided

1

teaspoon

minced garlic

2

tablespoons

cornstarch

1 ½

lbs

boneless skinless chicken breasts

,

cut into bite-sized pieces

3

cups

raw bite-sized broccoli florets

1

cup

matchstick or shredded carrots
Instructions
Combine the soy sauce, ½ cup water, the brown sugar, honey, ginger, 1 teaspoon of oil, and the garlic in a small saucepan and cover. Bring to a boil over medium heat. Remove lid and cook for one minute once boiling.

While waiting for the sauce to come to a boil, stir together the corn starch and 2 tablespoons of water in a separate dish until smooth to form a slurry. Once the sauce is boiling, add the slurry to the saucepan and stir in to combine. Cook for another minute until the sauce starts to thicken and then remove from heat.

Bring one tablespoon of oil to medium-high heat in a large skillet that has a cover. Add the chicken pieces and stir to coat with the oil. Cook uncovered, stirring and flipping occasionally, for about 5-6 minutes until the chicken is cooked through. Drain any liquid if necessary.

Add the teriyaki sauce you made from step 2 to the chicken in the skillet and stir to coat. Reduce the heat to medium. Spread the broccoli florets and matchstick carrots over the top of the chicken and sauce (do not mix) and put the cover on the skillet. Cook for 2 minutes to allow the broccoli to steam. Remove the cover (broccoli should be bright green and still firm but slightly softened) and stir everything together. Serve warm.
Notes
MyWW SmartPoints per (1 cup) serving:(SP calculated using the recipe builder on weightwatchers.com)
Green: 8 SmartPoints/ Blue: 5 SmartPoints/ Purple: 5 SmartPoints
Weight Watchers Points Plus:
9 per (1 cup) serving (PP calculated using a Weight Watchers brand PointsPlus calculator and the nutrition information below)
Nutrition Information per (1 cup) serving:
361 calories, 27 g carbs, 15 g sugars, 9 g fat, 1 g saturated fat, 43 g protein, 3 g fiber (from myfitnesspal.com)