Apple and Brie Stuffed Chicken
This Apple and Brie Stuffed Chicken with a maple-Dijon glaze may sound a bit fancy, but it comes together easily with just a few ingredients! Don't be intimidated by stuffing the chicken breasts, it only takes a few minutes. You'll just slice the breasts in half to create a top and bottom, open them up, and place the apples and cheese inside. Sear them, glaze them, bake them and you're done! The sweetness of the apples with the creamy mild Brie has a nice light flavor and the maple-mustard glaze adds a sweet and tangy richness. The chicken comes out juicy and perfectly cooked and each stuffed breast makes for a filling, satisfying serving. Better still, each piece is just 355 calories or 5 WW Points (or 6 WW Points if following the diabetic Weight Watchers plan)! To view your current WW Points for this recipe and track it in the WW app or site, click here!
One of the nice things about this Apple and Brie Stuffed Chicken is that it's really easy to make more or less depending on your needs. Just feeding yourself? Halve the recipe! Want to make 6 or 8 pieces for a larger family? No problem. I will give you fair warning, I love this recipe and get sad if I don't make enough for leftovers. Plan accordingly!
I used two types of Dijon mustard in this recipe, and I love the added texture from the whole grain variety. I recommend using both of course, but if you can't find the seedy kind or just don't have it on hand, you can omit it and it will still be delicious. I use my store brand (Wegmans), but Trader Joe's and many other brands have a whole grain Dijon.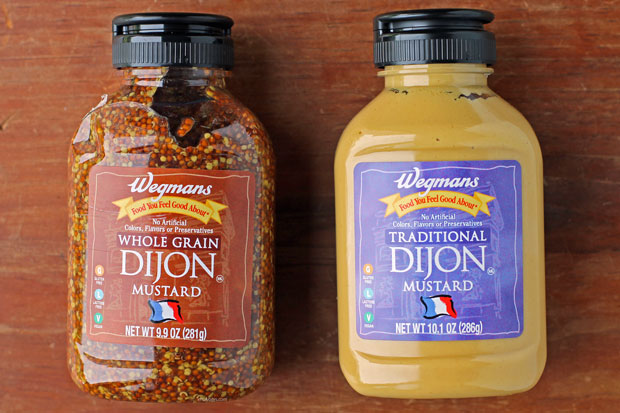 Looking for more ways to make your chicken breasts delicious? Try my Cream Cheese Stuffed Everything Chicken, Slow Cooker Chicken and Stuffing, Blackened Chicken Bites, Pimento Cheese Stuffed Chicken, Baked Hot Barbecue Chicken Tenders, Mediterranean Topped Grilled Chicken, Cheesy Bacon BBQ Chicken, Tuscan Olive Chicken, Fiesta Stuffed Chicken, Chicken Cordon Bleu, Baked Chicken Tenders, Bruschetta Topped Balsamic Chicken, Pesto Chicken Roulades, Lemon Pepper Iced Tea Chicken, Cheesy Chicken and Stuffing Bake, Pizza Chicken Roulades, Thai Chicken Skewers, Chicken Piccata, Slow Cooker Buffalo Chicken and many, many more in the Chicken section of my recipe index!
Apple and Brie Stuffed Chicken
This Apple and Brie Stuffed Chicken with a Maple Dijon glaze is surprisingly simple and full of flavor!
Ingredients
4

(6 oz each)

boneless, skinless chicken breasts

,

(24 oz total)

1

medium

apple

,

sliced (I used Granny Smith)

4

ounces

light Brie cheese

,

sliced (I used Trader Joe's, but President brand also has a great light Brie)

1/2

teaspoon

salt

1/4

teaspoon

black pepper

1/4

teaspoon

dried thyme

1

tablespoon

olive oil

1

tablespoon

maple syrup

1

tablespoon

creamy Dijon mustard

1

teaspoon

whole grain Dijon mustard

,

the seedy kind
Instructions
Pre-heat the oven to 400. Line a baking sheet withparchment paper and set aside.

Place the chicken breasts on a cutting board. Using asharp knife, slice the breasts from the side (creating a top and bottom) almostall the way through. Open each breast at the slit. Divide the apple slicesevenly amongst the four breasts and spread across the surface of one side(leaving the other half empty to fold over the filling). Top the apple sliceswith the Brie. When all four breasts are topped on one side, fold the emptyhalf over the filling and press down to make a stuffed breast. Sprinkle eachstuffed breast on both sides with salt, pepper, and thyme.

In a large skillet, add the oil and bring overmedium-high heat. Working in batches of two at a time so as not to crowd thepan, add the stuffed chicken breasts to the pan and cook for about 1-2 minute(s)until the bottoms are seared golden. Flip the breasts and cook for anotherminute on the other side to do the same. Transfer the breasts to the preparedbaking sheet.

In a small dish, stir together the maple syrup,creamy Dijon, and seedy Dijon. Use a pastry brush to brush the glaze over thetops of the chicken breasts.

Place in the pre-heated oven. Bake for 20-25 minutesuntil chicken is fully cooked through.
Notes
To view your current WW Points for this recipe and track it in the WW app or site, click here!
WW Points per serving: 5* (Points calculated using the recipe builder on weightwatchers.com)
*6 Points per serving if following the diabetic plan
Nutrition Information per serving:
355 calories, 12 g carbs, 8 g sugars, 13 g fat, 1 g saturated fat, 45 g protein, 1 g fiber (from myfitnesspal.com)
MYWW SMARTPOINTS PER SERVING: (SP calculated using the recipe builder on weightwatchers.com)
Green: 7 SmartPoints/ Blue: 4 SmartPoints/ Purple: 4 SmartPoints
Weight Watchers Points Plus:
9 per serving (PP calculated using a Weight Watchers PointsPlus calculator and the nutrition info below
Adapted from Kalefornia Kravings