Lighter Griddlecake Breakfast Sandwiches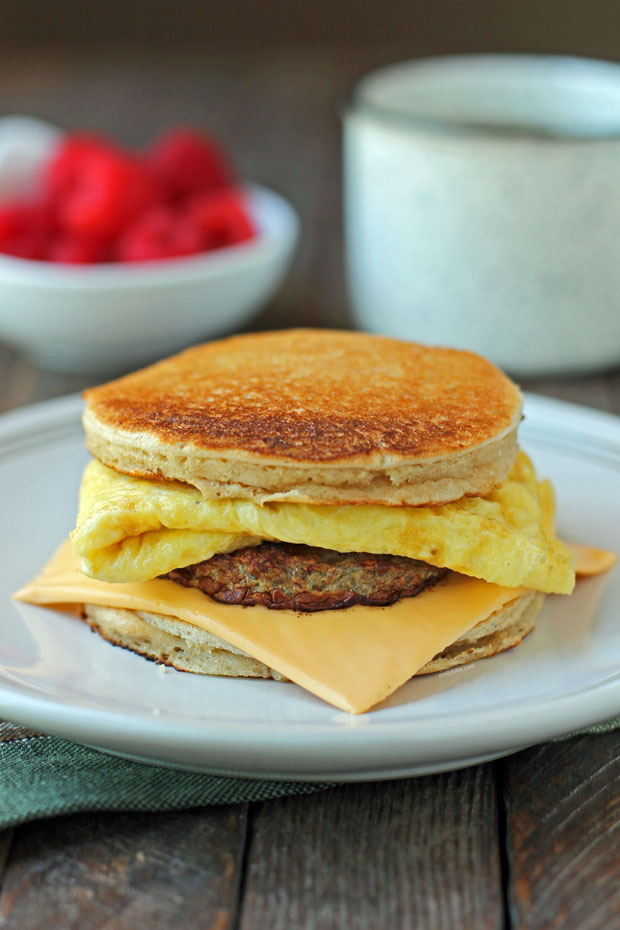 If you're looking for a lightened up version of your favorite fast food breakfast sandwich, these Lighter Griddlecake Breakfast Sandwiches are for you! Two syrup-infused pancakes with a slice of American cheese, a sausage patty, and a fluffy folded egg in between? It may sound like a McDonald's McGriddle, but these tasty breakfast sandwiches come together right at home using just 5 ingredients! Whereas the fast food version rings in at 550 calories and (for me) 21 WW PersonalPoints, my Lighter Griddlecake Breakfast Sandwiches are just 280 calories or 6 WW Points each! To view your current WW Points for this recipe and track it in the WW app or site, click here!
These Lighter Griddlecake Breakfast Sandwiches are great for a family breakfast, but they're also a good recipe to meal prep for your mornings ahead. It's easy to cook up all the components, build the sandwiches, and have breakfast ready for a few days straight. I find one of these sandwiches to be filling and satisfying for breakfast and love serving them with fruit on the side!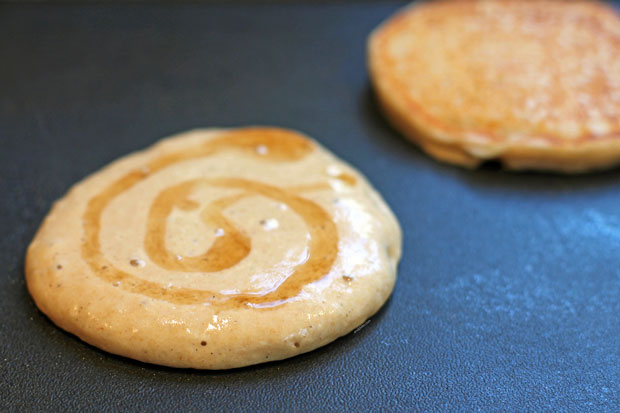 Can these be made ahead?
Yes! These Lighter Griddlecake Breakfast Sandwiches can be refrigerated or frozen to eat at a later date. Allow the ingredients to cool completely and build the sandwiches you plan to save for later. If they will be eaten within 4-5 days, place them in an airtight container in the refrigerator. If freezing, make sure the sandwiches are completely cool and wrap each one tightly  in plastic wrap. Place in a sealed freezer bag or airtight container and transfer to the freezer. Freeze for up to 3 months.
Recipe Substitutions:
I love this recipe just the way I made it and definitely recommend making it as written! However, if you want to make some substitutions that's definitely an option, so I provided some recommendations below. Please not that any substitutions may change the nutrition information/WW points I have listed.
Meat: I love a sausage patty on my breakfast sandwiches and the Jones Dairy Farm brand I used makes really tasty turkey sausage, so I recommend trying them! However, you can definitely use another brand or replace the turkey sausage with center cut bacon, ham, Canadian bacon, or a meatless sausage patty (such as Morningstar Farms)
Cheese: American cheese is the type traditionally used on a McGriddle, but if you're like my husband who hates American cheese, feel free to swap it for something else! A slice of cheddar or swiss would be tasty.
Egg: My favorite type of egg on a breakfast sandwich is the "folded egg" where you basically make a really thin omelet and then fold it up to fit the sandwich. The other type I see on fast food breakfast sandwiches is an egg cracked into an egg ring and cooked through, so you could definitely do that or just fry an egg to your liking.
Pancake Mix: I always have some Kodiak Cakes "Protein-Packed" Power Cakes mixes in my pantry, and it's a good way to give your breakfast an extra punch of protein. Other brands make high-protein pancake mixes as well, such as Krusteaz, or you can just use whatever pancake mix you happen to have on hand.
Syrup: I used Wegmans sugar-free pancake syrup in this recipe and that's what I usually have in my cupboard. In my opinion it has great flavor and no weird sweetener taste. If you prefer to use a light syrup or a regular maple syrup you are welcome to do so, it will just likely change the nutrition info/points.
Looking for more tasty, lightened up breakfast recipes?
Check out my Bacon Broccoli Quiche, Sheet Pan Blueberry Pancakes, Turkey Sausage Breakfast Burritos, Chocolate Mocha Baked Oatmeal Singles, Turkey Sausage Mini Frittatas, Morning Glory Muffins, Ultimate Tater Tot Breakfast Casserole, Sausage and Pepper Egg Bake, Ham and Cheese Hash Brown Quiche, Pear Gingerbread Baked Oatmeal Singles, Bubble Up Breakfast Casserole, Strawberry Banana Baked Oatmeal Singles, Hummus and Feta Omelet, Mini Dutch Baby Pancakes, Sausage Egg and Cheese Hash Brown Cups and many more in the breakfast category of my recipe index!
Lighter Griddlecake Breakfast Sandwiches
These Lighter Griddlecake Breakfast Sandwiches use just 5 ingredients and have around half the calories of a Sausage Egg and Cheese McGriddle!
Ingredients
1

cup

high-protein pancake mix

,

(I used Kodiak Cakes Power Cakes Whole Grain Buttermilk mix)

¾

cup

water

10

teaspoons

sugar-free pancake syrup

,

divided

4

turkey breakfast sausage patties

,

(I used Jones Dairy Farm brand which comes fully cooked and frozen)

4

large

eggs

salt and black pepper

,

to taste

4

slices

2% milk American cheese singles

,

unwrapped
Instructions
Bring a griddle or griddle pan to medium heat and mist with cooking spray. In a medium sized mixing bowl, add the pancake mix, water, and two tablespoons of the syrup and stir together until combined and mostly smooth (don't over-mix). For each pancake, pour about 2 ½ tablespoons of batter onto the griddle and let it form about a 3-inch circle. Drizzle ½ teaspoon of syrup over the top surface of the pancake. Allow the pancake to cook for 1-2 minutes until golden on the bottom and then flip and cook for another 1-2 minutes. Make all eight pancakes, remove them to a side plate and cover to keep warm.

Heat the sausage patties according to the package instructions. Mine went frozen into a skillet over medium heat for 3-4 minutes on each side.

While the sausages cook, break one of the eggs into a small mixing bowl and add a splash of water and a sprinkle of salt and pepper. Beat with a fork or whisk until combined. Mist a medium-sized skillet with cooking spray and bring over medium heat. Pour the beaten egg into the pan and turn to coat the bottom in a thin layer. Cook for a minute until cooked through. Fold the egg in thirds (both sides over the middle) and then fold the omelet in half to make a square(ish). Do this step three more times to make four folded eggs.

To assemble each sandwich, place a slice of cheese onto one pancake and top with a cooked sausage patty. Place a folded egg on top of the sausage and finish with another pancake on top. This recipe makes four sandwiches.
Notes
To view your current WW Points for this recipe and track it in the WW app or site, click here!
WW Points per sandwich: 6 (Points calculated using the recipe builder on weightwatchers.com)
Nutrition Information per sandwich:
280 calories, 20 g carbs, 4 g sugars, 11 g fat, 4 g saturated fat, 23 g protein, 3 g fiber, 766 mg sodium (from myfitnesspal.com)
Weight Watchers Points Plus:

7 per sandwich (P+ calculated using a Weight Watchers brand PointsPlus calculator and the nutrition information below)