Turkey Sausage Breakfast Burritos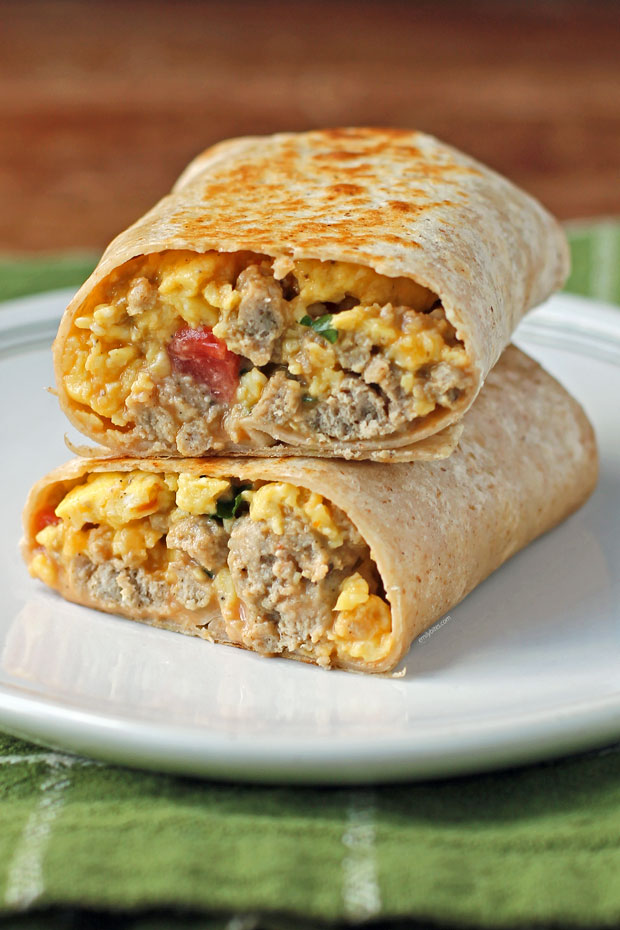 These Turkey Sausage Breakfast Burritos are filling, flavorful, and so easy to prepare ahead and eat all week! Each burrito is full of scrambled eggs, homemade turkey sausage, melted cheddar cheese and your favorite salsa. Don't be intimidated by the idea of turning ground turkey into breakfast sausage. You'll just add a few seasonings, mix it together, and that's it! It really couldn't be easier, and get a super tasty, extra lean sausage to use in minutes. My husband loves breakfast burritos, so I was hoping these would meet his high expectations. He said they were really good, so if he loved them, I think you will too! Each of these Turkey Sausage Breakfast Burritos makes a hearty, satisfying breakfast for just 250 calories or 6 Green, 3 Blue, or 3 Purple WW (Weight Watchers) SmartPoints!
Not only are these Turkey Sausage Breakfast Burritos  tasty, filling, and super simple to make, but they're also easily customizable! If you like things spicy, use a hot salsa or add some hot taco sauce. If you like a milder burrito, stick to mild salsa. I think it's perfect with a medium salsa, but my husband always wants more heat. You could also add some veggies to your burrito if you prefer. I'm sure spinach, tomatoes, or bell peppers and onions would be good. You could throw some beans in there (refried or black beans would be yummy). Avocado would be a tasty addition. I love these burritos exactly as written, but there are tons of ways to make them your own!
To Refrigerate and Eat Later
I like to make the filling for these and then use it for the next few days for breakfast. When I'm ready to eat a burrito I'll just heat 2/3 cup of the filling in the microwave, wrap it in a tortilla and heat the outside on a skillet like in the final step in the recipe.
To Freeze
If you'd prefer to freeze your breakfast burritos, make sure the filling comes down to at least room temperature (or you can refrigerate it until chilled) before filling and wrapping it in the tortillas. You do not want the filling to be hot when you're wrapping the burritos to freeze. Then instead of heating the outsides in a skillet, skip the last step of the instructions and just wrap each burrito in plastic wrap or aluminum foil. Transfer the plastic/foil-wrapped burritos into a Ziplock freezer bag and freeze for up to three months.
Looking for more tasty breakfast recipes like these Turkey Sausage Breakfast Burritos? Check out my Bacon Broccoli Quiche, Feta Tomato Mini Frittatas, Breakfast Wonton Cups, Sheet Pan Blueberry Pancakes, Carrot Muffins, French Toast Sticks, Turkey Sausage Mini Frittatas, Apple Cinnamon Muffins, Ultimate Tater Tot Breakfast Casserole, Sausage and Pepper Egg Bake, Ham and Cheese Egg Cups, Banana Chocolate Baked Oatmeal Singles, and many more in the Breakfast section of my recipe index!
Turkey Sausage Breakfast Burritos
These Turkey Sausage Breakfast Burritos are filling, flavorful, and so easy to make ahead and eat all week!
Ingredients
½

lb

(8 oz) uncooked 99% lean ground turkey breast

½

teaspoon

salt

,

divided

¼ + ⅛

teaspoons

black pepper

,

divided

⅓

teaspoon

ground sage

⅓

teaspoon

ground thyme

⅛

teaspoon

dried marjoram

⅛

teaspoon

crushed red pepper flakes

⅛

teaspoon

paprika

4

large eggs

3

oz

50% reduced fat sharp cheddar cheese

,

divided (I used Cabot)

¼

cup

salsa

,

(I used medium heat, feel free to use hot if you want these spicy!)

1

tablespoon

chopped fresh cilantro

,

(If you don't like cilantro you can omit or substitute green onion)

4

low carb 8-inch tortillas

,

(I used Tumaro's Low-In-Carb Multi-Grain Wraps)
Instructions
Place the ground turkey in a mixing bowl and add ¼ teaspoon of the salt, ¼ teaspoon of the black pepper, the sage, the thyme, the marjoram, the crushed red pepper, and the paprika. Mash/stir together with a fork or your hands until well combined (in this step you added sausage seasonings to the ground turkey).

Mist a large skillet with cooking spray and bring over medium heat. Cook the seasoned ground turkey, breaking it up into small chunks, until cooked through. Transfer the cooked turkey into a clean mixing bowl. Wipe out the skillet with a paper towel.

Combine the eggs and remaining ¼ teaspoon of salt and 1/8 teaspoon of black pepper and add a splash of water (I usually quickly woosh it under tap water once or twice).Use a whisk to beat the eggs. Mist the skillet with cooking spray and bring over medium heat. Add the beaten eggs and cook, pushing them around with a spatula to scramble, for a few minutes until cooked through. Use the spatula to break the scrambled eggs up into small chunks. Transfer the eggs to the mixing bowl holding the turkey sausage. Add the shredded cheddar, salsa, and cilantro and stir to combine.

Lay the tortillas on a clean, dry surface and divide the sausage and egg mixture amongst them (about 2/3 cup of filling on each tortilla). Fold in the edges of a tortilla and roll it up to make a wrap. Repeat with the remaining tortillas.

Mist a griddle pan or large skillet with cooking spray and bring to medium heat. Place the rolled burritos onto the hot skillet seam-side-down and cook for 2-3 minutes until the bottoms are golden. Flip the burritos and cook for another 2 minutes until the other side is golden as well.
Notes
MYWW SMARTPOINTS PER burrito: (SP calculated using the recipe builder on weightwatchers.com)
Green: 6 SmartPoints/ Blue: 3 SmartPoints/ Purple: 3 SmartPoints
Weight Watchers Points Plus:

7 per burrito (P+ calculated using the recipe builder on weightwatchers.com)
Nutrition Information per burrito:
250 calories, 14 g carbs, 1 g sugars, 11 g fat, 4 g saturated fat, 31 g protein, 8 g fiber, 464 mg sodium (from myfitnesspal.com)