French Toast Sticks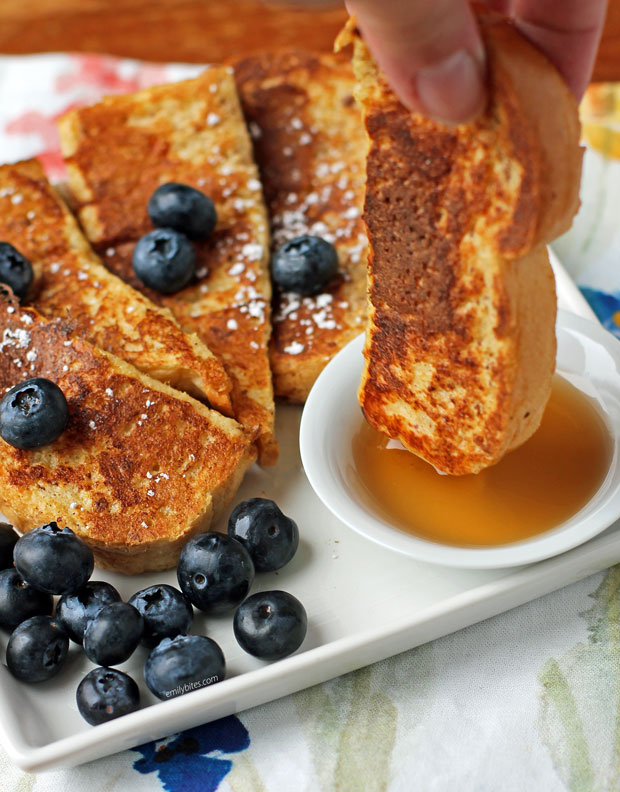 I've always loved French Toast, but there's something about French Toast Sticks that just makes breakfast seem so much more fun. Is it the syrup dipping? Maybe it's the syrup dipping. Either way, I wanted to make breakfast for my family, and after making my Sheet Pan Blueberry Pancakes for two weeks in a row (a family favorite!), I thought I'd change it up and make these French Toast Sticks. You guys, they're so good and they only use six ingredients! I didn't use the ultra-thick Texas Toast bread that most food bloggers use, or really do anything fancy to make these, but it didn't matter. They taste amazing. You can pretty much use whatever unassuming sandwich bread you have on hand. White, wheat, Italian, whatever. I mean, I wouldn't use rye bread, so maybe not every bread, but I trust your judgement. I used D'Italiano Seedless Italian bread this time, because that's what we had on hand! Then all you need are a few more ingredients you probably have in your kitchen (milk, eggs, cinnamon, vanilla extract) and a skillet or griddle.
When we got married, we were lucky enough to get a countertop electric griddle that I didn't even think to register for, and I love using it for French toast and pancakes. It's such an easy way to make a larger quantity all at once with even heat distribution. If you don't have one (I never knew I needed one until we had it), a large skillet or griddle pan on your stovetop will work great (you'll just have to work in batches). Once you're done, sprinkle those babies with a little powdered sugar and serve! Not only are these French Toast Sticks tasty and easy to make, each one is just 39 calories or 1 WW Point. To view your current WWPoints for this recipe and track it in the WW app or site, click here!
French Toast Sticks are freezer-friendly! Once they're cooked you can line them up on a baking sheet and place them in the freezer for an hour. Once they are frozen, transfer them into a Ziploc freezer bag and put them back in the freezer. Freezing them individually first helps them not form into one giant frozen French toast stick blob in the bag. To reheat, you can either microwave them or bake them lined up on a baking sheet for 8-10 minutes at 350 degrees.
Looking for more tasty lightened up breakfast recipes? Check out my Sheet Pan Blueberry Pancakes, Banana Blueberry Muffins, Sausage and Pepper Egg Bake, Apple Cinnamon Muffins, Strawberry Almond Cream Pancakes, Ultimate Tater Tot Breakfast Casserole, Apple Cinnamon Pancakes, Triple Berry Yogurt Bowl, Banana Bread, Sausage Apple Cheddar Frittata, Berry French Toast Muffins, Ham and Cheese Egg Cups, Apple Streusel French Toast Muffins, Ham and Cheese Hash Brown Quiche, Pumpkin Chocolate Baked Oatmeal Singles, and many more in the Breakfast section of my recipe index!
French Toast Sticks
These easy 6-ingredient French Toast Sticks make a tasty breakfast for kids and adults alike!
Ingredients
8

slices

sandwich bread

3

large eggs

2/3

cup

skim milk

1

teaspoon

vanilla extract

1

teaspoon

ground cinnamon

A pinch of salt

½

teaspoon

powdered sugar
Instructions
Cut each slice of bread into 3 equal strips (I used kitchen shears) and set aside.

Whisk together the eggs, milk, vanilla extract, cinnamon and salt until combined and pour into a shallow dish (I use a pie pan).

Lightly mist a skillet or griddle with cooking spray and bring to medium heat. Dip the bread strips into the egg mixture and flip to coat. Allow any excess liquid to drip off and lay the strips on the pan/griddle. Cook for 2-3 minutes on each side until the sticks are golden and lightly crisp on both sides. Transfer to a platter and sprinkle with powdered sugar.
Notes
To view your current WW Points for this recipe and track it in the WW app or site, click here!
WW Points per French toast stick: 1 (Points calculated using the recipe builder on weightwatchers.com)
Nutrition Information per French Toast Stick:
39 calories, 6 g carbs, 0 g sugars, 1 g fat, 0 g saturated fat, 2 g protein, 0 g fiber (from myfitnesspal.com)
MYWW SMARTPOINTS PER French toast stick: (SP calculated using the recipe builder on weightwatchers.com)
Green: 1 SmartPoints/ Blue: 1 SmartPoints/ Purple: 1 SmartPoints
(With the ingredients I used, three of these French toast sticks would be 3 SP on all plans, but four sticks on Green would be 4 SP, but on Blue or Purple would still be 3 SP. You may want to check in the recipe builder with the specific bread you use)
Weight Watchers Points Plus:
1 per French Toast Stick (P+ calculated using the recipe builder on weightwatchers.com)
adapted from Lemon Blossoms