Buffalo Roasted Chickpea Salad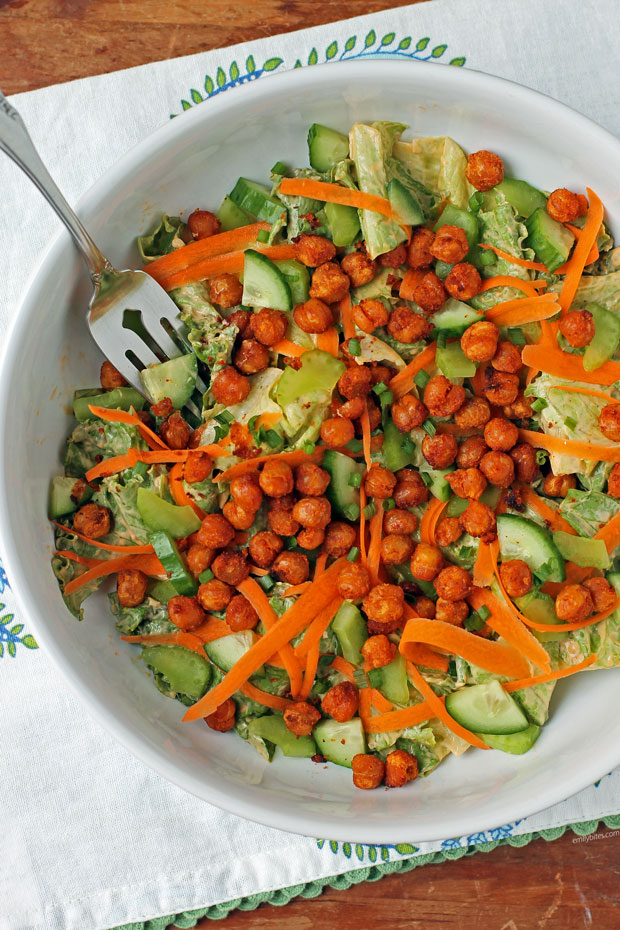 This spicy Buffalo Roasted Chickpea Salad is flavorful, filling, and a tasty way to eat more veggies! I love to make this for lunch, dinner, or meal prep, and it's great on its own or paired with a cup of soup. I make a similar salad with chicken on top (usually from one of my chicken bites recipes), but it's nice to have this meatless/vegetarian option in the rotation because I almost always have a can of chickpeas on hand in my pantry. Roasting the chickpeas gives them a crispy texture on the outside while still leaving the inside soft enough to stab with your fork. The chickpea coating and the dressing are both a bit spicy, but the celery and cucumbers add freshness that cuts through the spice. Not only is this Buffalo Roasted Chickpea Salad simple and delicious, but each serving is just 231 calories or 4 WW Point on the current Weight Watchers program. To view your current WW Points for this recipe and track it in the WW app or site, click here!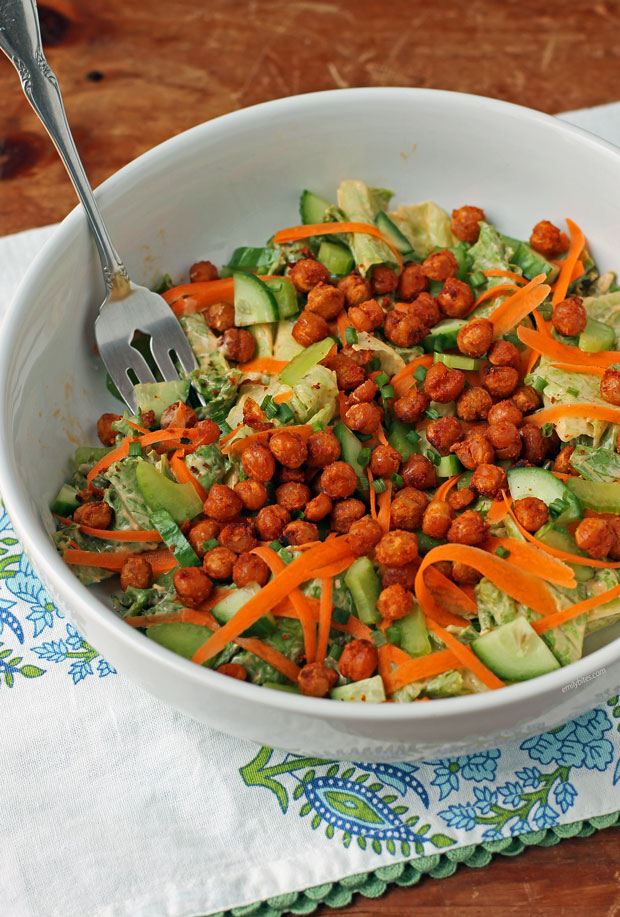 Ingredient Notes
French Onion Dip: I love to mix wing sauce and French onion dip together for a creamy salad dressing or dip with a kick! I always use Bison Dip which is local to Buffalo, but Heluva Good or a similar refrigerated French onion dip will work just fine. You can swap the French onion dip for ranch or blue cheese if you prefer, but I definitely recommend trying it with the French Onion dip!
Buffalo Wing Sauce: You may have noticed that I listed Frank's RedHot Original Cayenne Pepper Sauce and Buffalo Wing Sauce as separate ingredients. While that particular hot sauce is usually used to make wing sauce, it isn't wing sauce on its own. Frank's RedHot does also make a wing sauce, as do many other brands. Spice levels can vary, as does creaminess. Feel free to use your preferred wing sauce in the dressing!
Lettuce: I used green leaf lettuce in the photos for this recipe, but I've also made this with spring mix or romaine. You can use whatever you like best, but for this particular salad I do like using a leaf that has some crunch (like romaine) over a type like spring mix.
More Salad Recipes
Looking for more tasty, lightened up salad recipes? Check out my Mexican Street Corn Chicken Salad, Mediterranean Couscous Salad, Buffalo Chicken Salad, Caprese Salad, Avocado Egg Salad, Cobb Salad, Superfood Salad with Citrus Vinaigrette, Thai Chicken Chopped Salad with Peanut Dressing, Barbecue Ranch Chicken Salad, Greek Chicken Quinoa Salad, Southwest Steak Salad with Avocado Lime Dressing, and so many more in the Salads category of my recipe index!
Buffalo Roasted Chickpea Salad
This spicy Buffalo Roasted Chickpea Salad with a creamy dressing is flavorful, filling, and a tasty way to eat more veggies!
Ingredients
15

oz

can of chickpeas

,

drained (also called garbanzo beans)

1

tablespoon

olive oil

1

tablespoon

Frank's RedHot Original cayenne pepper sauce

1

teaspoon

paprika

1

teaspoon

garlic powder

9

cups

lettuce or salad mix

6

tablespoons

shredded carrots

6

tablespoons

chopped celery

6

tablespoons

chopped cucumbers

4 ½

tablespoons

refrigerated French Onion Dip

3

tablespoons

Buffalo wing sauce

1

teaspoon

chopped chives
Instructions
Heat the oven to 400 degrees Fahrenheit.

Spread your drained chickpeas on a paper towel or clean dish towel and fold the other side over the top of them. Massage the chickpeas under the towel to dry them off. Some of the "skins" will likely come off, just discard those.

Once the chickpeas are dry, place them in a mixing bowl and add the oil, Frank's Red Hot, paprika, and garlic powder. Stir until the chickpeas are coated. Line a rimmed baking sheet with parchment paper and spread the spiced chickpeas out across the surface in a single layer. Place in the oven and roast for 25 minutes until the outsides are crispy but the insides are still soft enough to stab with a fork.

To build each salad, place three cups of lettuce into a bowl and add 2 tablespoons each of the of the carrots, celery, and cucumbers. In a small dish, stir together 1 ½ tablespoons of the French Onion dip and 1 tablespoon of the wing sauce until well combined. Add this dressing to the salad and stir/toss until the lettuce and vegetables are lightly coated. Add a third of the roasted chickpeas (about 1.6 ounces weighed) and sprinkle on some chopped chives.

Repeat with the remaining ingredients to build two more salads if serving together. If you're saving the other salads for a different meal, just place the roasted chickpeas in a sealed container after they cool and build the other salads when you're ready to eat it.
Notes
WW Points per salad (1/3 the recipe): 4 (SP calculated using the recipe builder on weightwatchers.com)
To view your current WW Points for this recipe and track it in the WW app or site, click here!
Nutrition Information per salad (1/3 the recipe):
231 calories, 27 g carbs, 4 g sugars, 11 g fat, 3 g saturated fat, 9 g protein, 8 g fiber, 1200 mg sodium (from myfitnesspal.com)
Weight Watchers Points Plus:
6 per (1/3 the recipe) salad (PP calculated using a Weight Watchers PointsPlus calculator and the nutrition info below)