Mediterranean Couscous Salad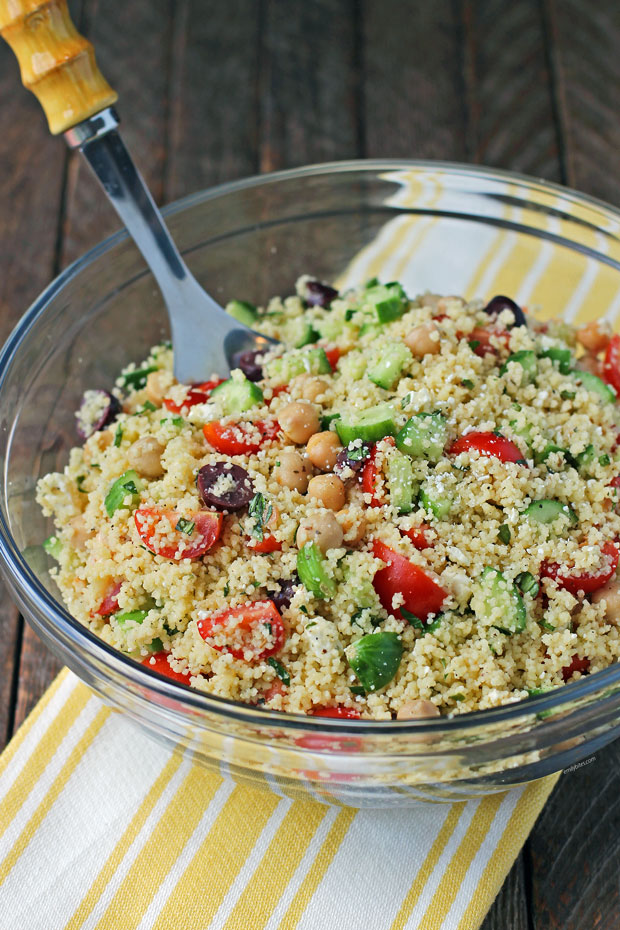 This Mediterranean Couscous Salad is easy, healthy, and perfect for lunches or meatless meal prep for the week. You could even bring it as a side dish to a cookout or potluck. This dish is simple to make, vegetarian, and full of fresh flavors: sweet tomatoes, crunchy cucumber, hearty chickpeas, salty olives, creamy Feta, fresh herbs, and itty bitty couscous all tossed together in a tasty Greek vinaigrette. What's not to love? Plus, each satisfying serving of a little over a cup is just 187 calories or 6 WW Points. To view your WW Points for this recipe and track it in the WW app or site, click here.
I love couscous in a salad because it's so small it feels like it's bouncing around my tongue while I eat it. That's probably weird, but I feel what I feel, okay? If you've never had it before, couscous isn't a whole grain or a seed like quinoa (though they both look like little dots), it's actually a pasta. It cooks super quickly, so it's easy to whip up and toss with some veggies and your favorite vinaigrette for a salad. You can also use whole wheat couscous if preferred or if you have it as a WW zero point food.
Serving Size
When I measured out this salad I had about 6 ½ cups total, so the serving size is slightly more than a cup. I guess I'll say it's a slightly rounded cup? Bottom line: if you're measuring your serving, feel free to be a little bit generous with your measuring cup.
Possible Additions
Grains: I highly recommend Moroccan couscous in this because it's really good, but if you want to use the flavors of this salad and swap it out for something else you can. You can cook up some pearl couscous, quinoa, orzo, or farro to use in this and I think they'd all be tasty.
Meat: I made this dish as a meatless salad, but if you want to add some chicken or steak I'm sure it would taste good and make this a heartier meal.
Veggies: I don't like raw onion so I never use it in anything, but I imagine red onion would work in this! Same thing with diced bell peppers. Chopped spinach could be good as well.
More Tasty, Lightened Up Lunch Ideas
Looking for more tasty, lightened up lunch ideas like this Mediterranean Couscous Salad? Check out my Avocado Egg Salad, Greek Chicken Quinoa Salad, Thai Peanut Chicken Wraps, Taco Chicken Salad, Open Faced Greek Steak Sandwiches, Caprese Sandwich, Cobb Salad, Chicken Bacon Apple Cheddar Wraps, Barbecue Ranch Chicken Salad, Cucumber Sandwiches, Mom's Easy Egg Salad, Pimento Cheese Chicken Salad Sandwiches, Hummus Chicken Salad, Spicy Southwest Chicken Wraps, Doritos Taco Salad, Ham and Cheese Twists, Cajun Turkey Club Sandwich, and more in the Salads and Sandwiches categories of my recipe index!
Mediterranean Couscous Salad
This Mediterranean Couscous Salad is easy, healthy, vegetarian, and full of fresh flavor. Perfect for lunch or as a side dish!
Ingredients
1

cup

water

¾

teaspoon

salt

,

divided

1

cup

uncooked Moroccan-style couscous

2 ½

tablespoons

white wine vinegar

1 ½

tablespoons

olive oil

1 ½

tablespoons

lemon juice

½

teaspoon

dried oregano

½

teaspoon

dried basil

½

teaspoon

garlic powder

½

teaspoon

onion powder

½

teaspoon

black pepper

½

teaspoon

yellow or Dijon mustard

1

cup

drained and rinsed canned chickpeas

1

cup

diced cucumber

1

cup

quartered cherry tomatoes

8

pitted kalamata olives

,

sliced

2

oz

crumbled Feta cheese

1

tablespoon

chopped fresh basil

1

tablespoon

diced fresh chives

1

teaspoon

chopped fresh parsley
Instructions
Pour the water and ¼ teaspoon of the salt into a medium saucepan. Cover and bring to a boil over high heat. Once boiling, quickly stir in the cup of couscous, cover the pot and remove from heat. Keep covered for 5 minutes. After 5 minutes, transfer the couscous to a serving bowl and fluff with a fork. Allow to cool.

In a small mixing bowl, combine the vinegar, olive oil, lemon juice, oregano, dried basil, onion powder, garlic powder, black pepper, mustard, and the remaining ½ teaspoon of salt. Stir or whisk together until combined and set aside.

In the serving bowl holding the cooled couscous, add the chickpeas, cucumber, cherry tomatoes, olives, Feta cheese, basil, chives, and parsley and stir until combined. Pour the dressing from step two over the top and stir until the salad is evenly coated with the dressing and serve.
Notes
WW Points:

6 per (1 cup) serving (PP calculated using the recipe builder on weightwatchers.com)
To view your WW Points for this recipe and track it in the WW app or site, click here!
Nutrition Information per (1 cup) serving:
187 calories, 30 g carbs, 2 g sugars, 7 g fat, 2 g saturated fat, 7 g protein, 3 g fiber, 208 mg sodium (from myfitnesspal.com)
Weight Watchers PointsPlus:

5 per (1 cup) serving (PP calculated using the nutrition info above)