Thai Peanut Chicken Wraps
These Thai Peanut Chicken Wraps are an easy, healthy lunch idea you'll definitely want to put in your rotation! With a super flavorful peanut sauce, crunchy cabbage and carrots and a hearty portion of chicken, these wraps are both tasty and filling. They're also a great way to use leftover chicken, but if you don't have some already cooked you can always throw some in your slow cooker, or on the grill. The chicken pictured was cooked on a grill pan on my stovetop using cooking spray. You could even use some breast meat from a rotisserie chicken, it all works! I've eaten these wraps with both cold chicken and hot, and I like them both ways. Plus, each of these Thai Peanut Chicken Wraps is just 197 calories or 2 WW Points each! To view your current WW Points for this recipe and track it in the WW app or site, click here!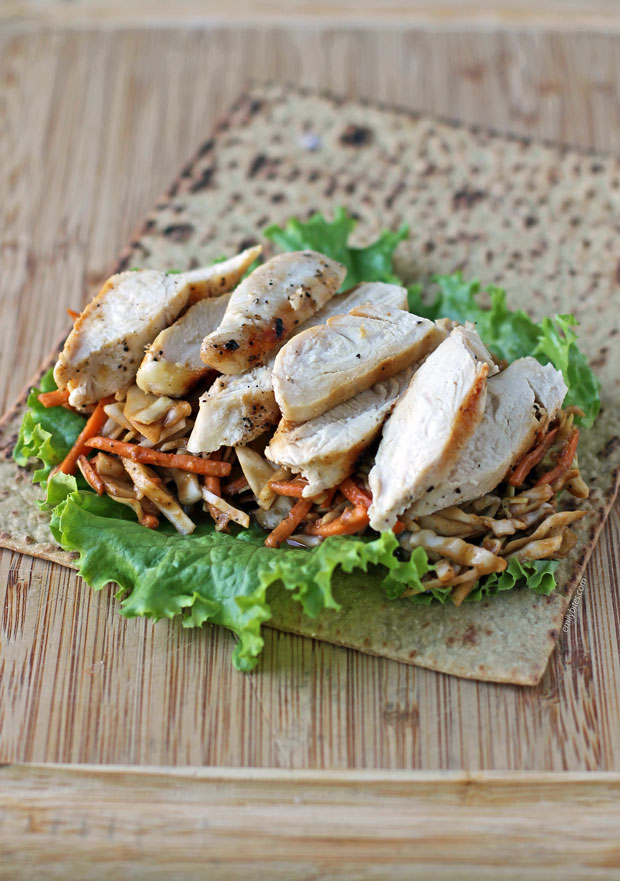 Using a powdered peanut butter like PB2 helps keep the sauce for these Thai Peanut Chicken Wraps low in fat while still offering all the tasty peanut flavor you crave. They sell PB2 at my local grocery stores (as well as similar products by other brands), but if you have trouble finding it you can easily order it on Amazon. I've used it in several other recipes (I even have a category for it in my recipe index) and it's great added to oatmeal, sauces or baked goods, so you'll have no trouble using it up!
As I mention in the ingredients, I used Atoria's Mini Lavash flatbreads in this recipe, but other wraps/flatbreads would of course work as well. If you want to keep the nutrition facts or points similar you'll want to find a wrap that has similar stats (50 calories, 1 WW SP each). Otherwise, you can buy the Atoria's wraps on Amazon!
Looking for more yummy wraps and sandwich ideas like these Thai peanut Chicken Wraps? Check out my Chicken Bacon Apple Cheddar Wraps, Pimento Cheese Chicken Salad Sandwiches, Cajun Turkey Club Sandwich, Sweet and Spicy Grilled Chicken Sandwich, Chicken Hummus Veggie Wrap, Open-Faced Greek Steak Sandwiches, Barbecue Chicken Bacon Wraps, Buffalo Chicken Tacos, Apple Cheddar Turkey Wraps, Black and Blue Steak Wraps, Spicy Southwest Chicken Wraps, and more in the Sandwiches/Wraps/Handhelds category of my recipe index!
Thai Peanut Chicken Wraps
These Thai Peanut Chicken Wraps are an easy, tasty, healthy lunch for just 197 calories each!
Ingredients
2

tablespoons

PB2 powdered peanut butter

,

or similar powdered peanut butter from another brand

1

tablespoon

low sodium soy sauce

1

tablespoon

water

1

teaspoon

packed brown sugar

¼

teaspoon

black pepper

1/8

teaspoon

garlic powder

1/8

teaspoon

sriracha hot sauce

1/8

teaspoon

sesame oil

1

cup

dry shredded coleslaw mix

,

found bagged in the produce section

¼

cup

shredded carrots

2

teaspoons

chopped cilantro

,

optional

2

low calorie wraps/flatbreads

,

I used Atoria's Mini Lavash which are 50 calories/1 WW SP each, so you may want to use something with similar nutrition stats

2-4

large lettuce leaves

,

I use green leaf lettuce

4

ounces

cooked boneless skinless chicken breast

,

sliced or shredded
Instructions
In a medium sized bowl, combine the PB2, soy sauce, water, brown sugar, black pepper, garlic powder, sriracha, and sesame oil and stir until combined into a sauce. Add the coleslaw mix, shredded carrots, and cilantro (if using). Stir together until coated/combined.

To build each wrap, lay a flatbread on a clean, dry surface and place the lettuce at one end. Top the lettuce with half of the coleslaw mix and 2 ounces of the chicken. Depending on the type of flatbread you're using you may want to fold the side edges in, then roll the end with the filling over toward the empty end until completely wrapped. Slice in half before serving.
Notes
To view your current WW Points for this recipe and track it in the WW app or site, click here!
WW Points per wrap: 2 (Points calculated using the recipe builder on weightwatchers.com)
Nutrition Information per wrap:
197 calories, 16 g carbs, 5 g sugars, 3 g fat, 1 g saturated fat, 26 g protein, 5 g fiber (from myfitnesspal.com)
MYWW SMARTPOINTS PER WRAP: (SP calculated using the recipe builder on weightwatchers.com)
Green: 4 SmartPoints/ Blue: 2 SmartPoints/ Purple: 2 SmartPoints
Weight Watchers Points Plus:
4 per wrap (PP calculated using a Weight Watchers PointsPlus calculator and the nutrition info below)