Blueberry Bread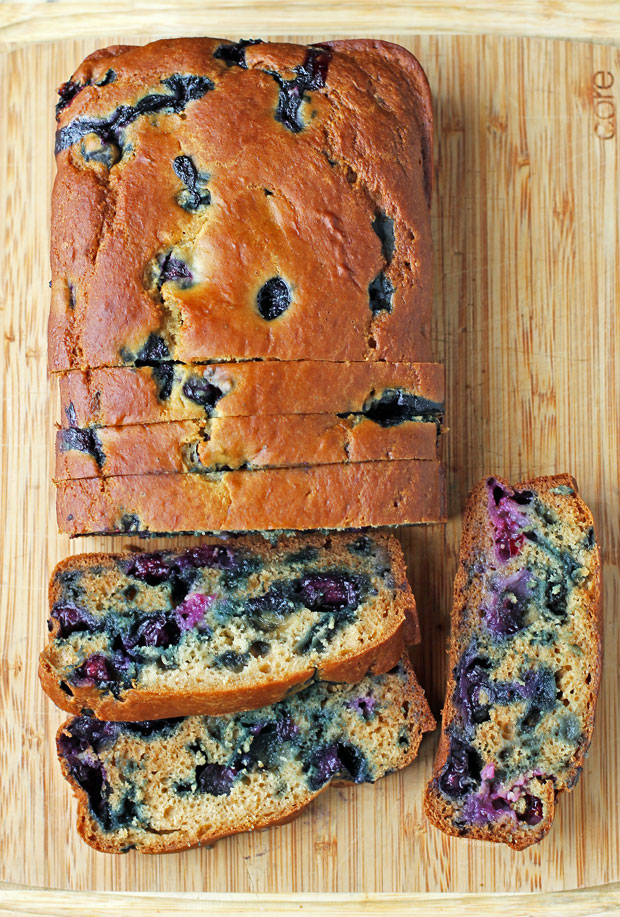 This easy Blueberry Bread is moist and fluffy with big bursts of blueberry flavor throughout! I based the recipe for this bread on my usual muffin recipe and I'm happy to say it's just as delicious as a loaf of quick bread. My version uses less sugar than many traditional recipes but I think you'll find that it's just sweet enough. You'll also love that this Blueberry Bread is made with simple ingredients you're likely to have on hand and that the prep time is minimal. Just mix the ingredients together, put them into a loaf pan and bake!
I like to serve this Blueberry Bread for breakfast, eat it for a snack, bring it to a party or get-together, or make it for a friend as a surprise treat. Blueberries are tasty when fresh, but something magical happens when they're included in baked goods. They transform into sweet, juicy pockets of flavor that burst as you bite into them. It's my favorite. Not only will this delicious Blueberry Bread give you plenty of those blueberry flavor explosions, but a slice is only 122 calories or 4 WW Points on the standard WW plan. If you are doing the diabetic WW plan (which means you marked yourself diabetic in your WW settings) then a slice will be 5 WW Points. To view your WW Points for this recipe and track it in the WW app or site, click here!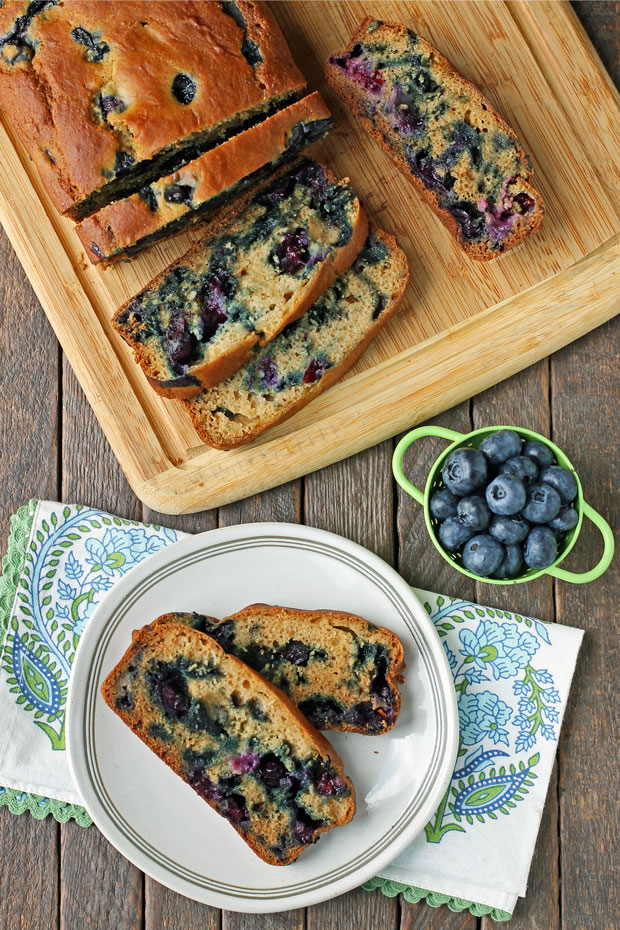 My mom and I took my daughter Claire blueberry picking recently and had the best time. We were able to gather a big bucket full of sweet, plump, gigantic blueberries that worked beautifully in this recipe. Although Claire had a blast I do think her ratio of blueberries eaten vs blueberries placed in the bucket was around 20:1. Luckily I picked enough for both of us!
Variations/Substitutions
Variations: This Blueberry Bread is absolutely delicious as written, but if you want to change it up I have a few ideas! You could make a Lemon-Blueberry loaf by adding lemon juice and zest to the batter. You could also make a Banana-Blueberry load by replacing the applesauce with mashed banana. Feel free to add to the flavors if you like!
Frozen Blueberries: While I typically use fresh blueberries in this bread, you can use frozen ones if that's what you have available. You do not need to defrost the berries, you can just use them frozen.
Alternative Sweeteners: I haven't personally tried making this using a zero-calorie sweetener in place of sugar, but I feel confident that it would work out just fine. Just make sure the sweetener you're using has a 1:1 substitution ratio with sugar so that the sweetness level isn't off.
Add-Ins: I think walnuts or pecans would be great in this if you'd like to add nuts! Keep in mind that this will of course affect the nutrition information/WW points listed if you're tracking either.

Storage Tips:
After letting the Blueberry Bread cool completely, I store my bread by placing it on a paper towel in an airtight container and leaving it on the counter for 4-5 days.
To Freeze:
I love how easily this Blueberry Bread comes together, and it's great to bake once and eat for a few days straight! You can also freeze it by just wrapping the loaf or individual slices in plastic wrap once they're completely cool and putting them in a freezer bag. You can either defrost them to room temp or heat them up in the microwave before eating.
Want more easy, tasty, lightened up baked goods?
Looking for more tasty varieties of lightened up muffin and quick bread recipes? Check out my Banana Zucchini Muffins, Pineapple Upside Down Baked Oatmeal Singles, Morning Glory Muffins, Strawberry Rhubarb Muffins, Carrot Muffins, Banana Bread, Chocolate Raspberry Muffins, Apple Cinnamon Muffins, Banana Blueberry Muffins, Pumpkin Zucchini Muffins, and more in the Muffins section of my recipe index!
Blueberry Bread
This easy lightened up Blueberry Bread is moist and fluffy with big bursts of blueberry flavor throughout!
Ingredients
1

large

egg

1

cup

unsweetened applesauce

⅓

cup

sugar

1

teaspoon

vanilla extract

4

tablespoons

light butter

,

melted (I use Land O'Lakes light butter spread with canola oil in the tub)

1 ½

cups + 1 teaspoon

all-purpose flour

,

divided

1

teaspoon

baking soda

1

teaspoon

baking powder

½

teaspoon

salt

1 ½

cups

fresh blueberries

,

rinsed and dried off
Instructions
Pre-heat the oven to 350 degrees. Mist a 9" x 5" loaf pan with cooking spray and set aside.

In a large mixing bowl, add the egg, applesauce, sugar, and vanilla extract and stir together until well combined. Add the melted butter and stir together.

In a separate mixing bowl, add 1 ½ cups of the flour, the baking soda, baking powder, and salt and whisk until combined. Add the dry ingredients to the wet ingredients and stir together until just combined into a batter.

Toss the blueberries in the remaining teaspoon of flour until coated. Fold the blueberries into the batter until combined.

Pour the batter into the prepared loaf pan. Bake for 45-55 minutes until a toothpick inserted into the center comes out clean.

Transfer the bread in the loaf pan to a wire cooling rack and cool in the pan for 10 minutes. After the 10 minutes, invert the pan to release the bread onto the cooling rack and then flip it over so that it's right side up. Allow the bread to rest directly on the rack until cool. Once cool, slice into 12 (3/4" thick) slices.
Notes
WW Points:

4 per slice, or 5 if following the diabetic plan (PP calculated using the recipe builder on weightwatchers.com)
To view your WW Points for this recipe and track it in the WW app or site, click here!
Nutrition Information per (1 slice) serving:
122 calories, 23 g carbs, 9 g sugars, 3 g fat, 1 g saturated fat, 2 g protein, 1 g fiber, 183 mg sodium (from myfitnesspal.com)
Weight Watchers Points Plus:

3 per (1 slice) serving (P+ calculated using the recipe builder on weightwatchers.com)