Cheesy Chicken and Broccoli Pastry Bundles
These Cheesy Chicken and Broccoli Pastry Bundles are pure comfort food and something your family will ask for again and again! With flaky pastry wrapped around chicken and broccoli smothered in a rich, creamy cheddar cheese sauce, you'll be dreaming about these bundles. Chicken, broccoli and cheddar is a classic comfort flavor combination, but I love serving it with a fun new twist! Plus, any time I can make a thick, decadent cheese sauce I'm automatically on board. One of these bundles pairs perfectly with a salad or some roasted vegetables for a tasty meal. Since the flaky pastry and cheese sauce in this dish are rich, I think it goes best with a lighter side dish. Not only are these bundles great for dinner or lunch, they'd make great party food! Each of these Cheesy Chicken and Broccoli Pastry Bundles is just 266 calories or 8 WW SmartPoints on the Green, Blue or Purple myWW plans. To view your WW PersonalPoints for this recipe and track it in the WW app or site, click here!
Puff pastry sheets usually come in boxes of two. If you're looking for another recipe for the second sheet, I have you covered! Check out my Pizza Pockets, Mixed Berry Puff Pastry Tarts, Taco Puff Pockets, Cranberry Brie Bites, Roasted Grape Cheese Tarts, Pumpkin Pie Pastry Pockets, Caprese Tarts, Cheesy Spinach Pinwheels, and more in the Puff Pastry ingredient category in my recipe index!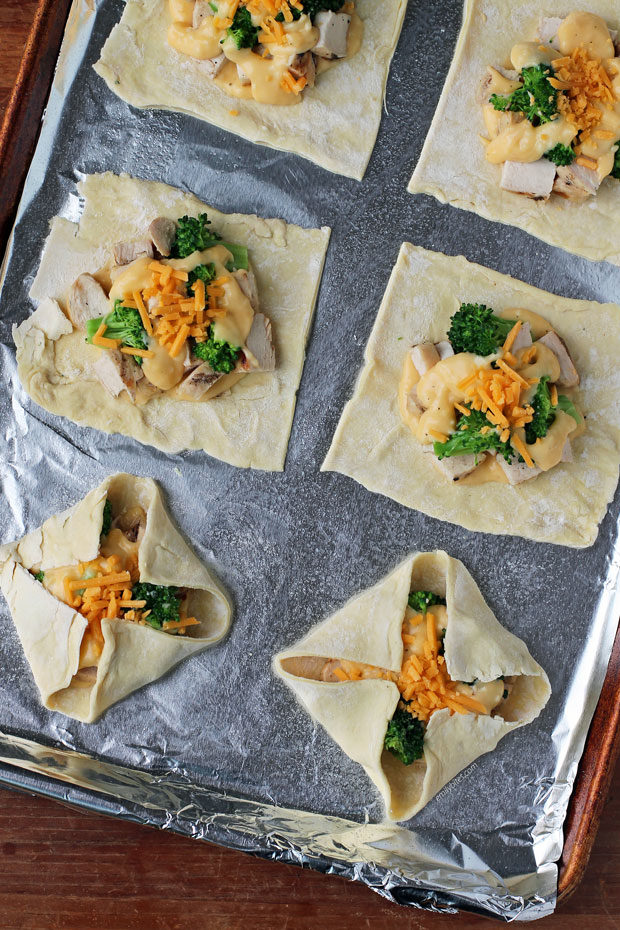 Cheesy Chicken and Broccoli Pastry Bundles
These Cheesy Chicken and Broccoli Pastry Bundles are flaky pastry, chicken and broccoli smothered in a creamy cheddar cheese sauce!
Ingredients
1

tablespoon

light butter

,

I use Land O'Lakes

1

tablespoon

all-purpose flour

¼

teaspoon

salt

A pinch of black pepper

½

cup

skim milk

2

oz

50% reduced fat sharp cheddar cheese

,

shredded – divided (I use Cabot)

1

cup

fresh broccoli florets

1

sheet of frozen puff pastry

,

defrosted per package instructions (such as Pepperidge Farms)

6

oz

cooked boneless skinless chicken breasts

,

chopped or shredded

1

large egg

1

tablespoon

water
Instructions
Pre-heat the oven to 400 degrees. Line a baking sheet with parchment paper (or aluminum foil misted with cooking spray) and set aside.

Place the butter in a small saucepan and bring over medium-low heat until the butter is melted. Add the flour, salt and black pepper to the butter and stir to combine. Add the milk a little at a time and whisk the flour mixture into the milk each time until smooth. Add 1 ½ ounces of the shredded cheese. Whisk together and then whisk on and off for 1-3 minutes until smooth and thickened and remove from heat.

*Place the broccoli florets in a microwave-safe bowl and cover the bowl with a damp paper towel. Microwave for 2 minutes on high. (*You can otherwise steam the broccoli florets if preferred)

On a clean, dry cutting board sprinkle a small amount of flour to prevent sticking and lay down your sheet of defrosted puff pastry. Using a rolling pin, roll the pastry into a 10"x14" rectangle of even thickness. Using a knife (or a pizza cutter works wonderfully for this!), cut the dough into 6 equal pieces (2 sections lengthwise and 3 widthwise). Place the pastry sections a little bit apart on your parchment lined baking sheet.

Pour one tablespoon of cheese sauce in the center of each pastry square and spread across the center, leaving the four corners of the square bare (see photo above for details – you basically want the filling to be in a diamond shape in your pastry square, like another square that has been tilted so that the filling corners point to the flat sides of the pastry square). Divide the steamed broccoli and chopped chicken amongst the pastries and place on top of the cheese sauce. Drizzle the remaining cheese sauce evenly over the chicken and broccoli on each pastry square and then sprinkle the remaining shredded cheese on top. Fold the four corners of each pastry square over top of the filling (they do not need to meet).

In a small dish, combine the egg and tablespoon of water and whisk together to form an egg wash. Use a pastry brush to brush the egg wash over the top of the pastries. Place the baking sheet with the pastries into the fridge (or freezer) for 10 minutes to chill (puff pastry puffs better when it goes into the oven cold).

Transfer the baking sheet into the preheated oven and bake for 20 minutes until the pastry is golden and puffy. Serve warm.
Notes
To view your WW PersonalPoints for this recipe and track it in the WW app or site, click here!
Nutrition Information per bundle:
266 calories, 19 g carbs, 2 g sugars, 14 g fat, 7 g saturated fat, 17 g protein, 1 g fiber (from myfitnesspal.com)
MyWW SmartPoints per (1 bundle) serving:(SP calculated using the recipe builder on weightwatchers.com)
Green: 8 SmartPoints/ Blue: 8 SmartPoints/ Purple: 8 SmartPoints
Weight Watchers Points Plus:
7 per bundle (PP calculated using a Weight Watchers brand PointsPlus calculator and the nutrition information below)