Easy Chicken and Bean Enchiladas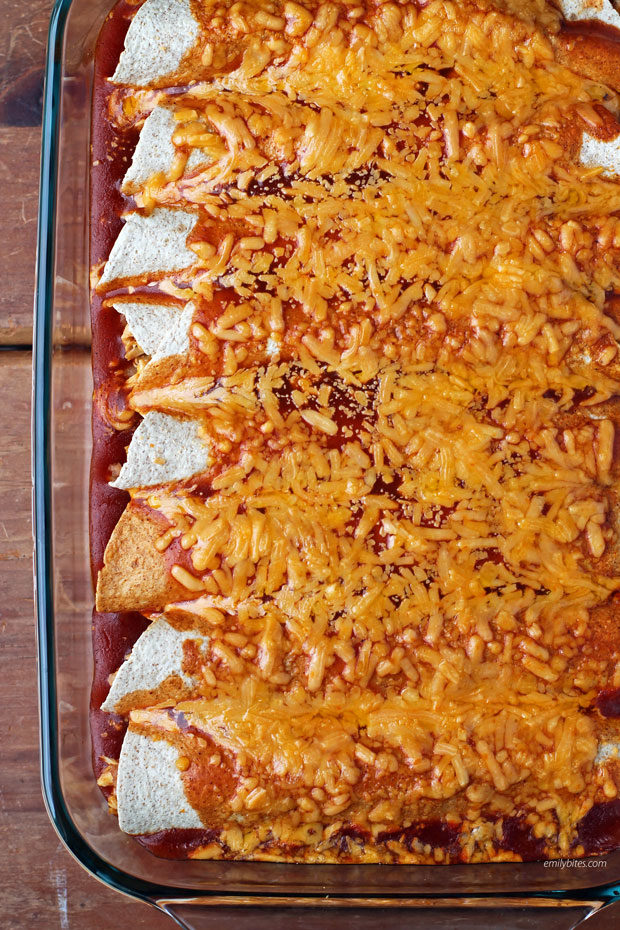 These easy 5-ingredient Chicken and Bean Enchiladas are a simple, filling and healthy weeknight dinner that will be a hit with the whole family. It's certainly a hit with mine! I've been making these enchiladas for at least 10 years, long before I started this blog. I think I waited so long to post them because it's such a simple dish, I didn't know if anyone would even consider it a recipe. However, I make these Chicken and Bean Enchiladas pretty frequently and my husband and our 1 ½ year old both love them, so I figured you all probably would too. Who doesn't love an easy, 5-ingredient dinner? Plus each of these filling enchiladas is only 228 calories or 6 Green, 4 Blue, or 4 Purple myWW SmartPoints!
Before you say anything, I KNOW these are not traditional enchiladas. Instead of using corn tortillas, I usually make these Chicken and Bean Enchiladas using the La Banderita Carb Counter Whole Wheat wraps. These wraps are the perfect size, they taste great in these enchiladas and they're only 50 calories or 1 WW SmartPoint each! I find them in the "Mexican" aisle at Wegmans, but they're also available for order on Amazon, or you can just use your own favorite low carb tortillas (may change the nutrition information and WW points). I also usually just throw some chicken breasts in the slow cooker in the morning with water to make shredded chicken (method available here), but you can certainly make the chicken using other methods (boiling, baking, Instant Pot, etc) or just shred up some rotisserie chicken breasts.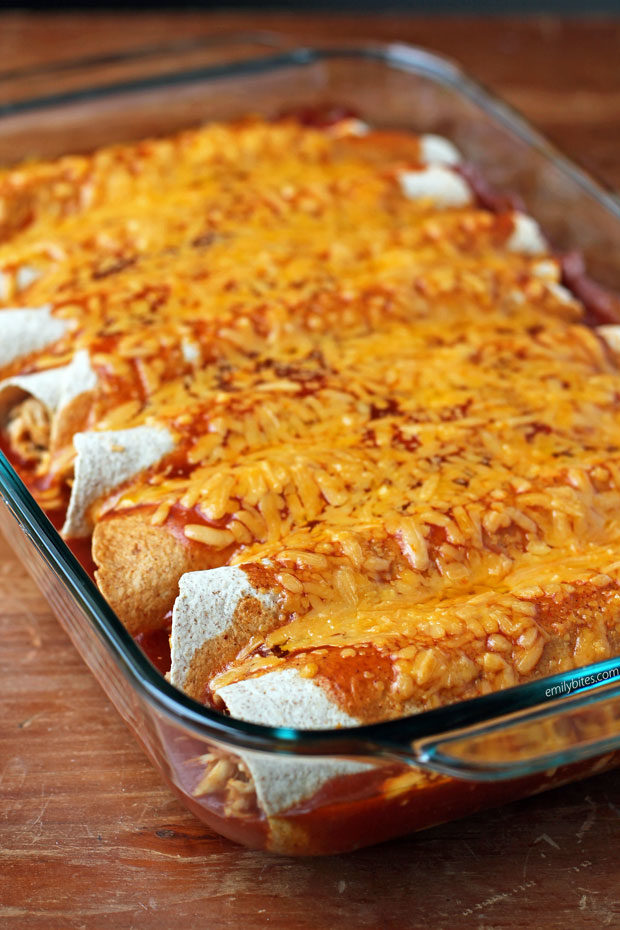 Looking for more tasty, lightened up Mexican-inspired recipes like these Chicken and Bean Enchiladas? Check out my Deep Dish Taco Casserole, 7 Layer Dip, Beef Enchilada Pasta Skillet, Easy Salsa Rice, Fiesta Stuffed Chicken, Mexican Chicken Cauliflower Rice Skillet, Easy Chicken Quesadillas, Beef Taco Soup, Taco Chicken Salad, Spicy Steak Tacos with Guacamole, Spicy Beef Taquitos, Chicken Tamale Bake, Cheesy Taco Pasta, Taco Wonton Cups, and more in the Mexican category of my recipe index!
Easy Chicken and Bean Enchiladas
These easy 5-ingredient Chicken and Bean Enchiladas are a simple, filling and healthy weeknight dinner!
Ingredients
2

10 oz each cans of red enchilada sauce

12

oz

cooked

,

shredded boneless, skinless chicken breast

8

low calorie/carb tortillas

,

I use La Banderita Carb Counter Whole Wheat Wraps

1 ½

cups

canned fat free refried beans

1 ¼

cups

shredded 2% sharp cheddar cheese
Instructions
Preheat the oven to 350 degrees. Open one can of the enchilada sauce and pour ½ cup into the bottom of a 9x13 baking dish. Use a spatula or the back of a spoon to spread the sauce across the bottom of the dish.

Place the shredded chicken in a mixing bowl and add the remainder of the enchilada sauce from the first can. Mix the chicken and sauce together until thoroughly combined.

To build each enchilada, lay a tortilla flat and spread 3 tablespoons of refried beans in a line down the center. Top the beans with 1.5 ounces of the shredded chicken and then sprinkle a tablespoon of the shredded cheddar over the chicken. Fold one side of the tortilla over top of the filling and roll until the enchilada is wrapped. Repeat with the remaining ingredients to form 8 enchiladas.

Place the finished enchiladas in a single layer row in the baking dish. Pour the remaining can of enchilada sauce over the top of the enchiladas and top with the remaining ¾ cup of shredded cheddar. Bake for 30 minutes.
Notes
MyWW SmartPoints per (1 enchilada) serving:(SP calculated using the recipe builder on weightwatchers.com)
Green: 6 SmartPoints/ Blue: 4 SmartPoints/ Purple: 4 SmartPoints
Weight Watchers Points Plus:
6 per enchilada (PP calculated using a Weight Watchers brand PointsPlus calculator and the nutrition information below)
Nutrition Information per enchilada:
228 calories, 28 g carbs, 1 g sugars, 7 g fat, 3 g saturated fat, 23 g protein, 13 g fiber (from myfitnesspal.com)