Apricot Brie Tartlets
These 3-ingredient Apricot Brie Tartlets are pretty much the easiest appetizer possible, and they're so tasty to boot! I love the rich, creamy, warm Brie with the sweetness of the apricot preserves and the crispy phyllo shell. It's kind of like the flavors of baked brie, but individually portioned and with way less time and effort! It's always nice to have an appetizer recipe you know you can toss together in 15 minutes and is sure to be a crowd-pleaser. I know most of us aren't doing much entertaining these days, but these Apricot Brie Tartlets would be great for upcoming holidays with the family, or as a tasty afternoon snack. Someday when we're back to in-person book clubs, football parties, girls' nights, etc you can make these for that too. Not only are they easy and tasty, each tartlet is just 37 calories or 2 WW Points each! To view your current WW Points for this recipe and track it in the WW app or site, click here!
I love these Apricot Brie Tartlets with apricot preserves, but you can definitely swap them out for another flavor you keep on hand. Raspberry preserves? Yes please. Apple butter? Yum. Whatever floats your boat! You can even add some finely chopped walnuts to make it extra fancy if you like (this will likely affect the nutrition info/WW points). I'm sure I will have people ask about using sugar-free preserves, and you certainly can! I don't particularly like the flavor of the sugar-free preserves I've tried, but if you do then you can definitely use them in this recipe. You can also use the "low sugar" jams/preserves which is what I most frequently have on hand at my house. I calculated the nutrition info and points using traditional apricot preserves because it's easy to find in pretty much all stores, but if you want to substitute something else it should be pretty simple to run it through MyFitnessPal or the WW recipe builder with the jam or preserves you choose. It's only three ingredients, after all!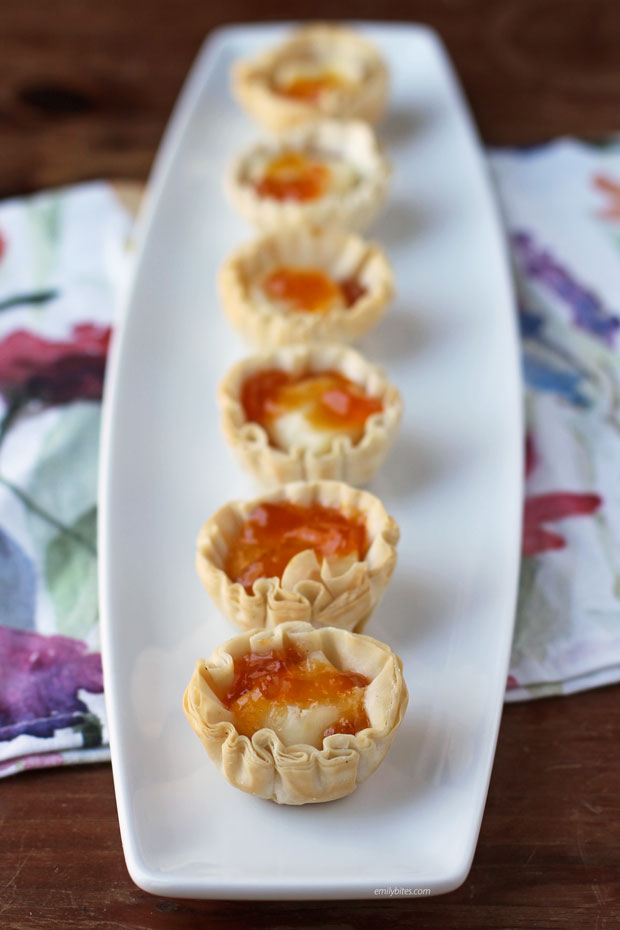 Looking for more tasty, lightened up appetizer and snack recipes? Check out my Spinach Balls, Cheesy Pineapple Prosciutto Bites, Buffalo Deviled Eggs, 7 Layer Dip, Cheesecake Fruit Dip, Turkey Sausage Stuffed Mushrooms, Buffalo Cauliflower Wings, Spinach Artichoke Wonton Bites, Pepperoni Pizza Dip, Strawberry Balsamic Bruschetta, Buffalo Chicken Dip, Cranberry Brie Bites, Caprese Wonton Bites, Baked Un-Fried Pickles, Bacon-Wrapped Watcher Chestnuts, and many more in the Appetizers section of my recipe index!
Apricot Brie Tartlets
These 3-ingredient Apricot Brie Bites are a quick, tasty and easy appetizer or snack!
Ingredients
1

15 count package mini phyllo/fillo shells

,

such as Athens brand, found in the freezer section

3

ounces

light Brie cheese

,

I used Trader Joe's light brie, but President brand light Brie is also great

2 ½

tablespoons

apricot preserves
Instructions
Preheat the oven to 350 degrees. Line a baking sheet with aluminum foil and place the phyllo shells onto the foil.

Cut the cheese into 15 even cubes (I separated it into three 1 oz pieces and cut each of those into 5 chunks). Place a cheese cube into each phyllo shell. Top each cube with ½ teaspoon of apricot preserves. Place the sheet pan in the oven and bake for 10-12 minutes.
Notes
To view your current WW Points for this recipe and track it in the WW app or site, click here!
WW Points per tartlet: 2 (Points calculated using the recipe builder on weightwatchers.com)
Nutrition Information per tartlet:
37 calories, 4 g carbs, 2 g sugars, 1 g fat, 1 g saturated fat, 2 g protein, 0 g fiber (from myfitnesspal.com)
MYWW SMARTPOINTS PER tartlet: (SP calculated using the recipe builder on weightwatchers.com)
Green: 1 SmartPoints/ Blue: 1 SmartPoints/ Purple: 1 SmartPoints
Weight Watchers Points Plus:
1 per tartlet (PP calculated using a Weight Watchers PointsPlus calculator and the nutrition info below)