Crispy Onion Dip Chicken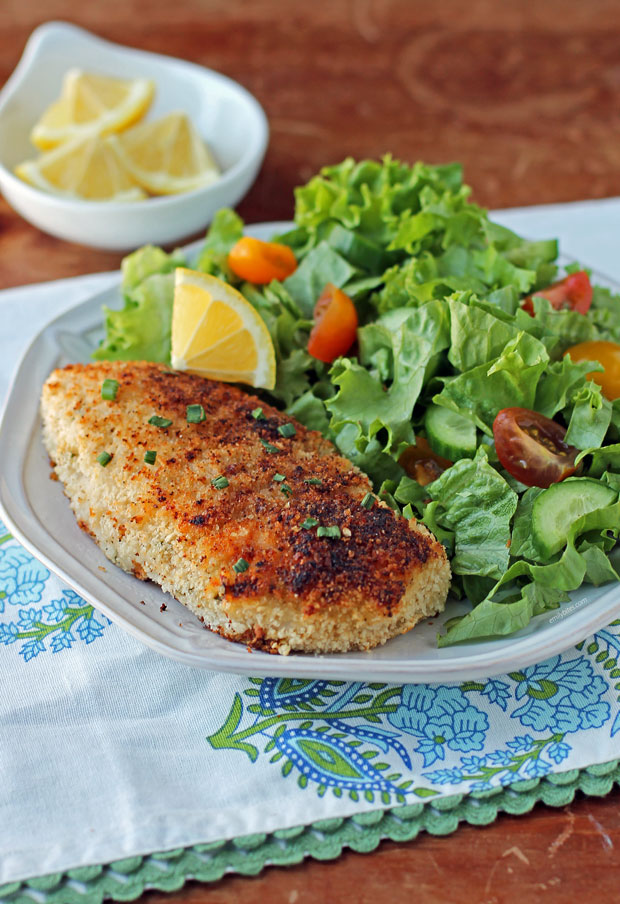 This lightened up Crispy Onion Dip Chicken offers the flavors of your favorite sour cream and onion dip, in a juicy, crispy-coated chicken breast! This recipe is super easy to whip up with just a few ingredients, but it has delicious bold, fresh flavor. You'll just stir together an onion dip, spread it on the chicken, coat the chicken in a breadcrumb mix, and then brown up the outside and bake! I found the original recipe on the NY Times site a few months ago, and I've been thinking about lightening it up a bit ever since. I decided to use Greek yogurt rather than sour cream, fewer breadcrumbs, and to bake the chicken rather than frying it (along with other changes). It turned out fantastic, so I'll never make it another way! My Crispy Onion Dip Chicken is just 261 calories or 6 Green, 4 Blue or 4 Purple WW (Weight Watchers) SmartPoints per piece.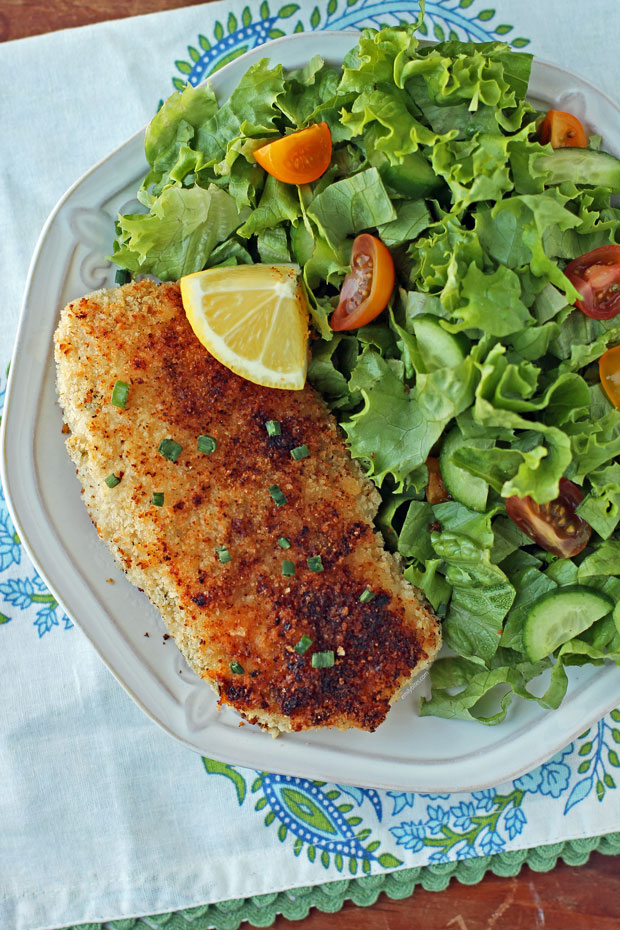 This chicken was a hit with my family! When my husband took his first bite he said it tasted like "chicken coated with those crispy fried onion things" which, now I kind of want to make that too? I like to serve this Crispy Onion Dip Chicken with a veggie side like salad, my Stovetop Green Beans with Almonds, or roasted carrots, cauliflower or broccoli. It would also be great with Classic Mashed Potatoes or Roasted Fingerling Potatoes.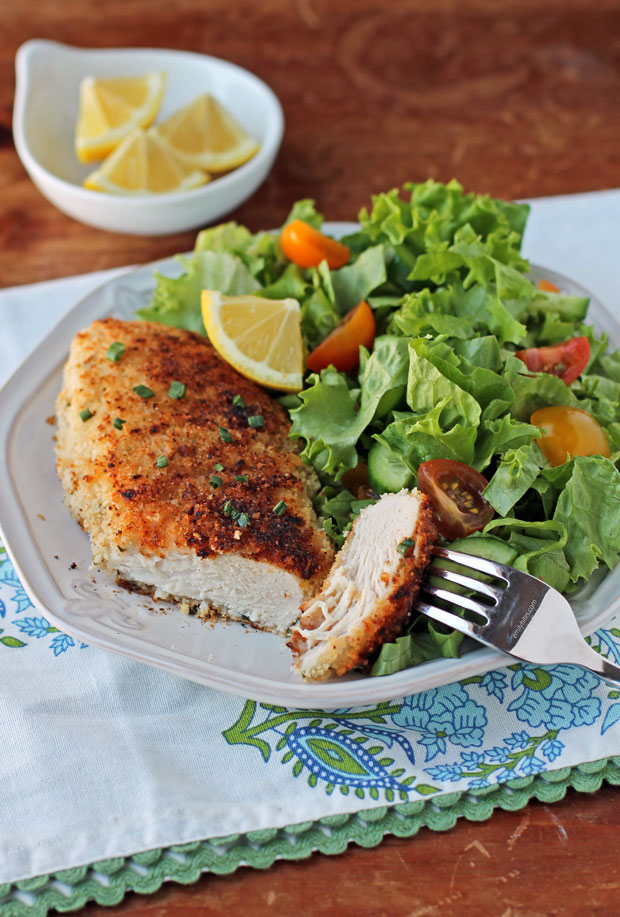 Looking for more ways to make your chicken breasts delicious? Try my Apple and Brie Stuffed Chicken, Nashville Hot Chicken Bites, Cream Cheese Stuffed Everything Chicken, Pimento Cheese Stuffed Chicken, Crispy Chicken Parmesan, Blackened Chicken Bites, Baked Hot Barbecue Chicken Tenders, Mediterranean Topped Grilled Chicken, Cheesy Bacon BBQ Chicken, Tuscan Olive Chicken, Fiesta Stuffed Chicken, Baked Chicken Tenders, Bruschetta Topped Balsamic Chicken, Thai Chicken Skewers, Chicken Piccata, and many, many more in the Chicken section of my recipe index!
Crispy Onion Dip Chicken
This lightened up Crispy Onion Dip Chicken has the flavors of your favorite sour cream and onion dip, in a juicy, crispy-coated chicken breast!
Ingredients
4

(5 oz each)

boneless, skinless chicken breast cutlets

,

(20 oz total)

½

cup

plain fat free Greek yogurt

1 ½

tablespoons

onion powder

,

divided

¼

cup

sliced chives

,

plus more for topping

½

teaspoon

table salt

,

divided

¼

teaspoon

black pepper

,

divided

¾

cup

panko breadcrumbs

1

tablespoon

vegetable oil

4

wedges

lemon

,

(lemon adds brightness to the flavors!)
Instructions
Pre-heat the oven to 425. Line a baking sheet with parchment paper and set aside.

Place the chicken breasts on a cutting board and cover with parchment paper. Use a meat mallet to pound the chicken breasts to an even thickness of about ½" thick. Pat the breasts dry with a paper towel and sprinkle with a little bit of salt and pepper.

In a bowl, combine the Greek yogurt with 1 tablespoon of onion powder, the ¼ cup of chives, ¼ teaspoon of salt and 1/8 teaspoon of pepper. Stir together until well combined. Place the chicken breasts in a shallow dish and coat on all sides with the yogurt mixture. Cover and place in the refrigerator to marinate for up to 8 hours (I'd let it sit for at least an hour or two…it helps the flavors to meld and the chicken breasts to stay juicy).

In a shallow dish, add the panko breadcrumbs and the remaining 1½ teaspoons onion powder, ¼ teaspoon salt, and 1/8 teaspoon black pepper and stir to combine. One at a time, lay each onion dip-coated chicken breast in the crumb mixture and flip to coat. Press any remaining breadcrumb mixture lightly into the chicken breasts.

In a large skillet, add the oil and bring over medium-high heat. When hot, add the chicken breasts and cook for 4-5 the bottoms are golden. Flip the breasts and cook for another 3 minutes on the other side to do the same. Transfer the breasts to the prepared baking sheet.

Place in the pre-heated oven. Bake for 15-20 minutes until chicken is fully cooked through (mine was juicy and perfect at around 17 minutes). Serve each chicken breast with a lemon wedge to squeeze over the top!
Notes
MYWW SMARTPOINTS PER SERVING: (SP calculated using the recipe builder on weightwatchers.com)
Green: 6 SmartPoints/ Blue: 4 SmartPoints/ Purple: 4 SmartPoints
Weight Watchers Points Plus:

6 per serving (PP calculated using a Weight Watchers PointsPlus calculator and the nutrition info below
Nutrition Information per serving:
261 calories, 11 g carbs, 1 g sugars, 8 g fat, 1 g saturated fat, 36 g protein, 1 g fiber, 105 mg sodium (from myfitnesspal.com)
Adapted from NY Times