Nashville Hot Chicken Bites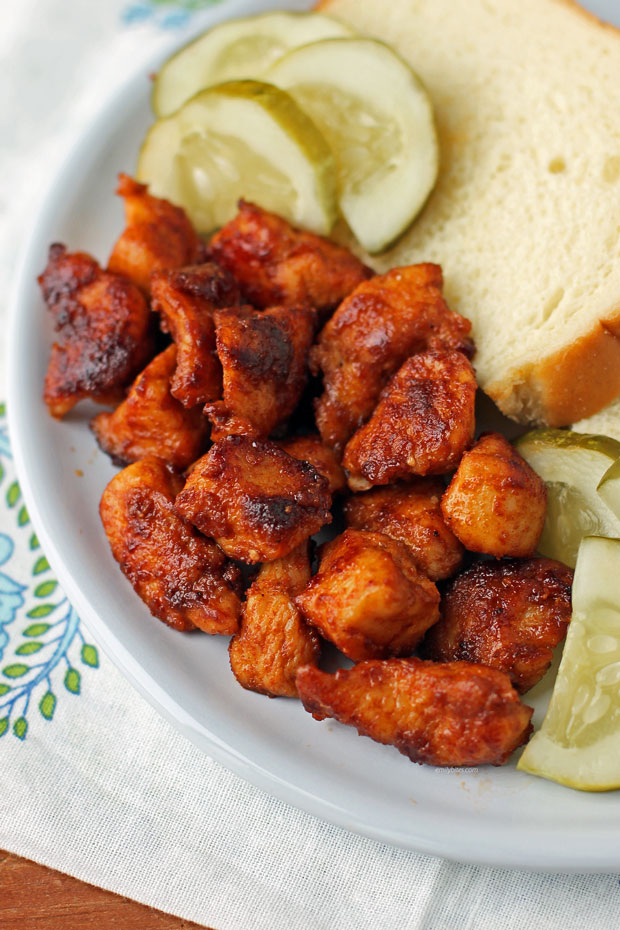 These Nashville Hot Chicken Bites are a quick and easy dinner or meal prep starter that's full of flavor! My husband and I love these so much we made them twice this week. Just a reminder that Nashville Hot Chicken is, well, hot. These chicken bites have great depth of flavor, and they are (in my opinion) perfectly spicy. I originally tried making these with 1 ½ teaspoons of cayenne, but it gave me the hiccups after the first bite, so I dialed the heat back a bit! As written, these are spicy is a good way, with a slow burn that hits you in the aftertaste. I recommend pairing these with pickles (the flavors go so well together) and either bread, rice, a bun, yogurt dipping sauce, a glass of milk, or something else to cool your tongue a bit if needed!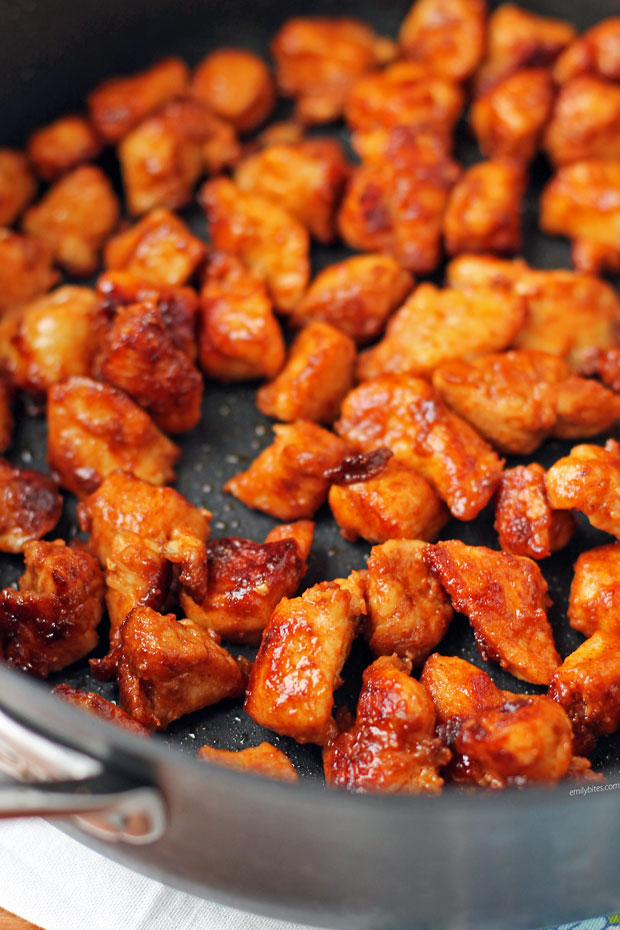 This dish is cooked in the same manner as my Blackened Chicken Bites, so if you're already a fan of those, you'll want to try these as well! The method is super easy on the stovetop and comes together quickly for a weeknight dinner. I often buy a big pack of chicken breasts at the store and then trim them down to make 5-6 oz cutlets to use in recipes. Everything I cut off to make the cutlets gets cut into chunks to make chicken bites! It's easy to weigh out 1 lb or 1.5 lb of chicken chunks and freeze them for later in a quart size freezer bag. That way, I always have some on hand!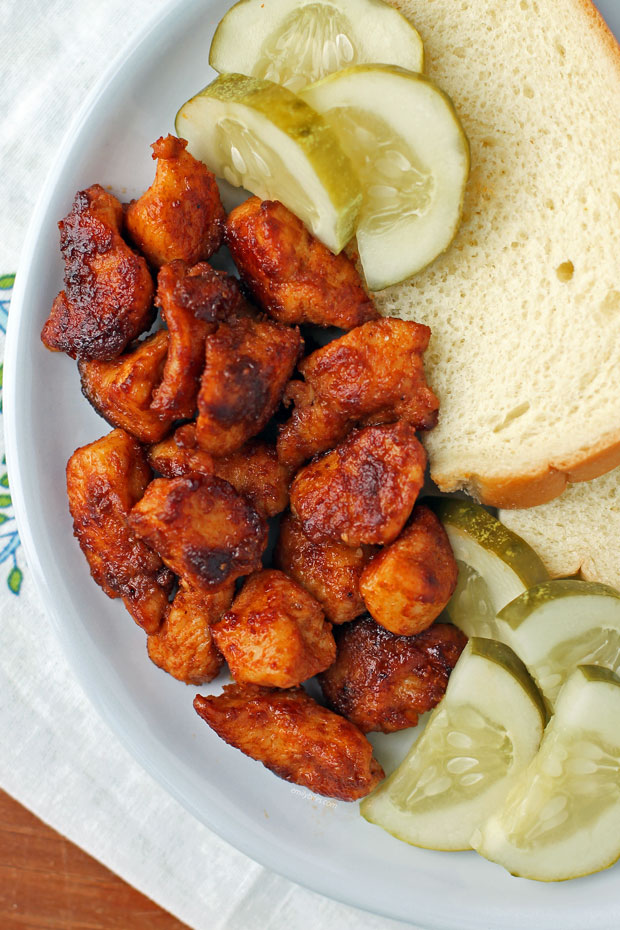 When I weighed my finished Nashville Hot Chicken Bites they were 12.4 ounces total. I decided to call it 4 servings of 3 ounces each (which would be 12 ounces) because it's simpler, but just an FYI that your servings may be slightly bigger than 3 ounces. With that said, each filling 3(ish) ounce serving of Chicken is just 183 calories, 4 gram of carbs, or 2 WW (Weight Watchers) Points! To view your current WW Points for this recipe and track it in the WW app or site, click here!
Looking for more tasty, lightened up, Chicken recipes? Check out my Blackened Chicken Bites, Greek Chicken Bites, Apple and Brie Stuffed Chicken, Slow Cooker Chicken and Stuffing, Strawberry Balsamic Grilled Chicken, Ricotta Stuffed Chicken Bake, Lemon Garlic Chicken and Beans Skillet, Cream Cheese and Herb Stuffed Chicken, Tuscan Olive Chicken, Crispy Cheddar Chicken with Cream Sauce, Baked Chicken Tenders, Pimento Cheese Stuffed Chicken, Cream Cheese Stuffed Everything Chicken, and so many more in the Chicken category of my recipe index!
Nashville Hot Chicken Bites
These Nashville Hot Chicken Bites are spicy, flavorful, and so easy to make!
Ingredients
1

teaspoon

ground cayenne pepper

2

teaspoons

packed brown sugar

1 ½

teaspoons

all purpose flour

½

teaspoon

paprika

½

teaspoon

chili powder

½

teaspoon

salt

½

teaspoon

garlic powder

1

tablespoon

canola oil

1

lb

raw boneless, skinless chicken breast

,

cut into small bite-sized pieces
Instructions
In a small dish, stir together the cayenne pepper, brown sugar, flour, paprika, chili powder, salt, and garlic powder. Place the cut up chicken pieces into a gallon zip-seal plastic bag and add the spice mix. Seal the bag and shake/massage the contents until the chicken pieces are coated with the spices.

Add the oil to a large sauté pan/walled skillet and bring over med-high heat. Once the oil is hot, add the chicken pieces (you don't want to overcrowd the pan, so depending on the size of your skillet you may want to work in two batches instead of one) and stir to break them up and coat them in the oil. Cook the chicken for 7-8 minutes, stirring every couple minutes (you don't want to stir super frequently because the chicken needs time to brown and get a "crust" on each side). Once the chicken is cooked through and browned on the outside, remove from heat and serve.
Notes
To view your current WW Points for this recipe and track it in the WW app or site, click here!
WW Points per (3 ounce) serving: 2 (Points calculated using the recipe builder on weightwatchers.com)
Nutrition Information per (3 ounce) serving:
183 calories, 4 g carbs, 2 g sugars, 7 g fat, 1 g saturated fat, 26 g protein, 0 g fiber, 64 mg sodium (from myfitnesspal.com)
MYWW SMARTPOINTS PER (3 ounce) SERVING: (SP calculated using the recipe builder on weightwatchers.com)
Green: 3 SmartPoints/ Blue: 2 SmartPoints/ Purple: 2 SmartPoints
Weight Watchers Points Plus:

5 per (3 ounce) serving (PP calculated using a Weight Watchers PointsPlus calculator and the nutrition info below)