Spicy Chicken Sandwiches (Air Fryer or Oven)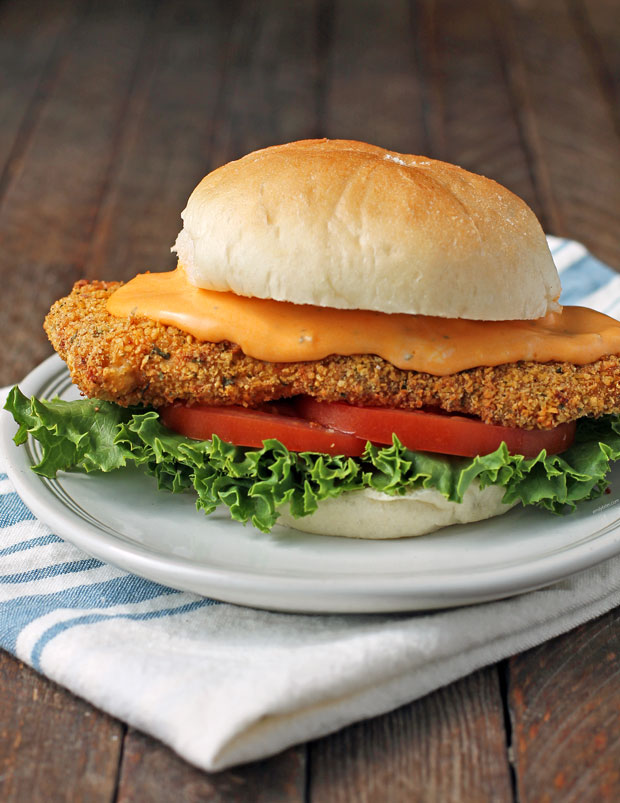 I'm so excited to share these homemade Spicy Chicken Sandwiches with you. A spicy chicken sandwich is my favorite thing to order at a fast food restaurant, so I was a bit skeptical that I could love a lightened up version just as much. I'm telling you straight up, this sandwich is it. Juicy chicken breast in a spicy, crispy coating with a delectable creamy sauce, served with sweet, juicy tomatoes and fresh lettuce on a tasty sandwich roll. I would happily eat these every day and never guess that they were only 342 calories or 7 WW Points. To view your current WW Points for this recipe and track it in the WW app or site, click here.
In my opinion, these Spicy Chicken Sandwiches have the perfect amount of spice. Both the chicken and the sauce have a good kick but definitely aren't overwhelmingly hot. The crumb coating on the chicken has three layers of flavor, with spice in the flour, egg dip, and bread crumb mixture! The creamy French onion dip soothes the heat of the wing sauce in the topping for the perfect combination of flavors. I absolutely recommend making these sandwiches as written, but if spice isn't for you there are several easy adjustments you can make to your taste. The paprika in the flour and wing sauce in the egg whites and sandwich sauce can all be left out based on your preferences.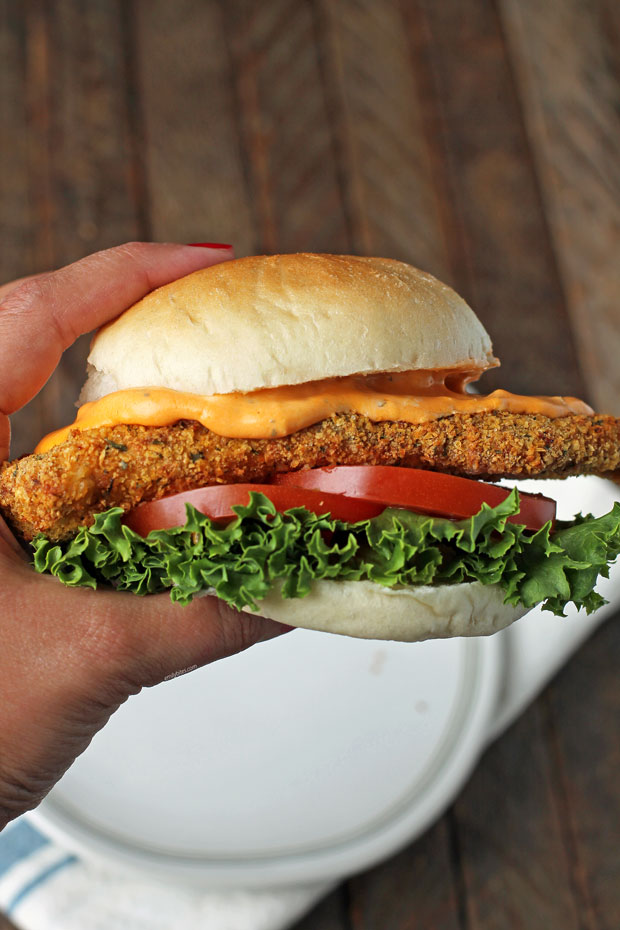 Air Fryer or Oven?
I've made the chicken for these Spicy Chicken Sandwiches in my air fryer and in my oven and provided direction for both in the recipe instructions below. If you have both options available, I recommend cooking the chicken in your air fryer because the outside gets crispier, which I prefer. If you don't have an air fryer, the oven is still a great option and will make delicious chicken for your Spicy Chicken Sandwich.
Do I need to pre-heat my air fryer?
I've seen lots of mixed information about this. Some sources say you absolutely must pre-heat your air fryer and some say you needn't bother. I think it probably depends on the brand of air fryer you own, so you may want to check your manual. I have a COSORI brand air fryer and do not pre-heat for this recipe. I see that Philips (another popular brand) also says you don't need to pre-heat. If you're not sure about your particular model, feel free to just run it for a few minutes before you add the chicken to be sure.
Ingredient Notes and Substitutions
Sandwich Rolls: I used Costanzo's Classic White Small Sandwich Rolls which are a local brand I buy at Wegmans. These rolls are 130 calories or 4 WW PersonalPoints each and they're delicious. Many sandwich rolls and hamburger buns have similar nutrition stats, though you can definitely use a light bun if you prefer to spend less calories/points on the bread part of the sandwich. Schmidt 647 sandwich rolls, for example, are 80 calories or 2 WW PersonalPoints. I love my Costanzo's rolls with this, but feel free to save a couple points or some calories and go with a lighter bun.
Sauce: Trust me, you need to try mixing French onion dip and Buffalo wing sauce. I put that combo on everything. I use it as a salad dressing, dipping sauce, and sandwich topping. It's so good. I always buy Bison Dip which is a local Buffalo brand, but Heluva Good will also work great, and I'm sure other brands as well. You can also sub ranch or blue cheese dressing if you prefer.
Bread Crumbs: I love the flavor and color that cornflake crumbs bring to this recipe! You can find Kellogg's Corn Flakes Crumbs in a box by the other breadcrumbs, there's no need to grind up your own cornflakes. If you're not into cornflake crumbs or just don't have any on hand you can definitely use plain panko bread crumbs instead.

Chicken Cutlets
Thinly cut chicken cutlets are sold in the meat section of most grocery stores, so definitely feel free to just grab those for this recipe. I often buy big bulk packs of boneless, skinless chicken breasts at my grocery store and then use kitchen shears to trim them down into the shapes and sizes I use frequently in recipes. It's cheaper to buy the breasts in bulk and since I use chicken breasts a lot in my recipes it makes sense for me! I generally cut the big chicken breasts widthwise into cutlets (usually 4 oz – 6 oz each) like the ones used in this recipe. Any chicken that is cut off to make those I then cut into small chunks to make chicken bites. It's easy to weigh out 1 lb or more of chicken chunks or tenders and some 4, 5, or 6 oz cutlets and freeze them for later in quart size freezer bags. That way, I always have some cutlets and some chicken bites on hand to use in my recipes!
More Tasty Lightened Up Chicken Recipes:
Looking for more tasty, lightened up recipes using chicken breasts? Check out my Air Fryer Chicken Tenders, Cheesy Garden Vegetable Baked Chicken, Barbecue Rubbed Chicken Bites, Mexican Street Corn Chicken, Cheesy Broccoli Stuffed Chicken, Lemon Pepper Chicken Bites, Baked Chicken Tenders, Crispy Onion Dip Chicken, Nashville Hot Chicken Bites, Crispy Chicken Parmesan, Apple and Brie Stuffed Chicken, Maple Dijon Chicken and Squash Skillet, Strawberry Balsamic Grilled Chicken, Blackened Chicken Bites, Ricotta Stuffed Chicken Bake, Lemon Garlic Chicken and Beans Skillet, Cream Cheese and Herb Stuffed Chicken, Tuscan Olive Chicken, Barbecue Bacon Wrapped Chicken Tenders, Pimento Cheese Stuffed Chicken, Cream Cheese Stuffed Everything Chicken, and many more in the Chicken section of my recipe index!
Spicy Chicken Sandwiches
These homemade lighter Spicy Chicken Sandwiches bring the heat with juicy chicken in a crisp coating smothered in a creamy sauce!
Ingredients
1

tablespoon

all-purpose flour

½

teaspoon

paprika

4

(4 oz each)

thin uncooked boneless skinless chicken breast cutlets

,

(1 lb total)

2

egg whites

,

beaten

2

tablespoons + ½ teaspoon

Buffalo wing sauce

,

divided

½

cup

corn flake crumbs

,

(these are sold by the other bread crumbs in stores, no need to crush your own!)

½

teaspoon

dried parsley flakes

½

teaspoon

salt

¼

teaspoon

black pepper

¼

teaspoon

cayenne pepper

¼

teaspoon

garlic powder

¼

teaspoon

onion powder

4

tablespoons

French onion dip

,

(I use Bison Dip, Heluva Good will work great as well)

4

sandwich rolls or hamburger buns

4

leaves

green leaf lettuce

4-8

tomato slices
Instructions
In a small dish, mix together the flour and paprika. Place the chicken cutlets into a gallon Ziploc bag and add the flour/paprika mixture. Seal the bag and shake to coat the chicken.

In a shallow dish, beat the egg thoroughly. Add ½ teaspoon of the Buffalo wing sauce and stir until well combined. Set aside. In a separate shallow dish, stir together the cornflake crumbs, parsley, salt, pepper, cayenne, onion powder and garlic powder until thoroughly mixed.

One at a time, take the flour-coated chicken cutlets and coat them in the egg white mixture. Allow any excess egg to drip off and then press the chicken cutlet into the corn flake crumb mix and flip so that both sides are coated in crumbs.

Air Fryer (recommended): Transfer the crumb-coated chicken to the basket of your air fryer in a single layer without the cutlets touching each other. Lightly mist the tops of the chicken with cooking spray. Set the air fryer to 400 degrees Fahrenheit and cook for 6 minutes. Flip the tenders over and mist the tops with cooking spray. Continue to air fry your tenders for another 6 minutes until cooked through. Oven: Pre-heat oven to 425 degrees Fahrenheit. Line a baking sheet with parchment paper. When the chicken cutlets are crumb-coated, transfer them to the baking sheet and lightly mist the tops with cooking spray. Place the tray in the oven and cook for 8 minutes. Flip the cutlets and mist again with cooking spray. Return them to the oven for another 8 minutes or until cooked through.

In a small dish, stir together the remaining two tablespoons of Buffalo wing sauce and the four tablespoons of French onion dip until well mixed.

To build each sandwich, place a lettuce leaf on the bottom half of a sandwich roll and top it with 1-2 slices of tomato. Place a cooked chicken cutlet on top of the tomatoes and spread 1 ½ tablespoons of the Buffalo French onion sauce on top of the chicken. Add the top half of the sandwich roll and repeat to make four sandwiches (if you aren't serving all four at once, keep the ingredients separate and build the sandwiches as needed). Serve immediately.
Notes
WW Points per sandwich: 7 (Points calculated using the recipe builder on weightwatchers.com)
To view your current WW Points for this recipe and track it in the WW app or site, click here!
Nutrition Information per sandwich
342 calories, 36 g carbs, 3 g sugar, 6 g fat, 2 g saturated fat, 34 g protein, 2 g fiber, 643 mg sodium (from myfitnesspal.com)
Weight Watchers Points Plus:

8 per sandwich (PP calculated using a Weight Watchers PointsPlus calculator and the nutrition information below)