Lemon Pepper Chicken Bites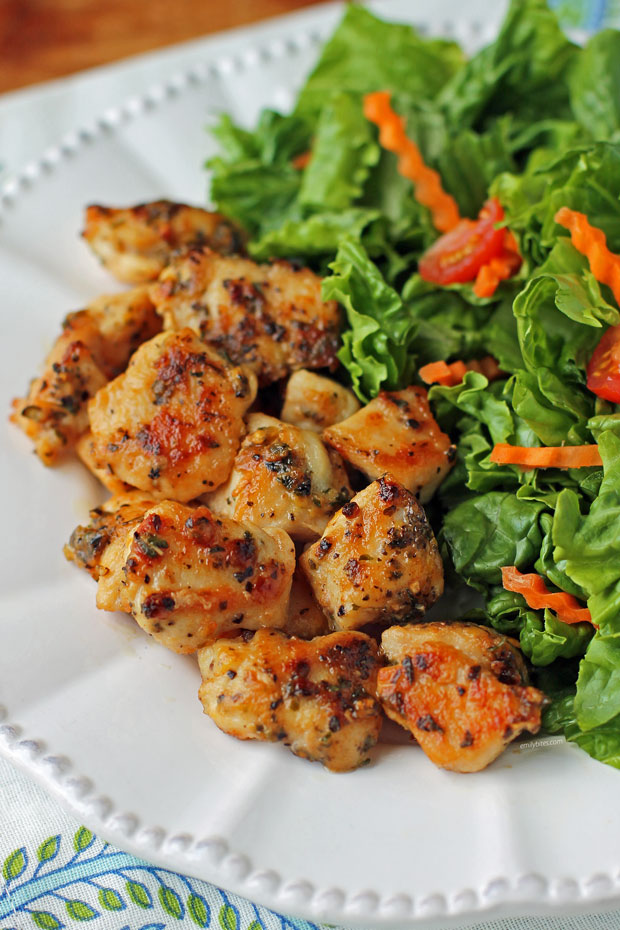 These easy, low carb Lemon Pepper Chicken Bites make a quick and tasty weeknight dinner! I love making chicken bites in different flavor combinations (I have Blackened, Greek, Nashville Hot, and Everything seasoned varieties on my blog already), because they're so fast to throw together and they taste so good. This lemon pepper version combines bright, fresh lemon with cracked black pepper, garlic, and herbs for bold flavor in every bite! I love cooking these chicken bites on the stovetop because they brown up nicely on the outside while staying nice and juicy. They pair really well with all types of side dishes, but my favorite way to keep the meal quick and easy is to serve them with roasted vegetables and seasoned rice (or my daughter's favorite, rice-a-roni). Each satisfying (3 ounce) serving of Lemon Pepper Chicken Bites is just 175 calories, 2 grams of carbs, or 1 WW Point! To view your current WW Points for this recipe and track it in the WW app or site, click here!
Equipment you'll need for this recipe:
Citrus Zester: to zest a lemon you'll just lightly scrape the yellow off the outside of the lemon peel with a zester. You'll do this all around the outside of the lemon. The yellow you've scraped off is the lemon zest! The zest from one lemon should be at least a tablespoon worth. The zester I use is from Pampered Chef, but this one is very well rated on Amazon (affiliate link) if you need one.
Citrus Reamer or Squeezer: either one will work! You just need a way to juice the lemon once you've removed the zest from the outside. I use this citrus reamer (affiliate link).
Pepper Grinder: used to make freshly cracked black pepper from peppercorns. These are easy to find in the spice section of most supermarkets. McCormick makes one. I use this one from Wegmans.
Cutting up the chicken
I often buy a big pack of boneless, skinless chicken breasts at the store and then use kitchen shears to trim them down to make 5-6 oz cutlets to use in recipes. Everything I cut off to make the cutlets gets cut into chunks to make chicken bites! It's easy to weigh out 1 lb or 1.5 lb of chicken chunks and freeze them for later in a quart size freezer bag. That way, I always have some on hand! Buying the bulk packs of chicken breasts is cost-effective, and cutting them into cutlets and bites ensured I have what I need on hand when I go to make a recipe. I find that kitchen shears make this task go quicker and easier than using a knife, so I highly recommend using shears like these (affiliate link).
Looking for more tasty, lightened up, Chicken recipes? Check out my Blackened Chicken Bites, Cheesy Broccoli Stuffed Chicken, Nashville Hot Chicken Bites, Apple and Brie Stuffed Chicken, Slow Cooker Chicken and Stuffing, Crispy Onion Dip Chicken, Strawberry Balsamic Grilled Chicken, Ricotta Stuffed Chicken Bake, Lemon Garlic Chicken and Beans Skillet, Cream Cheese and Herb Stuffed Chicken, Tuscan Olive Chicken, Crispy Cheddar Chicken with Cream Sauce, Baked Chicken Tenders, Pimento Cheese Stuffed Chicken, Cream Cheese Stuffed Everything Chicken, and so many more in the Chicken category of my recipe index!
Lemon Pepper Chicken Bites
These easy Lemon Pepper Chicken Bites come together quickly for a tasty, low carb weeknight dinner!
Ingredients
The zest from one lemon

,

(should be at least a tablespoon of lemon zest)

1

tablespoon

all-purpose flour

1 ¼

teaspoons

freshly coarse-ground black pepper

1

teaspoon

dried parsley

¾

teaspoon

salt

¾

teaspoon

garlic powder

½

teaspoon

paprika

½

teaspoon

dried oregano

½

teaspoon

dried basil

1

tablespoon

lemon juice

1 ½

tablespoons

olive oil

1 ½

lbs

raw boneless, skinless chicken breasts

,

cut into small bite-sized pieces
Instructions
In a small dish, stir together the lemon zest, flour, black pepper, parsley, salt, garlic powder, paprika, oregano, and basil. Place the cut up chicken pieces into a gallon zip-seal plastic bag and add the lemon juice. Toss to coat the chicken pieces in the lemon juice. Add the spice mix to the bag. Seal the bag and shake/massage the contents until the chicken pieces are coated with the spices.

Add the oil to a large sauté pan/walled skillet and bring over med-high heat. Once the oil is hot, add the chicken pieces (you don't want to overcrowd the pan, so depending on the size of your skillet you may want to work in two batches instead of one) and stir to break them up and coat them in the oil. Cook the chicken for 7-10 minutes, stirring every couple minutes (you don't want to stir super frequently because the chicken needs time to brown and get a "crust" on each side). Once the chicken is cooked through and browned on the outside, remove from heat and serve.
Notes
To view your current WW Points for this recipe and track it in the WW app or site, click here!
WW Points per (3 ounce) serving: 1 (Points calculated using the recipe builder on weightwatchers.com)
Nutrition Information per (3 ounce) serving:
175 calories, 2 g carbs, 0 g sugars, 6 g fat, 1 g saturated fat, 26 g protein, 0 g fiber, 55 mg sodium (from myfitnesspal.com)
MYWW SMARTPOINTS PER (3 ounce) SERVING: (SP calculated using the recipe builder on weightwatchers.com)
Green: 3 SmartPoints/ Blue: 1 SmartPoints/ Purple: 1 SmartPoints
Weight Watchers Points Plus:

4 per (3 ounce) serving (PP calculated using a Weight Watchers PointsPlus calculator and the nutrition info below)