Everything Chicken Bites with Cream Cheese Yogurt Dip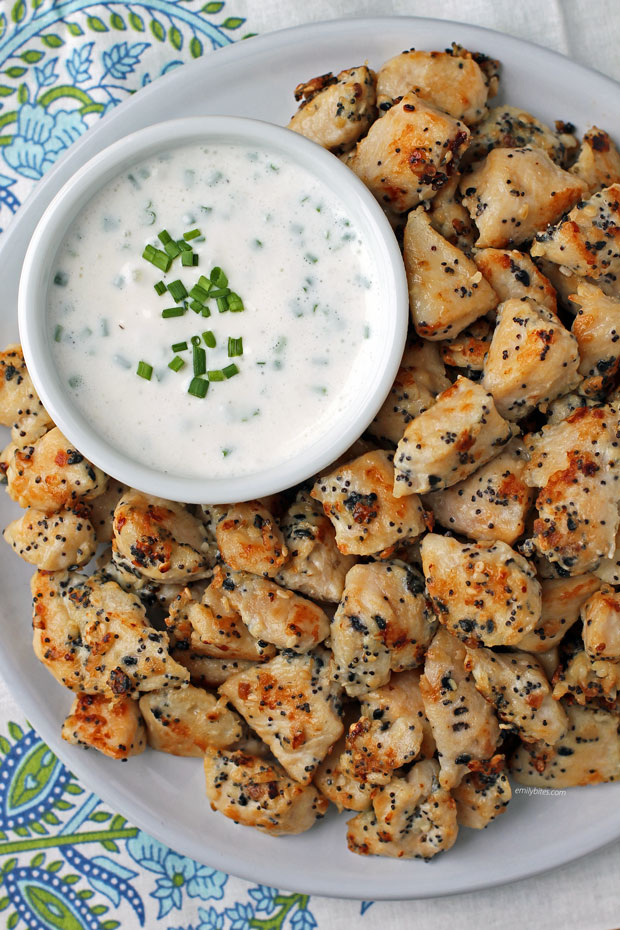 Is it too much if I say these Everything Chicken Bites with Cream Cheese Yogurt Dip really are everything? Probably, but I will say they're super tasty and really easy to make. Years ago I posted a recipe for Cream Cheese Stuffed Everything Chicken and it was immediately super popular and has been ever since. I mean, a low carb chicken dish stuffed with cheese and coated with a salty, garlicky, savory crust…what's not to like? I've been obsessed with making different flavors of chicken bites over the past year, so I thought a twist on that recipe that takes just 20 minutes might go over just as well!
For the Everything Chicken Bites, you'll just coat the chicken in flour, egg white, and Everything Bagel Seasoning, and then you'll cook them up in some olive oil on the stovetop until the everything crust is golden. It's super quick and easy! For the dip, you just stir together a few ingredients you probably already have on hand and voila! Easy breezy. In addition to being tasty and simple, a serving of these Everything Chicken Bites with Cream Cheese Yogurt Dip is just 236 calories, 3 grams of carbs, or 4 Green, 2 Blue, or 2 Purple WW (Weight Watchers) SmartPoints!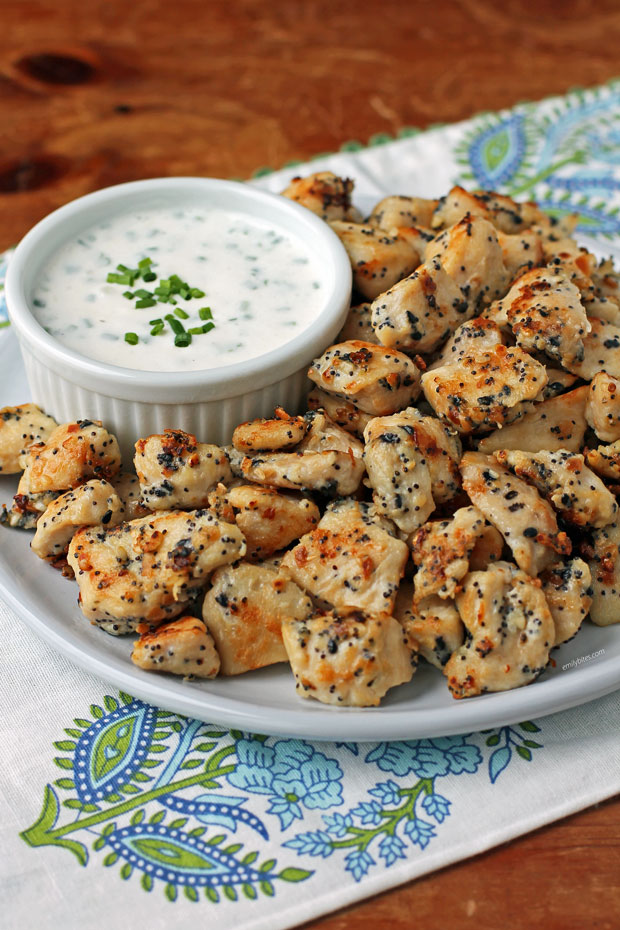 If you're wondering what the "Everything" in Everything Chicken Bites is, I will happily introduce you! If you've ever had an everything bagel, you'll recognize that the seasoning in question is the mixture they sprinkle on top of those bagels. Everything bagel seasoning is a mixture of sesame seeds, poppy seeds, garlic, onion, and salt. Back in 2015 when I first posted my Cream Cheese Stuffed Everything Chicken, I never saw this seasoning being bottled and sold in stores, so I just made my own. Nowadays, I see that spice mix everywhere! Trader Joe's, Target's Good & Gather line, McCormick, Walmart's Sam's Choice line – they all have a version. Since it's so prevalent now, I used a pre-mixed one in this recipe, and it worked great! Plus, I love having this seasoning on hand. It's great on avocado toast or hard-boiled eggs, among other things!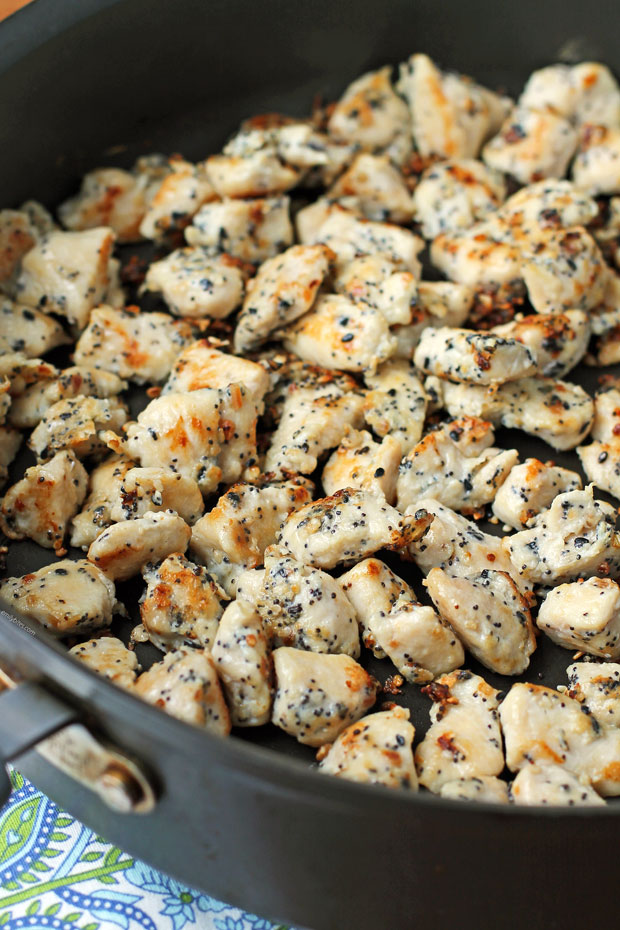 This dish is cooked in the same manner as my Blackened Chicken Bites, Greek Chicken Bites, and Nashville Hot Chicken Bites, so if you're already a fan of those, you'll want to try these as well! The method is super easy on the stovetop and comes together quickly for a weeknight dinner. I often buy a big pack of chicken breasts at the store and then trim them down to make 5-6 oz cutlets to use in recipes. Everything I cut off to make the cutlets gets cut into chunks to make chicken bites! It's easy to weigh out 1 lb or 1.5 lb of chicken chunks and freeze them for later in a quart size freezer bag. That way, I always have some on hand!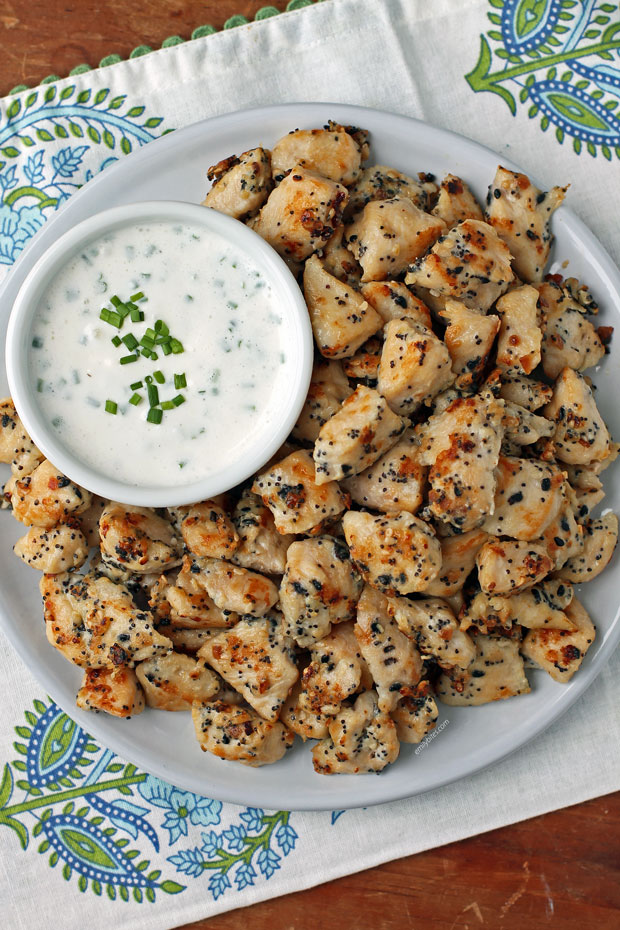 Looking for more tasty, lightened up, Chicken recipes? Check out my Blackened Chicken Bites, Greek Chicken Bites, Nashville Hot Chicken Bites, Crispy Onion Dip Chicken, Apple and Brie Stuffed Chicken, Slow Cooker Chicken and Stuffing, Strawberry Balsamic Grilled Chicken, Ricotta Stuffed Chicken Bake, Lemon Garlic Chicken and Beans Skillet, Cream Cheese and Herb Stuffed Chicken, Tuscan Olive Chicken, Crispy Cheddar Chicken with Cream Sauce, Baked Chicken Tenders, Pimento Cheese Stuffed Chicken, Cream Cheese Stuffed Everything Chicken, and so many more in the Chicken category of my recipe index!
Everything Chicken Bites with Cream Cheese Yogurt Dip
These low carb Everything Chicken Bites with Cream Cheese Yogurt Dip use everything bagel seasoning for a quick and tasty weeknight meal!
Ingredients
1

oz

1/3 less fat cream cheese

,

softened to room temperature (also labeled Neufchatel cheese)

1/3

cup

plain, nonfat Greek yogurt

1

tablespoon

skim milk

2

teaspoons

chopped fresh chives

salt and pepper

,

to taste

garlic powder

,

to taste

1

lb

boneless, skinless chicken breasts

,

cut into small bite-sized pieces

2

tablespoons

everything bagel seasoning

,

(Trader Joe's, Target's Good & Gather, McCormick, and several other brands have a version)

1

tablespoon

olive oil

1

tablespoon

all purpose flour

1

large

egg white
Instructions
In a small mixing bowl, stir together the cream cheese, yogurt, milk, and chives until smooth. Season to your preference with salt, pepper, and garlic powder. Refrigerate until using.

Place the chicken pieces in a large mixing bowl and sprinkle with the flour. Use a spoon or fork to stir/toss to coat. Add the well-beaten egg white to the floured chicken and stir to coat. Sprinkle in the Everything Bagel seasoning and stir to coat the chicken pieces.

Add the oil to a large sauté pan/walled skillet and bring over med-high heat. Once the oil is hot, add the chicken pieces and stir to break them up and coat them in the oil. Cook the chicken for 7-8 minutes, stirring every couple minutes (you don't want to stir super frequently because the chicken needs time to brown and get a golden "crust" on each side). Once the chicken is cooked through and browned on the outside, remove from heat and serve with the dipping sauce from step one.
Notes
MYWW SMARTPOINTS PER (3.5 ounces chicken + 2 tablespoons dip) SERVING: (SP calculated using the recipe builder on weightwatchers.com)
Green: 4 SmartPoints/ Blue: 2 SmartPoints/ Purple: 2 SmartPoints
A serving of just chicken bites without dip is 3 SP Green/2 SP Blue/2 SP Purple
Weight Watchers Points Plus:

5 per (3.5 ounces chicken + 2 tablespoons dip) serving (PP calculated using a Weight Watchers PointsPlus calculator and the nutrition info below)
Nutrition Information per (3.5 ounces chicken + 2 tablespoons dip) serving:
236 calories, 3 g carbs, 1 g sugars, 8 g fat, 2 g saturated fat, 29 g protein, 0 g fiber, 588 mg sodium (from myfitnesspal.com)