Raspberry Peanut Butter Yogurt Bowl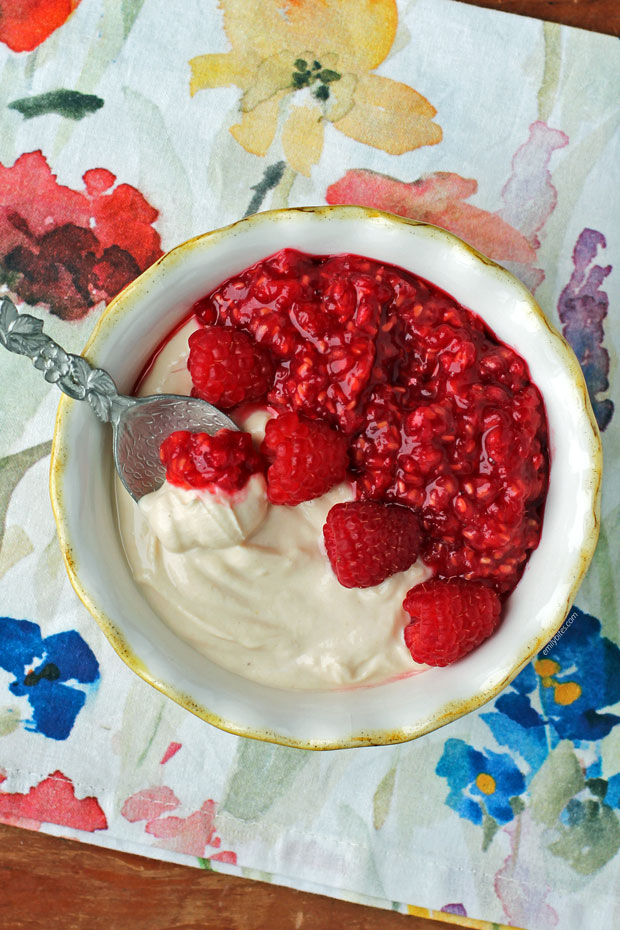 This easy, 4-ingredient Raspberry Peanut Butter Yogurt Bowl comes together in minutes for a tasty, filling breakfast or snack! Sometimes the simplest recipes end up being the ones you use the most, and this yogurt bowl is one of my favorite morning meals. It's perfect if I'm in a rush, but even more satisfying when I have time to savor it! To make this yogurt bowl, you'll simply stir together plain Greek yogurt with a bit of honey and some PB2 powder and then mash some raspberries with a fork to go on top. That's the entire recipe! It'd be a great one to make with kiddos if you have them. This Raspberry Peanut Butter Yogurt Bowl makes a great, healthy breakfast for adults and kids alike, perfect for the whole family. Plus, the entire bowl is just 233 calories or 4 Green, 2 Blue or 2 Purple Weight Watchers/WW SmartPoints!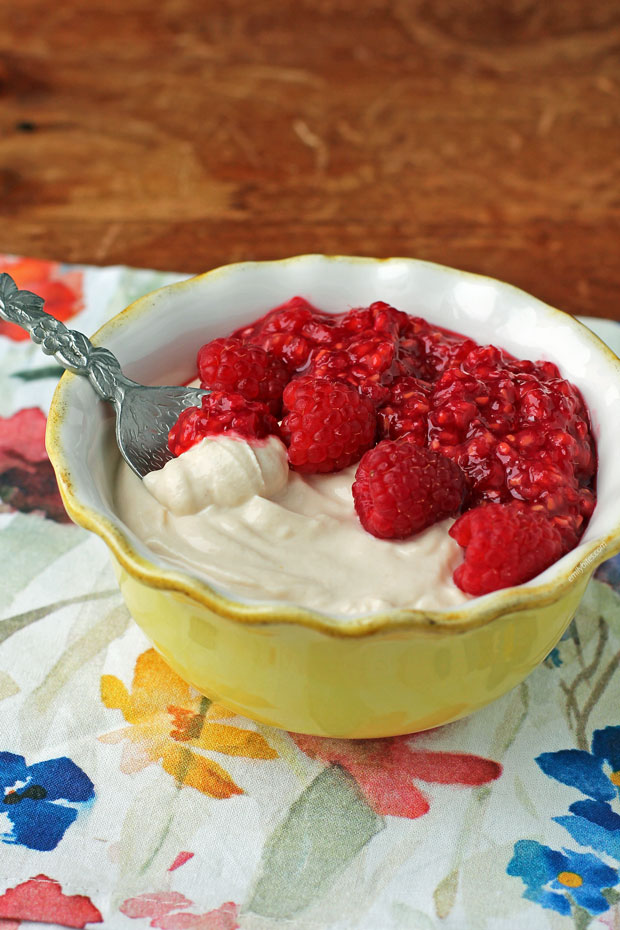 I like to keep my bowl simple and usually eat it with just these four ingredients, but you can of course mix in some other fun crunchy items like sliced almonds, chia seeds, or granola (will change the points/nutrition facts). You can also swap out other fruits like bananas or strawberries. I love raspberries best in this because the raspberry seeds add so much texture. It's kind of like if peanut butter and jam were a yogurt bowl instead of a sandwich.
Using a powdered peanut butter like PB2 helps keep this Raspberry Peanut Butter Yogurt Bowl low in fat while still offering all the tasty peanut butter flavor you crave. They sell PB2 at my local grocery stores (as well as similar products by other brands), but if you have trouble finding it you can easily order it on Amazon. I've used it in several other recipes (I even have a category for it in my recipe index) and it's great added to oatmeal, sauces or baked goods, so you'll have no trouble using it up!
Looking for more tasty, lightened up breakfast recipes? Check out my Sheet Pan Blueberry Pancakes, French Toast Sticks, Breakfast Wonton Cups, Carrot Muffins, Triple Berry Yogurt Bowl, Puff Pancake Bake with Warm Apple Topping, Ultimate Tater Tot Breakfast Casserole, Sausage and Pepper Egg Bake, Banana Blueberry Muffins, Ham and Cheese Egg Cups, Banana Chocolate Baked Oatmeal Singles, and so many more in the Breakfast section of my recipe index!
Raspberry Peanut Butter Yogurt Bowl
Ingredients:
1 cup plain, nonfat Greek yogurt
1 teaspoon honey
2 tablespoons PB2 powdered peanut butter (or a similar brand of powdered peanut butter)
½ cup raspberries
Directions:
Stir together the yogurt, honey and powdered peanut butter until smooth and well combined.
Reserve 3-4 raspberries whole and mash the rest of the raspberries with a fork. Top the yogurt with the mashed raspberries and whole raspberries and serve.
MYWW SMARTPOINTS PER bowl: (SP calculated using the recipe builder on weightwatchers.com)
Green: 4 SmartPoints/ Blue: 2 SmartPoints/ Purple: 2 SmartPoints
Weight Watchers Points Plus:
6 per bowl (PP calculated using a Weight Watchers PointsPlus calculator and the nutrition info below)
Nutrition Information per bowl:
233 calories, 25 g carbs, 28 g sugars, 2 g fat, 0 g saturated fat, 30 g protein, 5 g fiber (from myfitnesspal.com)