Mixed Berry Pie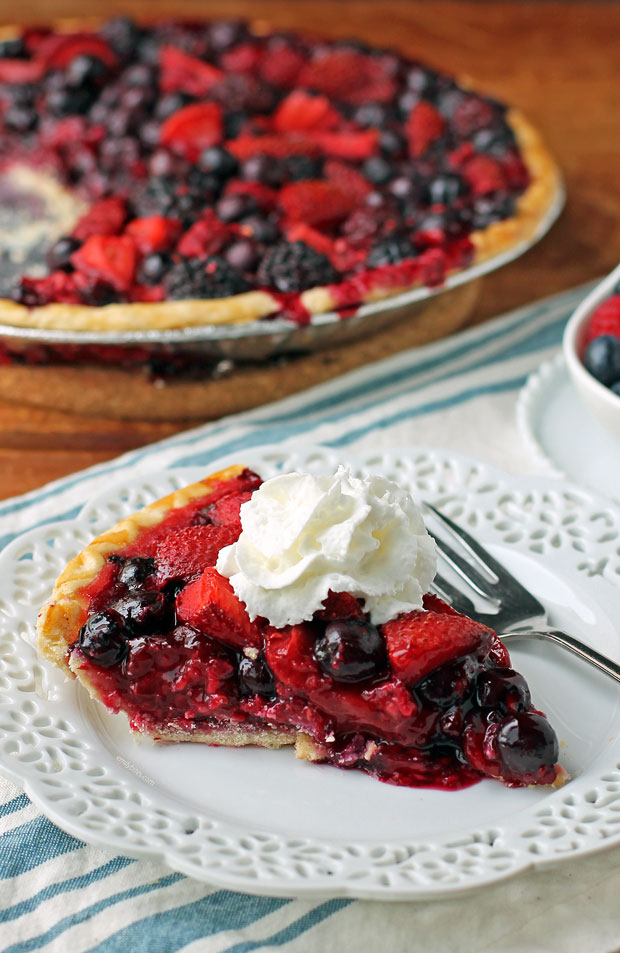 This lightened up Mixed Berry Pie is fresh, juicy, and perfectly sweet, the best summer dessert! I'm honestly obsessed with this pie, and everyone else who has tried it so far has loved it as well. I used four different berries: strawberries, blueberries, raspberries, and blackberries for a super tasty blend of flavors and texture. A store-bought frozen pie crust makes this pie a breeze to throw together, so it's perfect for a casual dinner at home or a get-together with friends or family. Plus, a slice of this Mixed Berry Pie is just 191 calories or 7 WW Points (or 9 WW Points per slice if following the diabetic WW Plan). To view your current WW Points for this recipe and track it in the WW app or site, click here!
This Mixed Berry Pie is really simple to make. You'll mix the berries with sugar, cornstarch, lemon juice, vanilla, and a bit of cinnamon. You'll brush the frozen pie crust with beaten egg whites to give it a nice protective layer that prevents the juicy filling from penetrating the crust and making it soggy. Then you'll just scoop the berries into the pie crust and bake! It couldn't be simpler. The hardest part of the entire recipe is waiting for it to cool before cutting into it. This step is necessary, but it's tough to wait when it looks and smells so good! Waiting until the pie cools completely is important so that the filling sets and you can get slices that stay in one piece. If you cut too early, you may get a runny pie! Cooling on the counter can take about three hours. You can speed this up a bit by cooling on the counter for one hour and then transferring the pie to the refrigerator for an additional hour (two hours total).
Using just a ½ cup of sugar gave this pie just the right amount of sweetness while still allowing the natural berry flavors to shine. I decided to further lighten up this pie by making it "topless!" So scandalous, right? Rather than adding a lattice or crumb topping I just let the berries go bare, and honestly, I really don't think you'll miss it. A little dollop of whipped topping complements the flavors in the pie really well if you want something on top!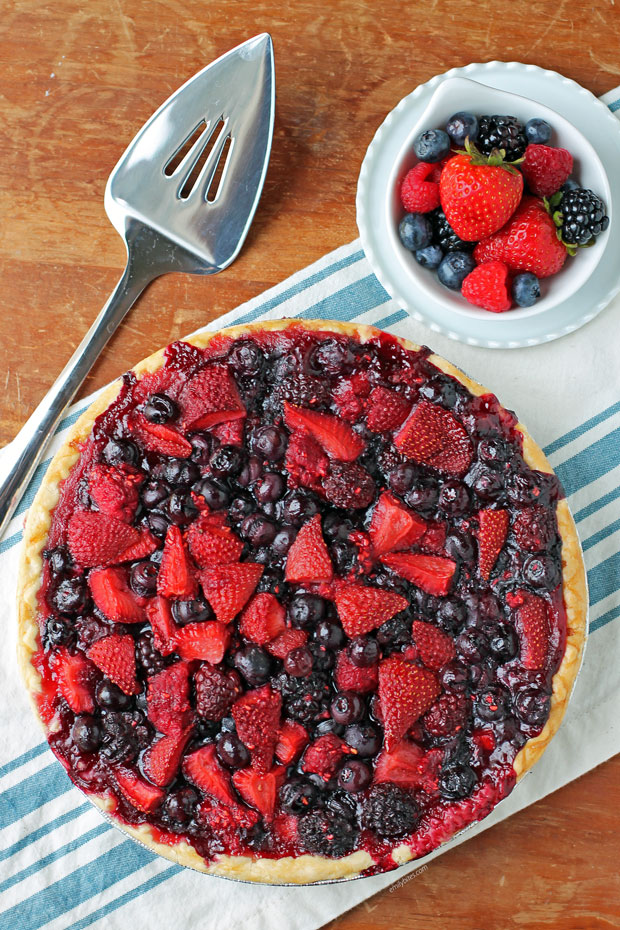 As I mentioned, I used four different types of fresh berries in this Mixed Berry Pie and I love the way the flavors came together! However, if you don't have all four types it should still work out just fine. Different types of berries are firmer/juicier than others, so changing the ratios may change the consistency of the filling a bit, but it should work out well regardless. I have not tried this pie with frozen berries yet (though I plan to, so I will report back and edit the post when I do), but I have seen similar recipes use frozen berries so I'm guessing it would work. If you try it that way, let me know in the comments!
I recommend using the Pillsbury Pet-Ritz regular frozen pie crust that comes in a 2-pack already in tins for this recipe. I discovered this pie crust when I made my Bacon Broccoli Quiche, and it's not only tasty, but it is 80 calories and 3 WW points per serving. If you can't find that particular brand, look for a similar "regular" (not deep dish) frozen pie crust. Many store brands have something similar!
Looking for more lightened up ways to satisfy your sweet tooth? Check out my Blueberry Cheesecake Mini Tarts, Baked Peaches with Crisp Topping, Banana Chocolate Wonton Bites, Braided Crescent Berry Dessert Bake, Baked Stuffed Apples, Cheesecake Fruit Dip, Apple Cinnamon Cheesecake Cups, Pumpkin Pie Bites, Blueberry Cheesecake Rolls, Pecan Pie Bites, Mixed Berry Mini Tarts, Key Lime Cheesecake Cups, Chocolate Covered Strawberries, Carrot Cake Cupcakes, and many more in the Dessert category of my recipe index.
Mixed Berry Pie
This lightened up, "topless" Mixed Berry Pie is fresh, juicy, and perfectly sweet - the best summer dessert!
Ingredients
2

cups

quartered fresh strawberries

2

cups

fresh blueberries

1

cup

fresh raspberries

1

cup

fresh blackberries

1

tablespoon

lemon juice

1

teaspoon

vanilla extract

½

cup

granulated sugar

¼

cup

cornstarch

½

teaspoon

ground cinnamon

9

inch

frozen pie crust in a tin

,

regular not deep-dish (I use Pillsbury Pet-Ritz)

1

egg white

,

beaten until foamy
Instructions
Pre-heat the oven to 400 degrees. Line a heavy baking sheet with aluminum foil and set aside.

Combine the strawberries, blueberries, raspberries, and blackberries in a large mixing bowl. Add the lemon juice and vanilla extract and stir to combine. In a separate small bowl, stir together the sugar, cornstarch, and cinnamon. Add this mixture to the berries and stir until the berries are coated. Let sit for 15-20 minutes.

Remove the pie crust (in tin plate) from the freezer and use a pastry brush to brush the entire surface of the frozen pie crust with beaten egg white. You won't use all the egg white, just discard the rest. Place in the refrigerator for 15 minutes.

After the waiting period, place the pie crust (in tin plate) on the foil-lined baking sheet. Spoon the berry mixture evenly into the pie crust.

Place the baking sheet with the pie on it into the oven and bake for 30 minutes. Tent a piece of aluminum foil over the top to prevent the edges from getting too dark and return it to the oven for another 25 minutes until the berries are bubbly. Remove from the oven and allow to cool for at least 2-3 hours before slicing. Cut into 8 slices and serve.
Notes
To view your current WW Points for this recipe and track it in the WW app or site, click here!
WW Points per (1 slice = 1/8th of the pie) serving: 7* (Points calculated using the recipe builder on weightwatchers.com)
*9 Points each if following the diabetic plan
Nutrition Information per (1 slice = 1/8th of the pie) serving:
191 calories, 36 g carbs, 20 g sugars, 5 g fat, 2 g saturated fat, 2 g protein, 3 g fiber, 78 mg sodium (from myfitnesspal.com)
MYWW SMARTPOINTS PER (1 slice = 1/8th of the PIE) SERVING: (SP calculated using the recipe builder on weightwatchers.com)
Green: 6 SmartPoints/ Blue: 6 SmartPoints/ Purple: 6 SmartPoints
Weight Watchers Points Plus:

5 per (1 slice = 1/8th of the pie) serving (P+ calculated using the recipe builder on weightwatchers.com)