Braided Crescent Berry Dessert Bake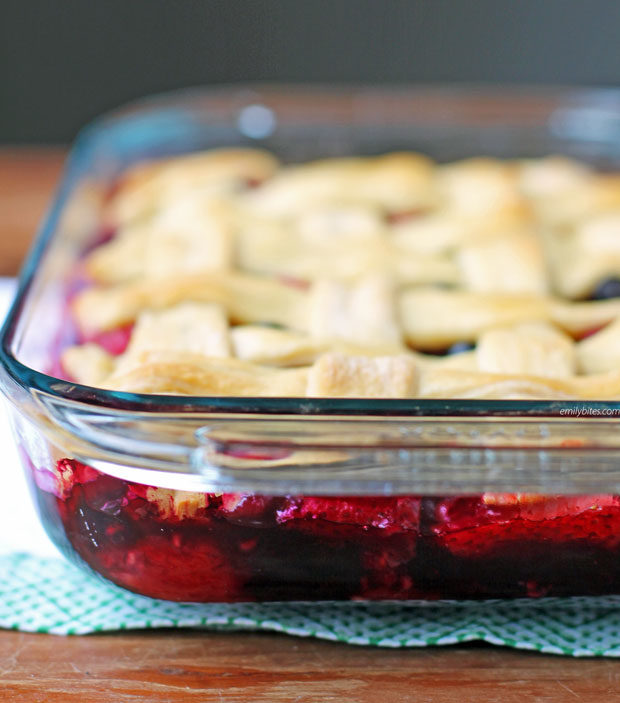 This six-ingredient Braided Crescent Berry Dessert Bake is a quick, easy summer dessert that's sure to be a real crowd-pleaser. It's a bit like an upside-down berry pie, because the berries are on the bottom and the dough is on the top! I love how simple this is to toss together. To prep this dessert, you'll basically just toss the berries with sugar and cornstarch. Then you simply unroll some crescent dough, slice it into strips and quickly weave it together on top. If you prepare this and pop it in the oven before dinner, it'll be ready to serve for dessert! The cornstarch in this Braided Crescent Berry Dessert Bake makes for an ooey-gooey, sweet berry filling. Not only is this dish simple and delicious, it's also lightened up at just 142 calories or 4 WW SmartPoints per serving on the Green, Blue and Purple plans! This is a dessert you'll want to make all summer long.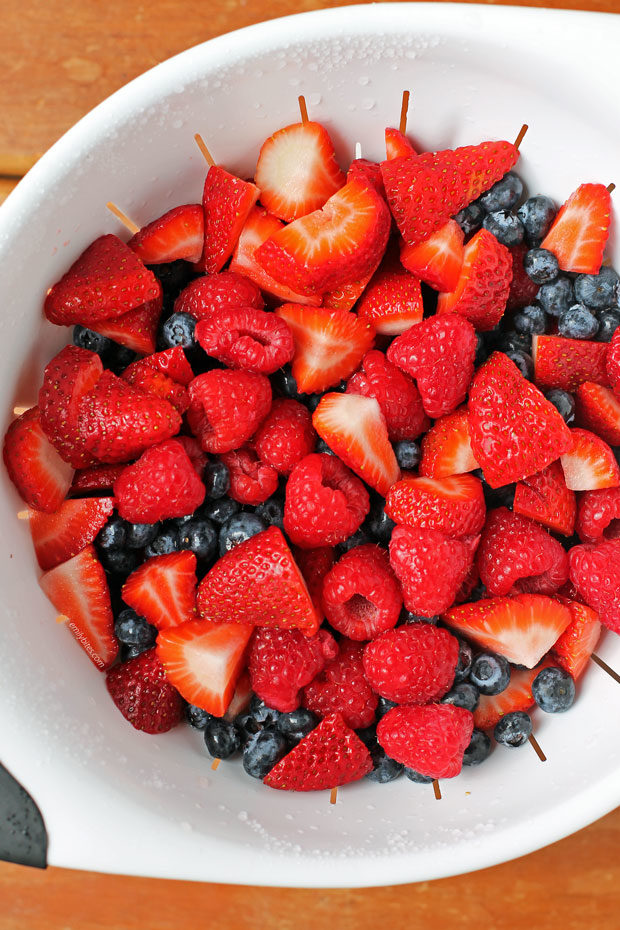 Looking for more flavorful, lightened up dessert ideas? Check out my Banana Chocolate Wonton Bites, Cheesecake Fruit Dip, Baked Stuffed Apples, Mixed Berry Puff Pastry Tarts, Apple Cinnamon Cheesecake Cups, Pumpkin Pie Bites, Blueberry Cheesecake Rolls, Peaches and Cream Dessert Flats, Pecan Pie Bites, Peppermint Cheesecake Cups, Mixed Berry Mini Tarts, Cheesy Cinnamon Baked Pears, Pumpkin Pie Pastry Pockets, Cannoli Dip, Key Lime Cheesecake Cups, Roasted Strawberry, Brie and Chocolate Mini Tarts, Mini Cinnamon Apple Tarts, Chocolate Covered Strawberries, Bumbleberry Crumble, Carrot Cake Cupcakes, Chocolate Chip Cannoli Cups, Cherry Cheesecake Cups, Dark Chocolate Orange Cupcakes, Peach Basil Tart, Cheesecake Stuffed Strawberries and more in the dessert section of my recipe index!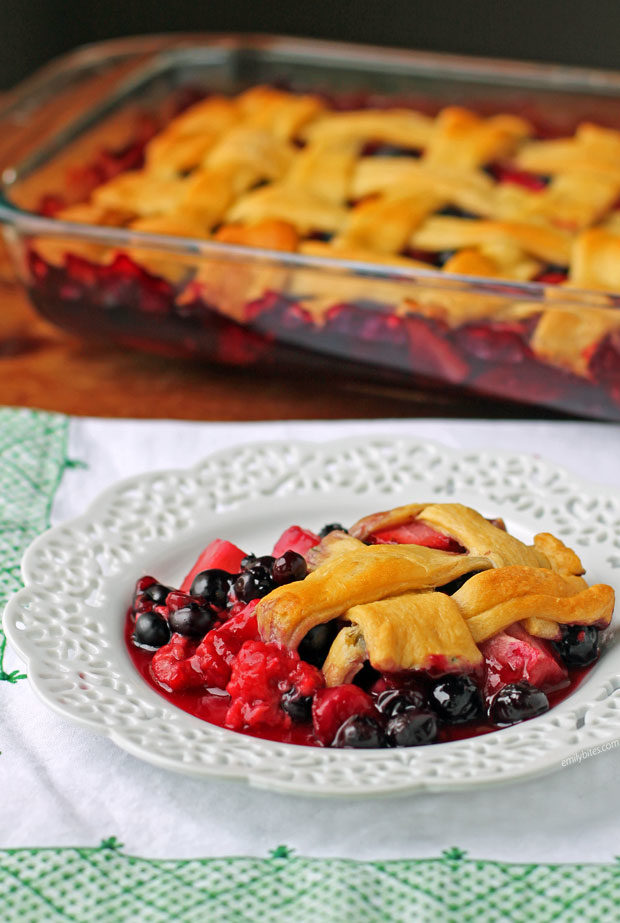 Braided Crescent Berry Dessert Bake
This six-ingredient Braided Crescent Berry Dessert Bake is a quick, easy summer dessert!
Ingredients
2

cups

hulled and quartered strawberries

2

cups

raspberries

2

cups

blueberries

3

tablespoons

white granulated sugar

2

tablespoons

cornstarch

6

pieces

reduced fat crescent roll dough

,

from a canister, such as Pillsbury – the cans typically come with dough for 8 rolls, so you can separate the other two and make them separately according to package instructions, they are not part of this recipe
Instructions
Pre-heat the oven to 350 degrees. Lightly mist a 7x11 baking dish (or other 2 QT-ish baking dish, such as a 9x9) and set aside.

In a mixing bowl, combine the berries, sugar and cornstarch and stir together to combine. Transfer the berry mixture to the prepared baking dish and arrange into an even layer.

On a clean, dry cutting board, unroll the crescent roll dough and separate two of the rolls off the end to use elsewhere (not part of the recipe). Lay the dough for the 6 remaining rolls flat and press the seams together to create one flat rectangle of dough. With the long side of the rectangle facing perpendicular to you (closest to you), slice upwards across the center using a pizza cutter or sharp knife to create two smaller rectangles (left and right of you). Slice each of these rectangles the other direction into 6 even strips, making 12 strips total.

If using a rectangular dish like I did, stretch 4 of the strips to be the length of the dish and lay lengthwise across the top of the berries in the baking dish. Weave the remaining 8 strips the other direction through the long strips, to make a basket weave of dough on top of the berries. If using a square dish, keep the strips equal length and do 6 in one direction and 6 in the other.

Place the dish in the the preheated oven and bake for 35 minutes until the dough is golden and puffy and the berries are bubbling. Let it cool and set for 10-15 minutes before serving. Slice into 8 equal portions (mine were a little over ½ cup each) and serve.
Notes
MyWW SmartPoints per (1/2 cup) serving:(SP calculated using the recipe builder on weightwatchers.com)
Green: 4 SmartPoints/ Blue: 4 SmartPoints/ Purple: 4 SmartPoints
Weight Watchers Points Plus:
4 per (about ½ cup) serving (PP calculated using a Weight Watchers brand PointsPlus calculator and the nutrition information below)
Nutrition Information per (about ½ cup) serving:
142 calories, 28 g carbs, 14 g sugars, 3 g fat, 1 g saturated fat, 2 g protein, 4 g fiber (from myfitnesspal.com)