Baked Peaches with Crisp Topping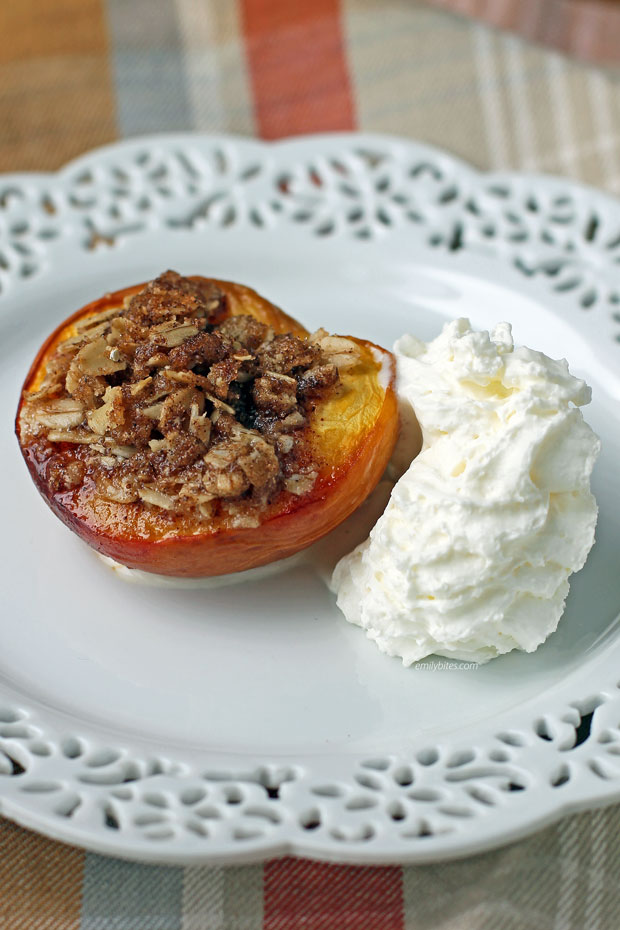 These easy, 6-ingredient Baked Peaches with Crisp Topping are sweet, juicy, and the perfect summer dessert! I love these for portion control and they're ideal for when you want a fruity dessert, but you don't want to make a whole big crisp. A produce market near me has been offering a weekly produce box for sale and we've been buying it a lot over the last few months. When I saw we had peaches coming, I immediately started craving the warm, juicy fruit with a sweet crispy topping and these hit the spot! I wrote the recipe below to use one peach (to make two servings), but you can easily double it or triple it to feed a crowd. Making these is incredibly simple with only a few minutes of hands-on time. Simply cut a peach in half, remove the pit, mix the remaining 5 ingredients together and pile them on top of the peach halves before transferring into the oven to bake. That's it! I love a hands-off dessert. Plus, each serving of these Baked Peaches with Crisp Topping is just 81 calories or 3 Green, 3 Blue or 3 Purple Weight Watchers/WW SmartPoints!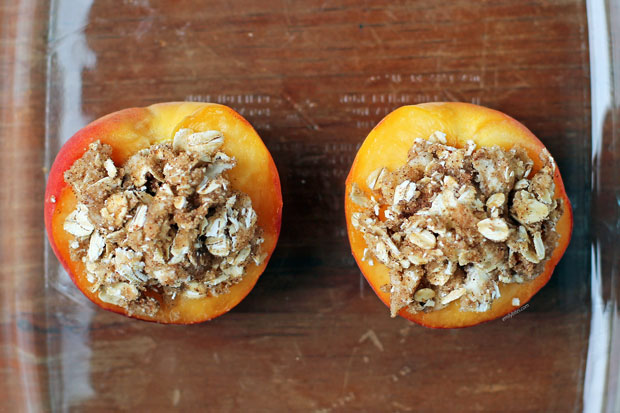 Are you looking for more tasty, lightened up dessert recipes like these Baked Peaches with Crisp Topping? Check out my Blueberry Cheesecake Mini Tarts, Apple Pie Egg Rolls, Banana Chocolate Wonton Bites, Cheesecake Fruit Dip, Pumpkin Pie Bites, Chocolate Hummus, Apple Cinnamon Cheesecake Cups, Blueberry Cheesecake Rolls, Pecan Pie Bites, Chocolate Raspberry Cheesecake Cups, Mixed Berry Mini Tarts, Cheesy Cinnamon Baked Pears, Key Lime Cheesecake Cups, Roasted Strawberry, Brie and Chocolate Mini Tarts, Mini Cinnamon Apple Tarts, Chocolate Covered Strawberries, Chocolate Chip Cannoli Cups, and more in the Desserts section of my recipe index!
Baked Peaches with Crisp Topping
Ingredients:
1 fresh medium-large peach
1 tablespoon old fashioned oats
2 teaspoons packed brown sugar
1/8 teaspoon ground cinnamon
A pinch of salt
2 teaspoons cold butter, diced (I just cut a tablespoon of butter into thirds and used two of them to get 2 teaspoons)
Directions:
Pre-heat the oven to 350 degrees.
Cut the peach in half and remove the pit. Lay each half of the peach cut-side up in a baking dish (I used an 8×8 glass dish).
In a small dish, stir together the oats, brown sugar, cinnamon and salt until well combined. Add the diced butter and use a fork or your fingers to mash the cold butter into the rest of the ingredients to form a chunky crumb topping. Divide the topping in half and pile it onto the top of each peach half.
Place the dish in the oven and bake for 35-40 minutes until the topping is crisp and the peaches are warm and soft, but still holding their shape. Serve warm.
WW SMARTPOINTS PER (1 topped peach half) serving: (SP calculated using the recipe builder on weightwatchers.com)
Green: 3 SmartPoints/ Blue: 3 SmartPoints/ Purple: 3 SmartPoints
Weight Watchers Points Plus:
2 per (1 topped peach half) serving (P+ calculated using the recipe builder on weightwatchers.com)
Nutrition Information per (1 topped peach half) serving:
81 calories, 12 g carbs, 5 g sugars, 4 g fat, 2 g saturated fat, 1 g protein, 1 g fiber (from myfitnesspal.com)