Cheesy Garden Vegetable Baked Chicken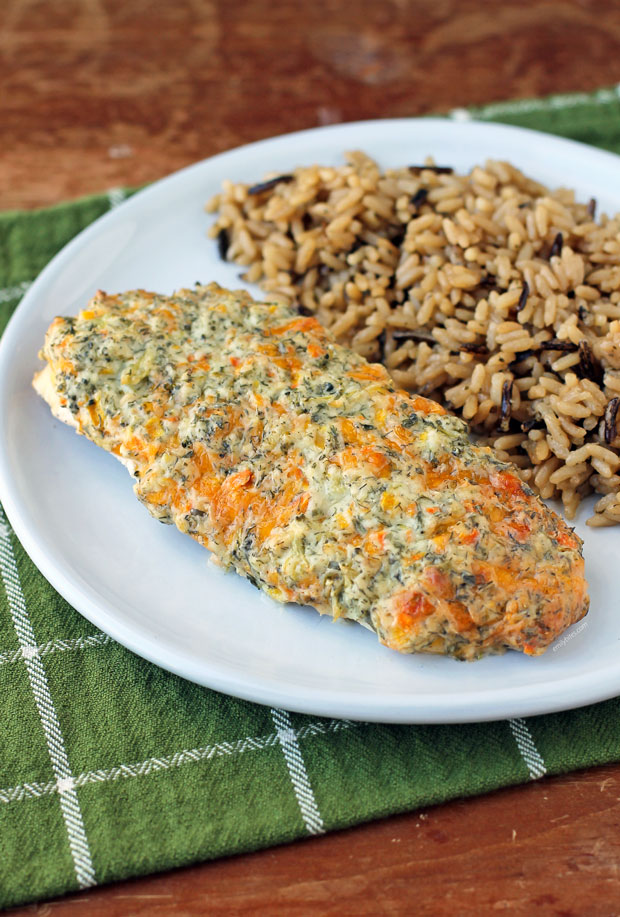 This Cheesy Garden Vegetable Baked Chicken offers so much flavor for an easy recipe with minimal prep work. Garlic, veggies, and herbs give great flavor to the cream cheese mixture, and the chicken stays juicy underneath. If you love garden vegetable cream cheese on your bagel (several brands sell it and it's also an available option at places like Tim Hortons), you're going to love this homemade twist on it baked over chicken. Plus, it's a lower carb option! Each serving of this Cheesy Garden Vegetable Baked Chicken is just 287 calories, 3 grams of carbs or 4 WW Points. To view your current WW Points for this recipe and track it in the WW app or site, click here!
What should I serve this with?
This chicken would pair well with a variety of tasty side dishes including rice, salad, roasted vegetables, potatoes, and more! I think my Roasted Fingerling Potatoes, Spinach and Parmesan Orzo, Zucchini Casserole, Stovetop Green Beans with Almonds, Air Fryer Cajun Potatoes, Garlic Herb Mushrooms, Broccoli Salad, Broccoli Cheddar Twice Baked Potatoes, or Zucchini Squares would all be terrific choices for a side dish.
Mincing the Vegetables
You'll want the broccoli, carrots, and bell peppers to be chopped up pretty small when you stir them into the cream cheese for this Cheesy Garden Vegetable Baked Chicken. There are a few methods you could use to do mince the vegetables. I usually use a manual hand chopped like this one from Cuisinart (Amazon affiliate link). I like this method because it only takes a minute or so and it's easy to get the size you want (it's my favorite way to chop onions too). Plus, since this recipe only uses a small amount of each vegetable, it seems like overkill to break out my food processor. However, you could also use a food processor if you like, especially if you have a smaller one. Lastly, you can of course mince the veggies by hand with a sharp knife, it will just take longer than the other methods. However you go about it, as long as you have little veggies pieces at the end then you did great.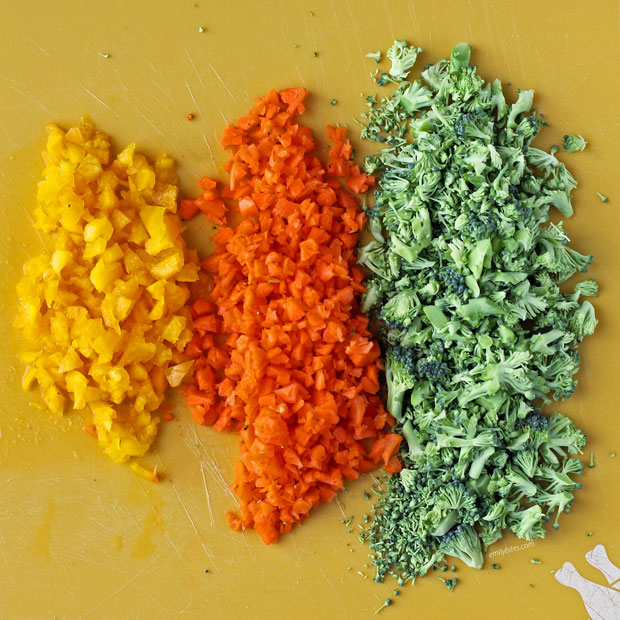 Possible Substitutions
I highly recommend making this recipe as-is, because it tastes amazing! I don't even like bell peppers very much, but I thought the little bit of yellow pepper added great flavor, so I suggest trying it as written. However, I know sometimes you need or want to change things up, so here are my thoughts:
Veggies: The carrots, broccoli, and bell peppers add sweetness and flavor to the cheese mixture, but if you have different veggies on hand you can definitely swap in something else. I think shredded or minced zucchini or mushrooms could work well!
Herbs: I mostly used dried spices because that's what I'm likely to have on hand in the winter, but you can absolutely swap fresh for dried or vice-versa. One tablespoon of fresh herbs can be substituted for a teaspoon of dried herbs.
Cheese: I love Cabot's 50% reduced fat sharp cheddar in this, but if you're out of cheddar and you want to try using mozzarella, Colby jack, shredded parmesan or something else, have at it. I think many different cheeses would be good here.
Garlic: If you usually buy jarred chopped garlic rather than bulbs, that will work just fine. Just use a teaspoon of chopped garlic in place of the two cloves.
Mayonnaise: Honestly, I don't recommend swapping the light mayo for Greek yogurt, I think it will alter the flavor too much.

Chicken Cutlets
I often buy a big pack of boneless, skinless chicken breasts at the store and then use kitchen shears to trim them down to make 5-6 oz cutlets to use in recipes. For this Cheesy Garden Vegetable Baked Chicken my cutlets were about 5.5 ounces each. Everything I cut off of the breasts to make the cutlets gets cut into chunks to make chicken bites, such as my Nashville Hot Chicken Bites, Barbecue Rubbed Chicken Bites, Lemon Pepper Chicken Bites, or Blackened Chicken Bites. It's easy to weigh out 1 lb or 1.5 lb of chicken chunks and some 5 oz cutlets and freeze them for later in quart size freezer bags. That way, I always have some cutlets and some chicken bites on hand! Buying the bulk packs of chicken breasts is cost-effective, and cutting them into cutlets and bites ensured I have what I need on hand when I go to make a recipe. I find that kitchen shears make this task go quicker and easier than using a knife, so I highly recommend using shears like these from KitchenAid (Amazon affiliate link).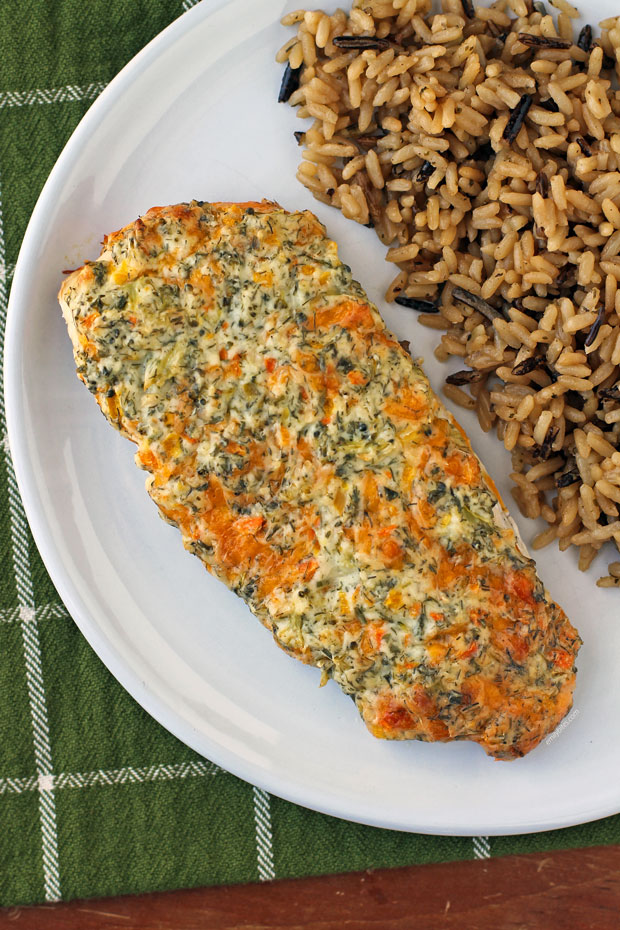 Looking for more tasty, lightened up chicken recipes like this Cheesy Garden Vegetable Baked Chicken? Check out my Creamy Tuscan Chicken, Mexican Street Corn Chicken, Cheesy Broccoli Stuffed Chicken, Lemon Pepper Chicken Bites, Baked Chicken Tenders, Crispy Onion Dip Chicken, Nashville Hot Chicken Bites, Crispy Chicken Parmesan, Apple and Brie Stuffed Chicken, Maple Dijon Chicken and Squash Skillet, Strawberry Balsamic Grilled Chicken, Blackened Chicken Bites, Ricotta Stuffed Chicken Bake, Lemon Garlic Chicken and Beans Skillet, Cream Cheese and Herb Stuffed Chicken, Tuscan Olive Chicken, Pimento Cheese Stuffed Chicken, Cream Cheese Stuffed Everything Chicken, and many more in the Chicken section of my recipe index!
Cheesy Garden Vegetable Baked Chicken
This flavorful, low carb Cheesy Garden Vegetable Baked Chicken is an easy recipe, perfect for a weeknight dinner.
Ingredients
4

(5.5 oz each)

thin chicken breast cutlets

,

22 oz total (if you buy large breasts, trim them to 5.5 ounces each and pound them thin)

½

teaspoon

salt

¼

teaspoon

black pepper

2

oz

1/3 less fat cream cheese

,

softened

¼

cup

light mayonnaise

2

garlic cloves

,

minced

1

tablespoon

fresh chopped chives

,

(or 1 teaspoon dried chives)

1

teaspoon

dried dill weed

1

teaspoon

dried parsley flakes

¼

cup

minced broccoli florets

1

tablespoon

minced carrot

1

tablespoon

minced bell pepper

,

(I used yellow)

1

oz

shredded 50% reduced fat sharp cheddar cheese

,

(I use Cabot)
Instructions
Pre-heat the oven to 425 degrees Fahrenheit. Line a rimmed baking sheet with aluminum foil and lightly mist it with cooking spray.

Sprinkle the salt and pepper evenly over both sides of the chicken breasts and place them on the lined baking sheet, not touching each other.

In a mixing bowl, stir together the cream cheese, mayonnaise, garlic, chives, dill, and parsley until combined. Add the minced broccoli, carrots, and bell pepper along with the shredded cheese and stir together until mixed.

Evenly divide the cheese mixture amongst the chicken breasts and spread it out over the top of each breast. Place the baking sheet in the oven and bake for 20-25 minutes until the chicken breasts are cooked through. Let the chicken rest for a few minutes before cutting/serving.
Notes
To view your current WW Points for this recipe and track it in the WW app or site, click here!
WW Points per (1 chicken breast) serving: 4 (Points calculated using the recipe builder on weightwatchers.com)
Nutrition Information per (1 chicken breast) serving:
287 calories, 3 g carbs, 0 g sugars, 12 g fat, 4 g saturated fat, 38 g protein, 0 g fiber, 289 mg sodium (from myfitnesspal.com)
Weight Watchers Points Plus:

7 per (1 chicken breast) serving (PP calculated using a Weight Watchers PointsPlus calculator and the nutrition info below)