Pineapple Teriyaki Chicken Burger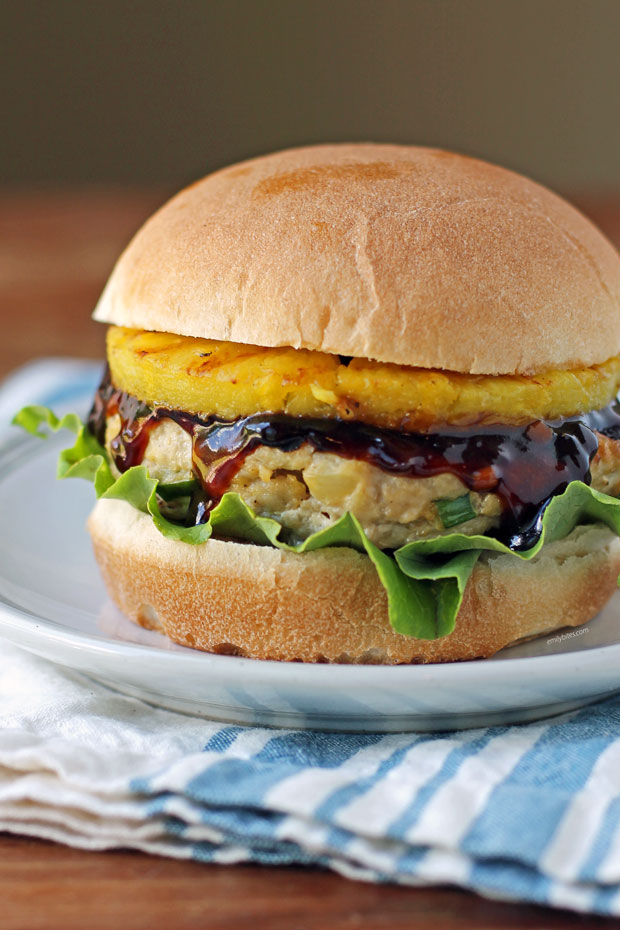 These tasty Pineapple Teriyaki Chicken Burgers are hearty, juicy, and bursting with flavor! I love a big, satisfying burger, and while these taste like a burger you might order at a restaurant, they're easy to make right at home! These ground chicken burgers have crushed pineapple right in the patty, which adds moistness and sweetness. The patties are topped with a thick homemade teriyaki sauce that comes together in minutes, and grilled pineapple for the perfect finish. Add some lettuce and buns and you're good to go! I used to love ordering the Banzai Burger at Red Robin, and these Pineapple Teriyaki Chicken Burgers remind me so much of those flavors. Better still, one of these chicken burgers with the toppings and bun is just 312 calories or 5 WW Points (or 6 WW Points if following the diabetic WW plan)! To view your current WW Points for this recipe and track it in the WW app or site, click here!
Tips and Tricks:
Ground Chicken: I chose to use ground chicken for these Pineapple Teriyaki Chicken Burgers because I think it goes great with teriyaki flavors, but lean ground turkey or ground beef would also be delicious. It's sometimes difficult to find ground chicken breast (the extra lean kind) in stores, but I am always able to get ground turkey breast, so that makes an easy substitute. You could also just toss some chicken breasts in your food processor to make your own ground chicken breast! It works pretty well and since regular chicken breasts are sold everywhere, it may save you an extra trip.
Chill Time: Make sure you let the patties chill in the fridge for an hour (or all day if you're making the patties before work and plan to cook when you get home for dinner), because it'll help the moist patties stay together while cooking. I think it also helps the flavors meld together.
Cooking Method: I chose to cook the burgers and pineapple slices on a grill pan on my stovetop, but you could cook them on an outdoor grill as well!
Pineapple: Fresh pineapple is best for the grilled pineapple rings to top the burgers, though canned will do in a pinch. My grocery store sells pre-sliced fresh pineapple rings, but I also have this handy gadget from OXO (affiliate link) that slices a pineapple into rings with just a few twists
Buns: I highly recommend using Schmidt 647 sandwich rolls as the buns in this recipe! Each roll is only 80 calories or 2 WW SmartPoints and they taste just like regular hamburger buns (meaning they don't taste "light"). I buy them at Wegmans, but they are sold all over. These are then buns I used to calculate the nutrition information and WW points for these burgers, so if you substitute something else and you're tracking, you may just want to check the nutrition/points.
In addition to listing the nutrition information and WW SmartPoints for these Pineapple Teriyaki Chicken Burgers including the toppings and the buns, I also listed the info for the patties + sauce only. That way, if you want to eat the burgers and sauce with a different bun or in a lettuce wrap or as a salad, I've got you covered.
Looking for more recipes using Asian-inspired flavors? Check out my Korean-Inspired Ground Turkey, Vegetable Fried Rice, Chicken Lo Mein, Thai Peanut Chicken Wraps, Sweet and Spicy Cauliflower, Teriyaki Steak Lettuce Wraps, Asian Chicken Wonton Cups, Thai Turkey With Carrot Noodles, Cashew and Basil Chicken Lettuce Wraps, Teriyaki Chicken and Rice Casserole, Thai Chicken Skewers with Peanut Sauce, and more in the Asian category of my recipe index!
Pineapple Teriyaki Chicken Burgers
These tasty Pineapple Teriyaki Chicken Burgers are hearty, juicy, and full of flavor!
Ingredients
For the Burgers:
1

lb

raw 98% lean ground chicken breast

,

(can substitute ground turkey breast)

¼

cup

drained canned crushed pineapple

,

(originally packed in juice, not syrup – you'll want to drain it and squeeze out excess juice before measuring and using)

¼

cup

panko breadcrumbs

¼

cup

sliced scallions

1

large

egg

1

tablespoon

low sodium soy sauce

1

teaspoon

sesame oil

½

teaspoon

minced garlic

½

teaspoon

minced ginger root

¼

teaspoon

black pepper
For the Sauce:
½

tablespoon

cornstarch

½

tablespoon

water

2

tablespoons

low sodium soy sauce

3

tablespoons

water

1

tablespoon

packed brown sugar

¼

teaspoon

ground ginger

¼

teaspoon

minced garlic

¼

teaspoon

canola oil
Additional Ingredients:
4

slices

cored pineapple

4

light hamburger buns

,

(I use Schmidt 647 rolls)

4

lettuce leaves

,

(I use green leaf lettuce)
Instructions
In a large mixing bowl, combine the ground chicken, drained crushed pineapple, panko, scallions, egg, soy sauce, sesame oil, garlic, ginger and black pepper, and stir together until mixed. Form into four equal patties and place on a platter or cutting mat. Cover with aluminum foil and refrigerate for at least one hour.

When the burgers are ready to cook, lightly mist a nonstick grill pan or skillet with cooking spray and bring over medium heat. Place the burger patties on the pan (you may need to work in batches depending on the size of your pan) and cook for 5 minutes. Flip the patties and cook for an additional 5 minutes until the burgers are cooked through.

While the burgers are cooking, stir together the cornstarch and the ½ tablespoon water in a small dish to make a slurry and set aside. Place all the remaining sauce ingredients (besides the cornstarch slurry) into a small saucepan and bring to a boil over medium heat. Allow to boil uncovered for a minute and then add the slurry and stir it in. Cook for another minute until the sauce starts to thicken and then remove from heat.

When the burgers are done cooking, mist the grill pan with cooking spray again and grill the pineapple slices on both sides until warm.

To build each burger, place a couple leaves of lettuce on the bottom half of a burger bun. Add the cooked burger patty and top with a tablespoon of the teriyaki sauce you made in step three. Add a slice of warm pineapple followed by the top of the burger bun.
Notes
To view your current WW Points for this recipe and track it in the WW app or site, click here!
WW Points per (1 burger on a bun with toppings): 5* (Points calculated using the recipe builder on weightwatchers.com)
*6 Points each if following the diabetic plan
Nutrition Information per (1 burger on a bun with toppings) serving:
312 calories, 42 g carbs, 13 g sugars, 6 g fat, 1 g saturated fat, 33 g protein, 11 g fiber, 824 mg sodium (from myfitnesspal.com)
Nutrition Information per (1 burger patty with sauce only) serving:
201 calories, 11 g carbs, 6 g sugars, 5 g fat, 1 g saturated fat, 28 g protein, 1 g fiber, 626 mg sodium (from myfitnesspal.com)
MYWW SMARTPOINTS PER (1 burger on a bun with toppings) SERVING: (SP calculated using the recipe builder on weightwatchers.com)
Green: 6 SmartPoints/ Blue: 4 SmartPoints/ Purple: 4 SmartPoints
MYWW SMARTPOINTS PER (1 Burger patty with sauce only) SERVING: (SP calculated using the recipe builder on weightwatchers.com)
Green: 4 SmartPoints/ Blue: 2 SmartPoints/ Purple: 2 SmartPoints
Weight Watchers Points Plus:

7 per (1 burger on a bun with toppings) serving (PP calculated using a Weight Watchers PointsPlus calculator and the nutrition info below)
Weight Watchers Points Plus:

5 per (1 burger patty with sauce only) serving (PP calculated using a Weight Watchers PointsPlus calculator and the nutrition info below)