Black Bean Taquitos (Baked or Air Fried)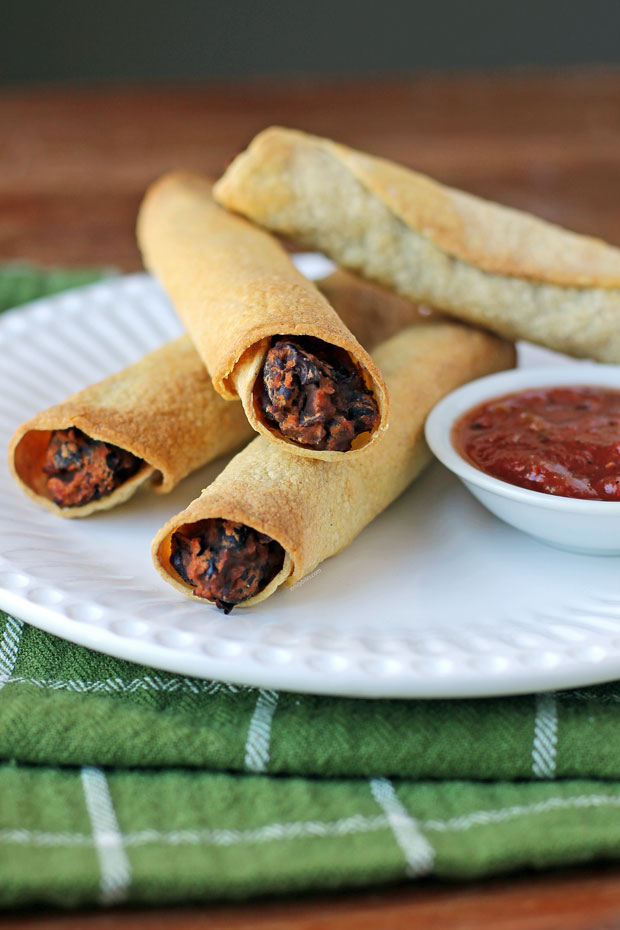 These tasty Black Bean Taquitos are full of flavor in a crispy rolled tortilla and can be made in your oven or air fryer! I've been trying to mix in a few more meatless meals this year and these vegetarian Black Bean taquitos are so filling and delicious that they definitely feel like a meal. I like to serve these for a twist on taco night, but they'd also be great as finger food while watching a football game or during a party. Plus they're made with ingredients I often already have on hand, so they're perfect for a last-minute meal idea. Each taquito is just 95 calories or 1 WW Point! To view your WW Points for this recipe and track it in the WW app or site, click here!
Making the Taquitos
Making the filling for these Black Bean Taquitos is easy. You'll just combine canned black beans with onion, garlic, salsa, water, and spices and then let the mixture simmer on the stovetop until the liquid is absorbed. Then you'll add lime juice and mash about half of it to give it a chunkier refried bean type consistency.
Next you'll be rolling the filling into corn tortillas. Tortillas can crack and split really easily when rolled into taquitos, but the key is keeping them warm and moist until baking. Heat the tortillas in batches of 4 at a time between a wet paper towel on a plate for 30-60 seconds on high in the microwave. Remove one tortilla at a time from between the damp paper towels to add filling and roll up. When rolled, stick the rolled taquitos back between the warm, damp paper towels until ready to transfer to the oven or air fryer. This may seem like overkill, but in my experience following these steps is the difference between perfectly rolled taquitos or burst tortillas.
Recipe Tips and Notes
Oven or Air Fryer? I included instructions for both, so you can choose the one that suits you! I slightly prefer the crunchiness I get from the air fryer, but I can bake them all at once in the oven whereas an air fryer cooks them in batches. There are pros and cons either way! Either will give you tasty results.
Dip: These Black Bean Taquitos pair well with a variety of dips such as salsa, sour cream, or guacamole. You can also mix mashed avocado with Greek yogurt and some garlic powder and salt and pepper to make a smooth avocado dip. Or just eat them on their own!
Side Dishes: If you're eating these as a main course you may be wondering what to serve on the side. I love pairing these with my Easy Salsa Rice recipe, but you can also do a side salad or corn.
Serving Size: I chose to list the nutrition information and WW points per taquito so you can choose the serving size that feels right to you. How many tacos do you usually eat? If I had to choose a serving size for these I would probably say three taquitos.
More Taquitos: Love taquitos but looking for a different flavor profile? Check out my recipes for Spicy Beef Taquitos, Buffalo Chicken Taquitos, and Cheesy Bacon BBQ Taquitos!
Leftovers: These should stay tasty in your fridge after baking for up to five days. I haven't tried freezing them but I imagine they would likely freeze without issue.

More Mexican-Inspired Recipes
Looking for more tasty, lightened up recipes with Mexican-inspired flavors? Check out my Chicken Taco Rice Skillet, Taco Stuffed Twice Baked Potatoes, Cheesy Spicy Black Bean Skillet, Mexican Street Corn Chicken, Loaded Guacamole, 7 Layer Dip, Easy Salsa Rice, Fiesta Stuffed Chicken, Mexican Chicken Cauliflower Rice Skillet, Beef Taco Soup, Layered Chicken Enchilada Bake, and more in the Mexican category of my recipe index.
Black Bean Taquitos
These tasty vegetarian Black Bean Taquitos can be made right at home in your oven or air fryer!
Ingredients
1

medium

onion

,

diced

2

(15 oz each)

cans black beans

,

drained and rinsed

3

garlic cloves

,

minced

⅔

cup

water

½

cup

salsa

,

(choose a smoother, more liquid-y type over a chunky variety)

1

teaspoon

chili powder

½

teaspoon

ground cumin

½

teaspoon

paprika

¼

teaspoon

salt

¼

teaspoon

black pepper

1

tablespoon

lime juice

16

(6-inch)

corn tortillas

,

I use Mission Extra Thin Yellow Corn Tortillas
Instructions
In a medium saucepan, add the onion, black beans, garlic, water, salsa, chili powder, cumin, paprika, salt, and pepper and stir together. Place on the stovetop over medium heat until bubbling. Reduce the heat to med-low and simmer uncovered for 15 minutes, stirring occasionally, until the mixture thickens and most of the liquid is absorbed. Remove from heat and stir in the lime juice. Using a potato masher, mash about half of the black bean mixture, leaving some beans whole. Set aside to cool for five minutes.

If Baking: Preheat the oven to 400 degrees. Line a baking sheet with aluminum foil and mist the foil with cooking spray.

Wet two paper towels and gently squeeze out some of the excess water, leaving them damp. Place one on a microwave safe plate. Put four of the tortillas on the paper towel and cover with the other damp paper towel. Microwave on high for 30-60 seconds until the tortillas are warm and pliable. Transfer one tortilla to a clean, dry surface and leave the rest covered. Scoop three tablespoons of the black bean mixture from step one onto the tortilla, forming a line of filling down the center. Roll the tortilla over the filling to make a filled tube. Place the rolled taquito back between the damp paper towels with the other waiting tortillas until ready to bake or air fry. Remove another tortilla and repeat the filling and rolling process with the remaining warm tortillas. Then heat up more tortillas between wet paper towels and do it again until you have 16 taquitos. Keep your rolled taquitos between a set of damp paper towels until you're ready to transfer them to the oven or air fryer*.

*I can bake all 16 on a baking sheet if using the oven, but I usually do them in batches of 4-6 if using my air fryer.

If Baking: Place the rolled taquitos, seam side down, on the prepared baking sheet and mist the tops with cooking spray. Place in the heated oven and bake for 15-18 minutes until crispy.If Air Frying: In batches that fit in a single layer in your air fryer, leaving room for air to circulate, place the rolled taquitos, seam side down, in the basket of your air fryer and mist the tops with cooking spray. Cook at 370 degrees for 12 minutes until crispy. Repeat with remaining batches.
Notes
To view your WW Points for this recipe and track it in the WW app or site, click here!
WW Points: 1 per taquito (Points calculated using the recipe builder on weightwatchers.com)
Nutrition Information per taquito:
95 calories, 18 g carbs, 2 g sugars, 1 g fat, 0 g saturated fat, 4 g protein, 4 g fiber, 230 mg sodium (from myfitnesspal.com)
Weight Watchers Points Plus:

2 per taquito (PP calculated using a Weight Watchers PointsPlus calculator and the nutrition info below
Adapted from Cooktoria and How Sweet Eats