Loaded Guacamole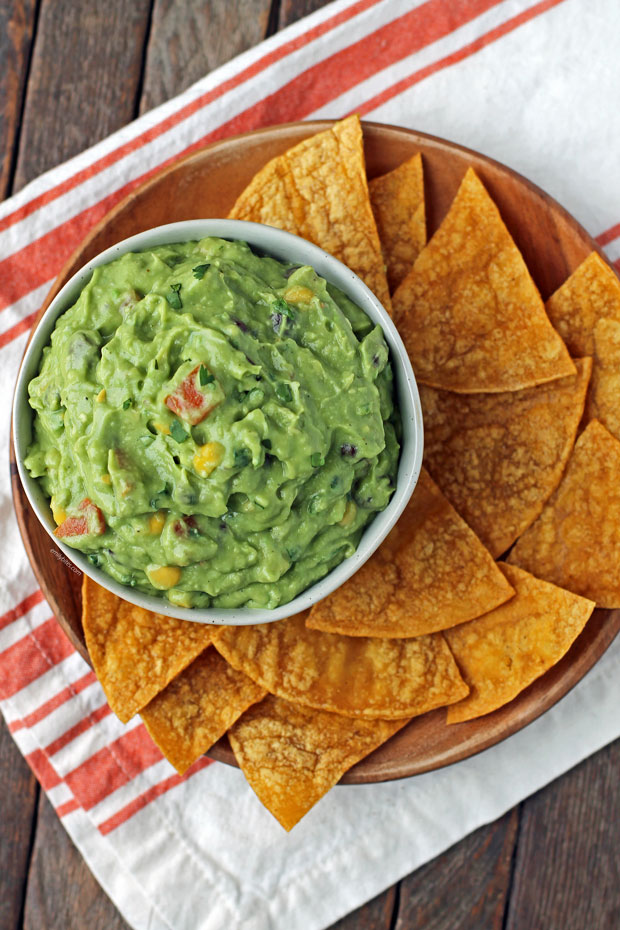 This easy Loaded Guacamole makes a flavorful snack paired with tortilla chips or a tasty topping for taco night. I'm obsessed with this guac. It's rich and creamy and even though it's loaded with a tasty supporting cast, the avocado remains the star of the show. What makes this guacamole loaded? In addition to more commonly used ingredients like lime juice, cilantro, jalapeno, tomatoes, and red onion, I also added sweet corn and hearty black beans for even more flavor and texture. I could not get enough of this loaded guacamole and I'm excited for you all to make it, because I think you'll feel the same way! Not only is this dip satisfying, flavorful, and addicting, a ¼ cup serving is just 72 calories or 1 WW (Weight Watchers) Point (or 2 WW Points if following the diabetic Weight Watchers plan)! To view your current WW Points for this recipe and track it in the WW app or site, click here!
I think this Loaded Guacamole is absolutely perfect as written (obviously), but the nice thing is you can always taste it at the end and adjust a bit to your own tastes. You want heat? Add more jalapeno. You're a cilantro-lover? Add another tablespoon. You are one of the folks who think cilantro tastes like soap? Just omit it from the beginning, don't wait until the end, haha. Whatever your tastes, since everything just gets mixed together it's easy to tweak to your preferences.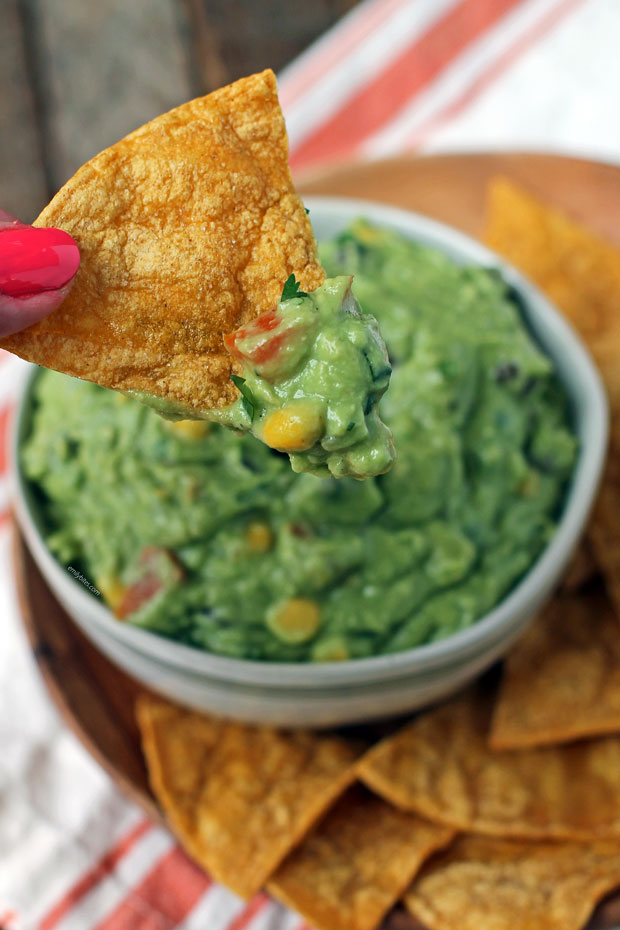 Like I mentioned above, this Loaded Guacamole is great as a taco topping, or in a burrito bowl, but my favorite way to eat it is with tortilla chips. Lately I've been making my own in the air fryer (as seen in the recipe photos) by misting corn tortillas with cooking spray, sprinkling them with salt and cutting them into triangles. I then put them in the air fryer at 350 for about 8 minutes (keep an eye on it) and take them out when golden. Then just let them cool and they'll crisp up! You can follow similar directions to make them in the oven. My favorite tortillas to use are the Mission Extra Thin Yellow Corn Tortillas, they make great low-cal or low-point chips!
A note about storing this recipe: I put any uneaten guacamole in a food storage container and then press plastic wrap across the surface of the guac before covering with the lid. This helps keep the surface of the guacamole from being exposed to air and turning brown.
Looking for more Mexican-inspired recipes like this Loaded Guacamole? Check out my Easy Chicken Tacos, Breakfast Tostadas, 7 Layer Dip, Easy Chicken and Bean Enchiladas, Easy Salsa Rice, Deep Dish Taco Casserole, Fiesta Stuffed Chicken, Easy Chicken Quesadillas, Mexican Chicken Cauliflower Rice Skillet, Beef Taco Soup, Layered Chicken Enchilada Bake, Spicy Beef Taquitos, Chicken Tamale Bake, Cheesy Taco Pasta, and more in the Mexican category of my recipe index!
Loaded Guacamole
This easy Loaded Guacamole with corn, jalapeno, tomatoes, and black beans is great with tortilla chips or on a taco!
Ingredients
10

oz

peeled and pitted avocados

,

(for me this was 2 avocados)

1

tablespoon

fresh lime juice

½

teaspoon

salt

1/8

teaspoon

ground cumin

a

sprinkle or two

black pepper

2

tablespoons

finely minced red onion

1-2

tablespoons

chopped cilantro

,

(I used one tablespoon)

1

garlic clove

,

minced

1

tablespoon

seeded and minced jalapeno pepper

2

oz

plum tomato

,

diced

¼

cup

drained and rinsed canned black beans

¼

cup

drained and rinsed canned corn
Instructions
Mash the avocados with a fork and transfer to a small mixing bowl. Add the lime juice, salt, cumin and pepper and stir to combine (in addition to adding flavor, the lime juice will help the avocado stay green longer). Add the onion, cilantro, garlic, and jalapeno and stir together. Finish by adding the tomatoes, beans, and corn and stirring to combine.
Notes
To view your current WW Points for this recipe and track it in the WW app or site, click here!
WW Points per (1/4 cup) serving: 1* (Points calculated using the recipe builder on weightwatchers.com)
*2 Points per serving if following the diabetic plan
Nutrition Information per (1/4 cup) serving:
72 calories, 6 g carbs, 1 g sugars, 6 g fat, 1 g saturated fat, 1 g protein, 3 g fiber, 51 mg sodium (from myfitnesspal.com)
MyWW SmartPoints per (1/4 cup) serving: (SP calculated using the recipe builder on weightwatchers.com)
Green: 2 SmartPoints/ Blue: 2 SmartPoints/ Purple: 2 SmartPoints
Weight Watchers PointsPlus:

2 per (1/4 cup) serving (PP calculated using the recipe builder on weightwatchers.com)