Easy Chicken Tacos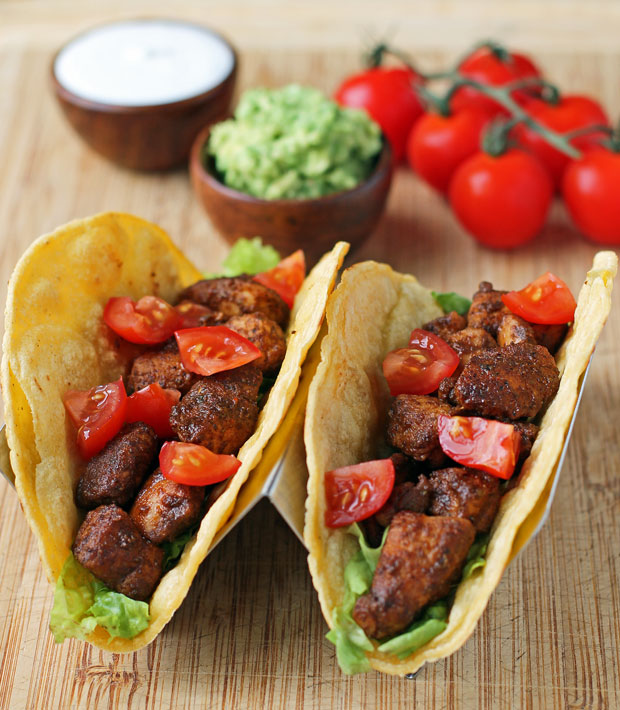 My Easy Chicken Tacos make a fun and flavorful dinner that can be made in a half hour with minimal ingredients. Perfect for weeknights and a hit with the whole family! The chicken is seasoned to perfection and loaded into warm tortillas and topped with fresh lettuce and juicy tomatoes. I kept the recipe pretty simple, but feel free to jazz up your tacos with whatever toppings you love. I love putting avocado on mine and my husband likes sour cream. They're also terrific as is, so don't feel like you have to add anything! As they stand, TWO of these delicious and easy chicken tacos are just 254 calories or 1 WW Point! To view your current WW Points for this recipe and track it in the WW app or site, click here!
We almost always have the ingredients for these on hand, so these Easy Chicken Tacos are perfect for nights when it's 5:00 and we still haven't figured out what we're having for dinner yet. I may be a food blogger, but this happens more often than you'd think! I love serving these tacos with a side of refried beans (also super quick and easy), corn, or with my Easy Salsa Rice.
Looking for more tasty Mexican-inspired recipes to warm up to this winter? Check out my Deep Dish Taco Casserole, Easy Chicken and Bean Enchiladas, Beef Enchilada Pasta Skillet, Fiesta Stuffed Chicken, Mexican Chicken Cauliflower Rice Skillet, Easy Chicken Quesadillas, Beef Taco Soup, Taco Chicken Salad, Spicy Steak Tacos with Guacamole, Layered Chicken Enchilada Bake, Spicy Beef Taquitos, Doritos Taco Salad, Chicken Tamale Bake, Cheesy Taco Pasta, Taco Wonton Cups, and so many more in the Mexican category of my recipe index!
Easy Chicken Tacos
These Easy Chicken Tacos use a homemade taco seasoning and are bursting with flavor!
Ingredients
1

tablespoon

chili powder

1 ½

teaspoons

ground cumin

½

teaspoon

salt

½

teaspoon

black pepper

½

teaspoon

paprika

¼

teaspoon

garlic powder

¼

teaspoon

dried oregano

¼

teaspoon

onion powder

1 ¼

lbs

(20 ounces) raw boneless, skinless chicken breasts

,

cut into small bite-sized pieces

1

tablespoons

olive oil

10

6-inch corn tortillas

,

I use Mission Extra Thin Yellow Corn Tortillas

Chopped lettuce

Chopped tomatoes

Optional additional toppings

,

not included in nutrition or points calculations: guacamole, mashed avocado, sour cream, plain Greek yogurt, taco sauce, salsa, beans, cilantro, cheese…whatever you like on your tacos!
Instructions
Combine the chili powder, cumin, salt, pepper, paprika, garlic powder, oregano, and onion powder in a small dish and stir to combine into a taco spice mix. Place the cut up chicken in a zip-seal plastic bag and add the spice mix. Seal the bag and shake/massage the contents until the chicken pieces are coated with the spices.

Add the oil to a large saute pan/walled skillet and bring over med-high heat. Once the oil is hot, add the chicken pieces (you don't want to overcrowd the pan, so depending on the size of your skillet you may want to work in two batches instead of one) and stir to break them up and coat them in the oil. Cook the chicken for 8-10 minutes, stirring every couple minutes. Once the chicken is cooked through, remove from heat and cover.

Bring a skillet to medium heat and mist each side of a tortilla with cooking spray. Place the tortilla in and pan and let it warm for about a minute. Flip and warm for another minute. Transfer to a plate and repeat with the remaining tortillas.

To build each taco, take a tortilla and fill it with around 1.75 ounces of cooked chicken. Top with lettuce and tomato and enjoy!
Notes
To view your current WW Points for this recipe and track it in the WW app or site, click here!
WW Points per taco: 1 (Points calculated using the recipe builder on weightwatchers.com)
Nutrition Information per taco:
127 calories, 9 g carbs, 1 g sugars, 4 g fat, 1 g saturated fat, 14 g protein, 2 g fiber (from myfitnesspal.com)
MYWW SmartPoints per Taco: (SP calculated using the recipe builder on weightwatchers.com)
Green: 3 SmartPoints*/ Blue: 2 SmartPoints**/ Purple: 2 SmartPoints**
*One taco is 3 Green SP, but two tacos are 5 SP on Green
**One taco is 2 SP on Blue or Purple, but two tacos are 3 SP on Blue or Purple
Weight Watchers Points Plus:

3 per taco (PP calculated using a Weight Watchers PointsPlus calculator and the nutrition info below)