Chili Lime Chicken Bites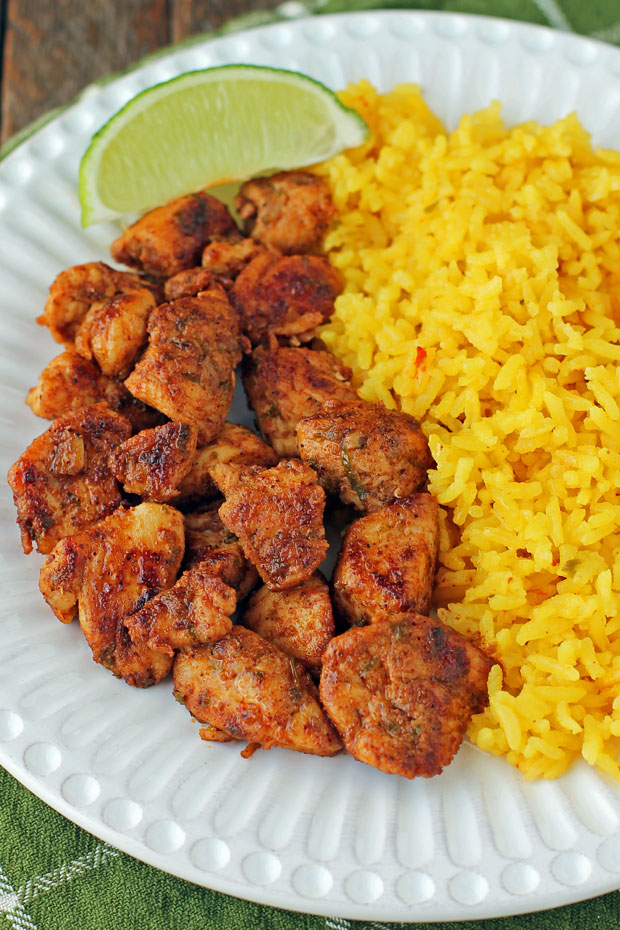 These Chili Lime Chicken Bites are bursting with flavor and come together quickly for easy weeknight meal possibilities. They're delicious on their own served with side dishes, but also work great on a salad, in a rice bowl, wrapped in a tortilla, or as meal prep for lunches. You'll love the layers of flavor! Savory and a bit spicy (though not overwhelmingly so) with brightness from the fresh lime zest. My husband walked into the kitchen when I was done cooking these for the first time and said "what smells so amazing??" He gave these rave reviews for flavor as well! Not only are these Chili Lime Chicken Bites easy, delicious, and versatile, each satisfying serving is just 175 calories or 1 WW Point on the current Weight Watchers program. To view your current WW Points for this recipe and track it in the WW app or site, click here!
I've made a lot of flavors of chicken bites, but I realized I hadn't come out with a new one in a whole year. It's funny because I make chicken bites all the time in our house! These Chili Lime Chicken Bites are some of my favorite ones, though honestly it's hard to choose. If you want to check out my other chicken bites flavors, I've made them Blackened, Nashville Hot, Greek, Barbecue Rubbed, Lemon Pepper, and Everything seasoned. You'll probably want to try them all!
Chili Lime Seasoning
You'll never want to buy chili lime seasoning again once you try my simple homemade variety! It comes together in just a few minutes and the flavors really shine. Plus, you can adjust the spice level to your preference. Sometimes I add an extra half teaspoon of chili powder if I'm feeling it. You could also omit the cayenne pepper if you want to turn down the spice. As far as lime goes, the zest adds plenty of fresh lime flavor to the chicken rub, but if you want a little extra you can serve your chicken bites with a lime wedge to squeeze over the top. All of the ingredients in this spice mix are easy to find in most well-stocked kitchens, so you likely have them on hand (though you may have to buy a lime if you don't have one on hand).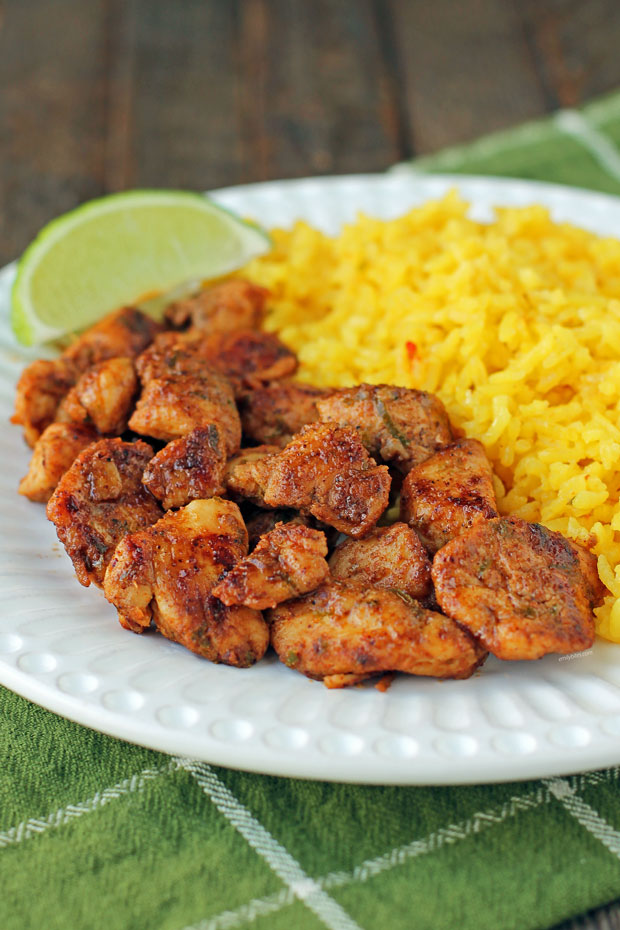 How to Serve
These Chili Lime Rubbed Chicken Bites are great on their own and pair well with all types of side dishes. My family's personal favorite is to serve them with roasted vegetables and seasoned rice (pictured here with Vigo Yellow Rice). You could also add a dipping sauce if you like! I also make chicken bites pretty often to use for lunch on salads. I love to eat a salad for lunch, and it's great to have chicken bites prepped and ready to throw on top! You could also serve these chicken bites in a tortilla or in a rice or grain bowl with veggies. This recipe is so versatile!
Cutting up the chicken
I often buy a big pack of boneless, skinless chicken breasts at the store and then use kitchen shears to trim them down to make 5-6 oz cutlets to use in recipes. Everything I cut off to make the cutlets gets cut into chunks to make chicken bites! It's easy to weigh out 1 lb or 1.5 lb of chicken chunks and freeze them for later in a quart size freezer bag. That way, I always have some on hand! Buying the bulk packs of chicken breasts is cost-effective, and cutting them into cutlets and bites ensured I have what I need on hand when I go to make a recipe. I find that kitchen shears make this task go quicker and easier than using a knife, so I highly recommend using shears.
More tasty chicken recipes
Looking for more tasty, lightened up, chicken recipes? Check out my Blackened Chicken Bites, Nashville Hot Chicken Bites, Lemon Pepper Chicken Bites, Greek Chicken Bites, Barbecue Rubbed Chicken Bites, Cheesy Bacon Ranch Stuffed Chicken, Apple and Brie Stuffed Chicken, Cheesy Garden Vegetable Baked Chicken, Slow Cooker Chicken and Stuffing, Strawberry Balsamic Grilled Chicken, Ricotta Stuffed Chicken Bake, Cream Cheese and Herb Stuffed Chicken, Tuscan Olive Chicken, Crispy Cheddar Chicken with Cream Sauce, Pimento Cheese Stuffed Chicken, Cream Cheese Stuffed Everything Chicken, and so many more in the Chicken category of my recipe index!
Chili Lime Chicken Bites
These Chili Lime Chicken Bites are full of flavor and come together quickly for easy weeknight meal possibilities!
Ingredients
2

teaspoons

chili powder

½

teaspoon

salt

½

teaspoon

garlic powder

½

teaspoon

onion powder

½

teaspoon

ground cumin

¼

teaspoon

sugar

⅛

teaspoon

cayenne pepper

the zest from one lime

,

(around 2 - 2 ½ teaspoons)

1

tablespoon

olive oil

1

lb

raw boneless, skinless chicken breasts

,

cut into small bite-sized pieces
Instructions
In a small dish, stir together all the seasonings: chili powder, salt, garlic powder, onion powder, cumin, sugar, and cayenne. Add the lime zest and stir until combined.

Place the cut up chicken pieces into a gallon zip-seal plastic bag or a mixing bowl. Add the spice mix to the chicken pieces. Seal the bag and shake/massage the contents OR stir the contents of the bowl until the chicken pieces are coated with the spices.

Add the oil to a large sauté pan/walled skillet and bring over med-high heat. Once the oil is hot, add the chicken pieces (you don't want to overcrowd the pan, so depending on the size of your skillet you may want to work in two batches instead of one) and stir to break them up and coat them in the oil. Cook the chicken for 5-8 minutes, stirring every couple minutes (you don't want to stir super frequently because the chicken needs time to brown on each side). Once the chicken is cooked through and browned on the outside, remove from heat and serve.
Notes
WW Points per (3.25 ounce) serving: 1 (SP calculated using the recipe builder on weightwatchers.com)
To view your current WW Points for this recipe and track it in the WW app or site, click here!
Nutrition Information per (3.25 ounce) serving:
175 calories, 2 g carbs, 1 g sugars, 7 g fat, 2 g saturated fat, 26 g protein, 1 g fiber, 90 mg sodium (from myfitnesspal.com)
Weight Watchers Points Plus:
4 per (3.25 ounce) serving (PP calculated using a Weight Watchers PointsPlus calculator and the nutrition info below)