Cheesy Spicy Black Bean Skillet
This Cheesy Spicy Black Bean Skillet is like a vegetarian chili with a Mexican-inspired twist. The result is saucy, cheesy, super hearty and filling, and packed full of flavor. You'll use spices like smoked paprika, cumin, and crushed red pepper, along with enchilada sauce to really make your taste buds happy. I absolutely love how easy and quick this recipe is to throw together on a weeknight, and it uses pantry staples that you can always keep on hand. I'm trying to add a few more meatless meals to my dinner rotation, and this one comes together super fast in one pan with minimal prep and effort. That's a big win in my book! Each 1 cup serving is 355 calories or 5 WW Points. To view your current WW Points for this recipe and track it in the WW app or site, click here!
How should I serve this Cheesy Spicy Black Bean Skillet?
This dish is super versatile. You can eat it with a spoon like chili, and maybe toss some sour cream, cilantro, or avocado on top. You can wrap it in tortillas as a taco filling. You can serve it over rice or over a baked potato. You can make smaller servings and use it as a side dish. You can scoop it up with tortilla chips like a dip or serve it on top of tortilla chips like nachos. I love a nice crunch, so eating it with tortilla chips may just be my favorite. You can of course buy chips from the store, but if you're looking for a lighter version, I like to make my own! Scroll down to the next paragraph for instructions to make your own lighter tortilla chips in the air fryer or oven!
How to make your own lighter tortilla chips (air fryer/oven):
Like I mentioned above, my favorite way to eat this Cheesy Spicy Black Bean Skillet is with tortilla chips. Lately I've been making my own in the air fryer (as seen in the recipe photos) by misting corn tortillas with cooking spray, sprinkling them with salt and cutting them into strips or triangles. I then put them in the air fryer at 350 for about 8 minutes (keep an eye on it) and take them out when golden. Then just let them cool and they'll crisp up! You can follow similar directions (time and temp) to bake them in the oven, you may just want to flip them halfway through. My favorite tortillas to use are either Mission Extra Thin Yellow Corn Tortillas or La Banderita Corn Tortillas, they both make great low-cal or low-point chips!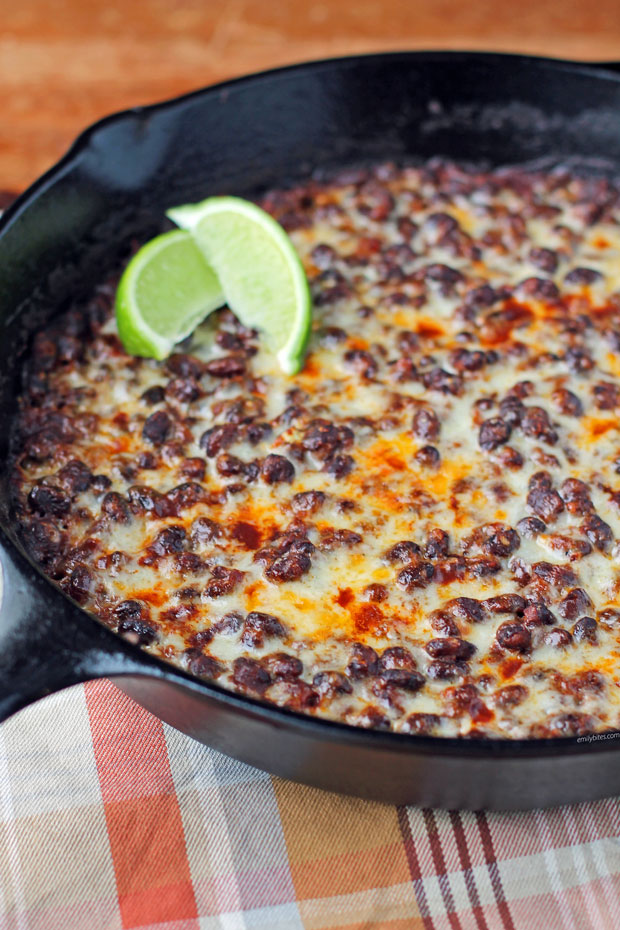 Possible Add-ins:
I love this black bean skillet exactly as written, so I definitely suggest making it my way first! However, there are certainly other possibilities for things you can add if you like:
Corn Kernels: will add a bit of sweetness
Diced Green Chiles: you can stir them right in when you add the beans
Peppers: bell peppers, chipotle peppers, or jalapeno peppers will all add unique flavors
Meat: ground turkey, chicken, or sausage could all work well with this recipe
Cayenne Pepper: if you'd like a little extra kick, feel free to sprinkle in a bit of cayenne pepper
Hot Sauce: you could also definitely serve this with hot sauce so people can choose their heat level
Different Cheeses: you can definitely use other cheese besides cheddar, a jack cheese, Mexican blend, etc.
The Bowl:
Every time I photograph a recipe in these bowls I get comments and questions about where to buy them! If you're looking for the bowl, they're sold by Lakeside Collection. They're great for soup with crackers, chili with fritos or other mix-ins, dip with chips, etc. My husband's grandma bought them for me and I had to find out where she bought them because they're such a hit with you all!
More Tasty Recipes:
Looking for more Mexican-inspired recipes like this Cheesy Spicy Black Bean Skillet? Check out my Loaded Guacamole, Mexican Street Corn Chicken, Easy Chicken Tacos, Breakfast Tostadas, 7 Layer Dip, Easy Chicken and Bean Enchiladas, Easy Salsa Rice, Deep Dish Taco Casserole, Fiesta Stuffed Chicken, Easy Chicken Quesadillas, Mexican Chicken Cauliflower Rice Skillet, Beef Taco Soup, Layered Chicken Enchilada Bake, Spicy Beef Taquitos, Chicken Tamale Bake, Cheesy Taco Pasta, and more in the Mexican category of my recipe index!
Cheesy Spicy Black Bean Skillet
This quick and easy Cheesy Spicy Black Bean Skillet is like a vegetarian meatless chili with a Mexican-inspired twist - perfect for a weeknight dinner!
Ingredients
2

tablespoons

olive oil

1

medium

onion

,

chopped

5

garlic cloves

,

minced

¼

cup

tomato paste

1 ½

teaspoons

smoked paprika

1

teaspoon

ground cumin

¼

teaspoon

crushed red pepper flakes

2

(15 oz)

cans black beans

,

drained and rinsed

½

teaspoon

salt

¼

teaspoon

black pepper

8

oz

red enchilada sauce

, (I use and recommend Frontera Red Chile Enchilada Sauce which comes in packets near the other Mexican ingredients at my local grocery stores)

3

oz

50% reduced fat sharp cheddar cheese

,

(I use Cabot)

4

lime wedges
Instructions
Pre-heat the oven to 450 degrees.

In a large oven-safe skillet, drizzle the olive oil and bring over medium heat. Add the onions and cook for 2-3 minutes, stirring occasionally, until softened. Add the minced garlic and stir. Continue cooking for another minute.

Add the tomato paste, smoked paprika, cumin, and red pepper flakes and stir together for 30 seconds. Add the beans, salt, pepper, and enchilada sauce and stir to combine. Sprinkle the cheese across the top and transfer to the heated oven.

Bake for 5-10 minutes until the cheese is melted and the cheese is a bit golden. Serve with lime wedges to squeeze over top.
Notes
To view your current WW Points for this recipe and track it in the WW app or site, click here!
WW Points per (1 scant cup) serving: 5 (Points calculated using the recipe builder on weightwatchers.com)
Nutrition Information per (1 scant cup) serving:
355 calories, 45 g carbs, 6 g sugars, 12 g fat, 3 g saturated fat, 20 g protein, 15 g fiber, 1261 mg sodium (from myfitnesspal.com)
Weight Watchers PointsPlus:

9 per (1 scant cup) serving (PP calculated using the recipe builder on weightwatchers.com)
adapted from The NY Times