Easy Pear Galette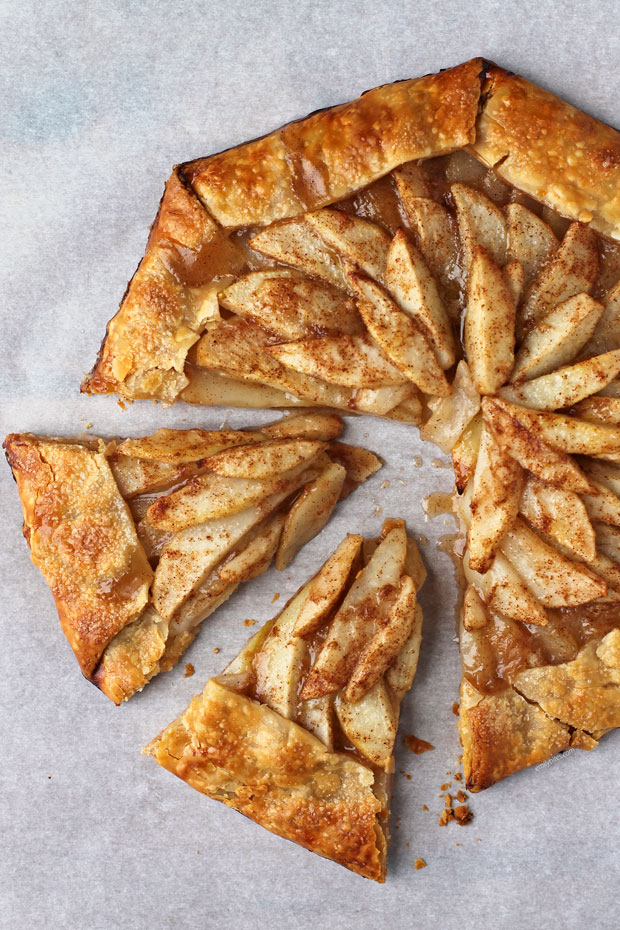 This Easy Pear Galette is a delicious lightened up dessert that's full of fall flavor and comes together with ease! Not familiar with galettes? A galette is basically just a freeform pie that you make without a pie plate. You'll love how simple it is to put this recipe together using store-bought pie crust dough and just a few other ingredients you likely have on hand. You can save even more prep time by choosing not to artfully arrange the pears in overlapping concentric circles and instead just spooning them onto the crust in a pile and then smoothing them out a bit. It will look slightly less fancy, but will still be just as delicious.
I think this Pear Galette would be perfect for a "friendsgiving" celebration or as a bonus Thanksgiving dessert. Not only is this tasty treat delicious and easy to make, it also uses less sugar and lets the natural sweetness of the pears shine. Each slice is just 187 calories or 6 WW Points each (or 8 points if following the diabetic Weight Watchers plan)! To view your current WW Points for this recipe and track it in the WW app or site, click here!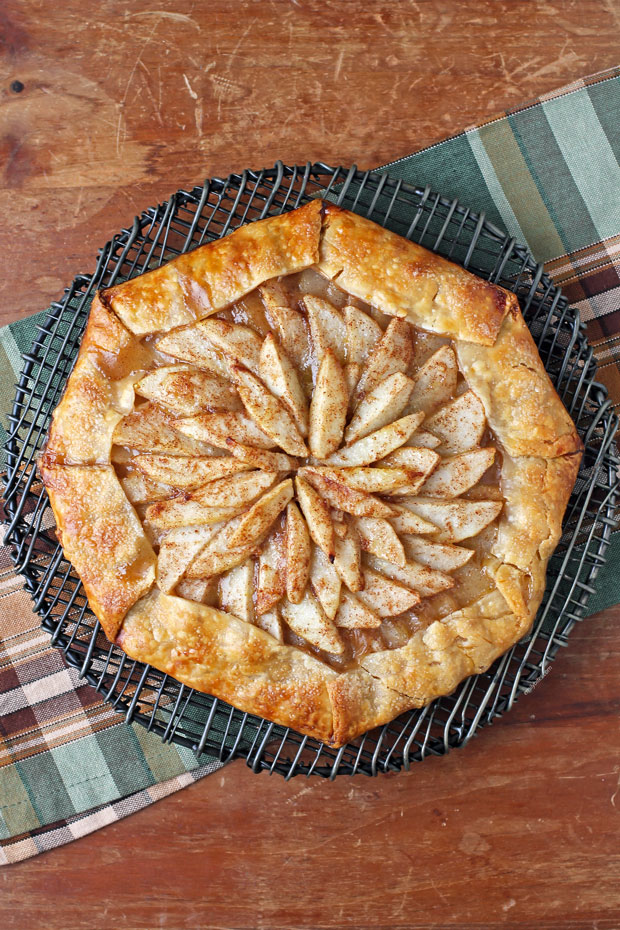 Recipe Notes
Pears: You'll want to use pears that are ripe but still a bit firm (not smushy or over-ripe, but not rock-hard either). Basically, you want them to be firm enough to peel easily, but ripe enough to be sweet. I recommend Anjou pears for this recipe over Bartlett pears because they're firmer and hold together better for baking.
Pie Crust: This Pear galette recipe is super easy, in part because it uses pre-made pie crust dough. I use and recommend the Pillsbury Refrigerated Pie Crusts. They can be found in the refrigerated section of the grocery store and come in a box of two (though you'll only use one for this recipe). They're already rolled into nice even circles, so you can just use your rolling pin a little bit to get them to 12-inch diameter. Super easy.
Sugar/Sweetener: This recipe uses both brown sugar and granulated (white) sugar. Luckily, pears are naturally so sweet and delicious that you don't need to add a ton of sugar to turn them into a tasty dessert! I haven't tried this recipe using alternative sweeteners, but I'd imagine that it would work just fine. If you decide to use a sugar substitute, make sure you pay attention to the conversion rate because some alternatives are much sweeter than sugar in a similar quantity.
Lemon Juice: This recipe uses a tablespoon of lemon juice, which is about the amount I get from juicing half a lemon. I use a wooden citrus reamer like this one (affiliate link) and it works wonderfully.
Cornstarch: Using cornstarch in this recipe gives the filling that thicker, gooey pie-filling consistency. Since pears don't release a lot of juice while cooked, you only need a tablespoon and it works perfectly.
Storage: This Easy Pear Galette is best eaten the day of for a crispy crust, but you can keep it, covered, on the counter for a couple days.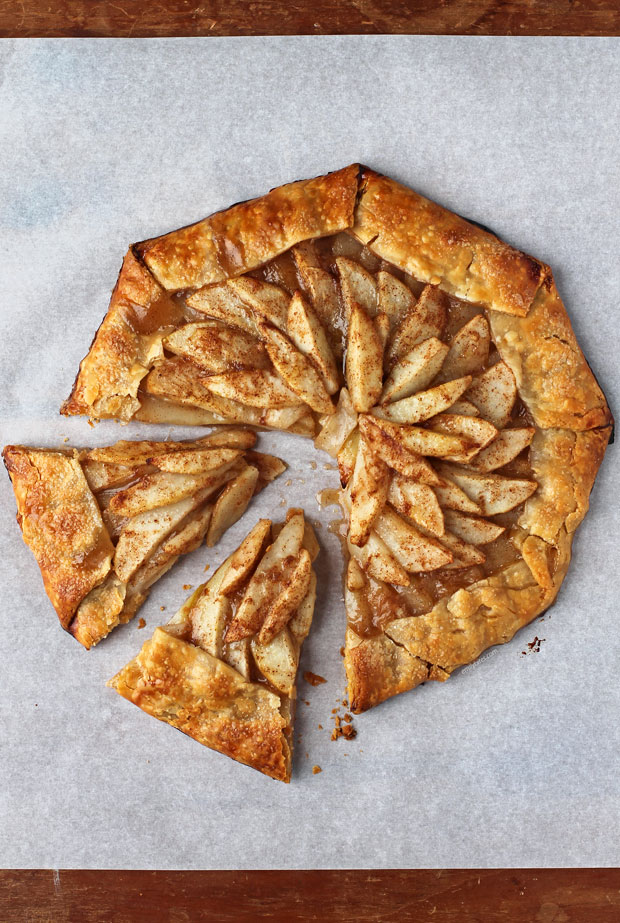 More Lightened Up Dessert Recipes
Looking for more tasty lightened up dessert recipes like this Easy Pear Galette? Check out my Topless Apple Pie, Gingerbread Cheesecake Cups, Pecan Pie Bites, Mixed Berry Pie, Strawberry Cheesecake Cups, Fudgy Pumpkin Chocolate Brownies, Pumpkin Pie Bites, Mini Cinnamon Apple Tarts, Cheesy Cinnamon Baked Pears, Cheesecake Fruit Dip, Mixed Berry Mini Tarts, Cannoli Dip, and many more in the Desserts section of my recipe index!
Easy Pear Galette
This Easy Pear Galette is a delicious lightened up dessert full of fall flavor that comes together with ease!
Ingredients
2

tablespoons

packed brown sugar

1

tablespoon

cornstarch

½

teaspoon

ground cinnamon

⅛

teaspoon

salt

1

tablespoon

lemon juice

4

medium

pears

,

peeled, cored and sliced (I used and recommend Anjou pears)

1

pre-made refrigerated pie crust dough

, (I use Pillsbury Refrigerated Pie Crust – comes in a box of two)

1

tablespoon

light butter

,

(I use Land O'Lakes light butter spread with canola oil in a tub)

1

large

egg

1

tablespoon

water

2

teaspoons

granulated sugar
Instructions
Set the oven to 400 degrees Fahrenheit. Lay your pie crust dough on a piece of parchment paper and use a rolling pin to roll it into a 12" diameter circle. Transfer the parchment paper with the dough circle onto a rimmed baking sheet.

In a large mixing bowl, add the brown sugar, cornstarch, cinnamon, and salt and stir to combine. Add the lemon juice and stir until well mixed. Add the sliced pears and stir until they are coated in the brown sugar mixture.

Arrange the pears on top of the pie crust dough, leaving a 2-inch border around the outside. I overlapped the slices in a circle around the outside and then filled in the center with a few sliced before adding another circle on top, overlapping the original circle about halfway in. Then I did a third circle overlapping that and arranged the final pieces in the center. You can take this concentric circle approach or just spoon the pears into the center of the dough and then spread them out evenly.

Fold the outside edge of the pie crust dough up and over the edges of the filling. Drop little bits of the butter over top of the pear filling.

Crack the egg into a small dish and add the tablespoon of water. Use a fork to beat them together until combined into an egg wash. Use a pastry brush to paint the egg wash over the folded crust dough (you will not use anywhere near all of it, just discard whatever remains). Sprinkle the two teaspoons of sugar all over the egg washed crust and the pears in the center of the galette.

Place the baking sheet in the heated oven and bake for 35-40 minutes until the crust is golden and the pears are hot and bubbly. Transfer the parchment with the galette onto a cooling rack and let it cool for at least 20 minutes before slicing.
Notes
WW Points per slice: 6 (SP calculated using the recipe builder on weightwatchers.com)
To view your current WW Points for this recipe and track it in the WW app or site, click here!
Nutrition Information per (1 slice = 1/8th of the galette) serving:
187 calories, 31 g carbs, 13 g sugars, 7 g fat, 3 g saturated fat, 2 g protein, 3 g fiber, 152 mg sodium (from myfitnesspal.com)
Weight Watchers Points Plus:
5 per (1 slice = 1/8th of the galette) serving (P+ calculated using the recipe builder on weightwatchers.com)
Adapted from The Kitchn