Chicken Taco Tortilla Pinwheels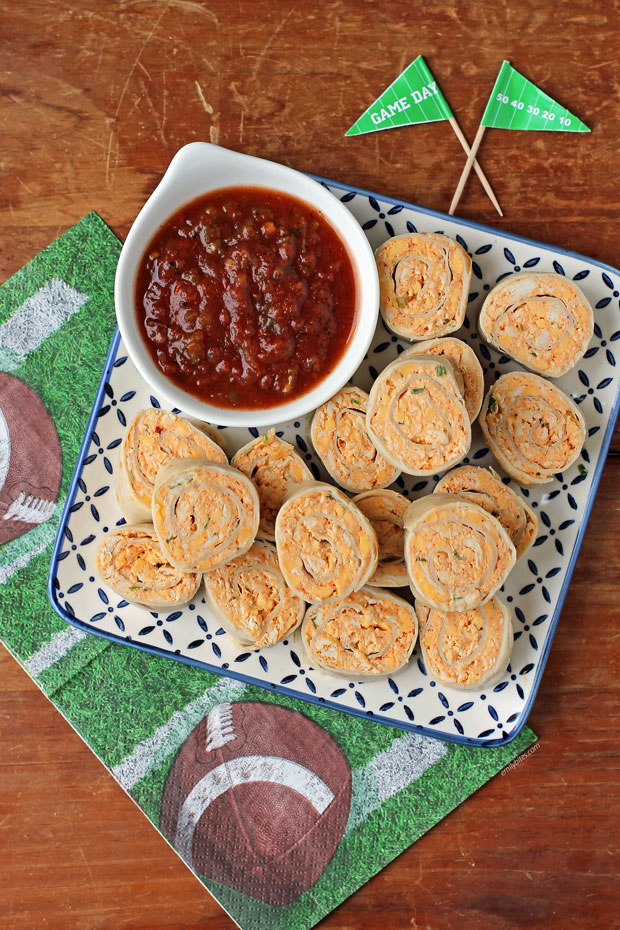 These easy Chicken Taco Tortilla Pinwheels are great for lunch, parties, or watching the game. They can be prepped a bit ahead of time and don't need to be heated, so they're easy to set out for friends and family as finger food or to pack for a midday meal at work. These pinwheels have a rich, creamy filling with chicken, cream cheese, Greek yogurt, salsa, taco seasoning, and green onion, all wrapped up in a tasty tortilla. The flavors are a real crowd-pleaser and the ingredients are pretty much all items I have on hand in my kitchen most days. Plus, each of these Chicken Taco Tortilla Pinwheels is just 47 calories or 1 SmartPoints each on all three myWW color plans!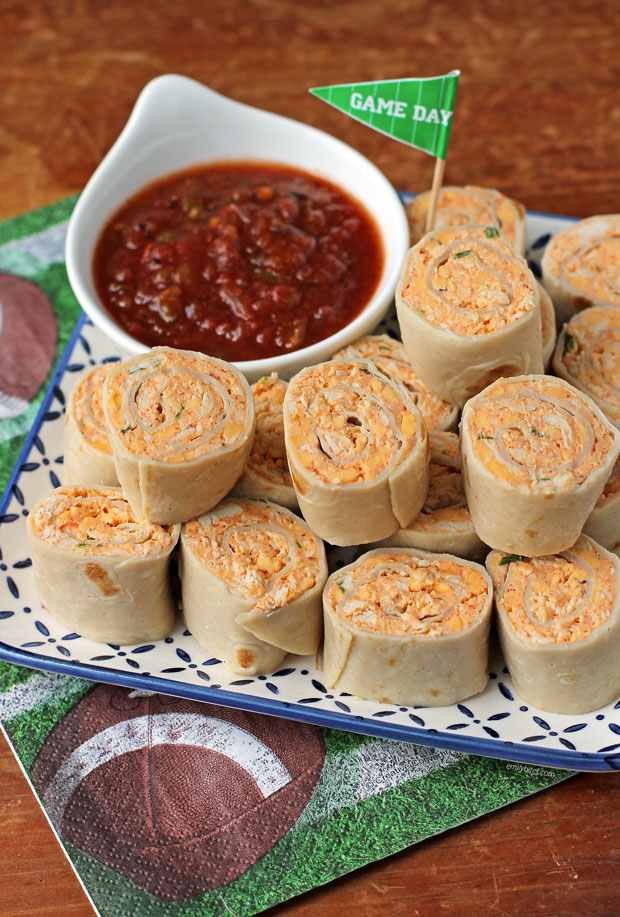 You'll need already cooked shredded chicken breast for this recipe, but that shouldn't be a problem! I frequently make a batch in my slow cooker to use in recipes for the week, and you can do the same by following my directions here. You can also make easy-to-shred chicken breasts in your Instant Pot, boil the breasts on your stovetop, or just buy a rotisserie chicken breast and scrap the skin and bones. Whichever method you choose, I do recommend trying to shred it fairly finely. I pretty much always shred mine using two forks, but readers are often telling me they throw their hot cooked chicken breasts right in their stand mixer for shredding. I have to try that sometime!
As far as the wraps go for these Chicken Taco Tortilla Pinwheels, I used Tumaro's brand 8-inch carb wise wraps. They have a few flavors, but I used their Multi-Grain variety because that's what Wegmans had in stock! I do enjoy their products and appreciate them being low in WW points, but there are many other brands that will work as well. I also really like the La Banderita Carb Counter tortillas, for example. Just try to choose one that is roughly 8 inches in diameter and is low in carbs/calories/points.
Looking for more tasty, lightened up finger foods? Check out my Buffalo Deviled Eggs, Crab Rangoon, Spinach Balls, Mini Buffalo Chicken Bread Dip Bowls, Cheesy Pineapple Prosciutto Bites, Turkey Sausage Stuffed Mushrooms, Cheesy Bacon BBQ Chicken Taquitos, Spinach Artichoke Wonton Bites, Meatball Slider Bombs, Easy Chicken Quesadillas, Pizza Wonton Cups, Cheesy BLT Crostini, Ham and Cheese Twists, Strawberry Balsamic Bruschetta, Cheesy Spinach Pinwheels, Taco Wonton Cupcakes, and more in the appetizers category of my recipe index.
Chicken Taco Tortilla Pinwheels
These easy Chicken Taco Tortilla Pinwheels are great for lunch, parties, or watching the game!
Ingredients
4

oz

1/3 less fat cream cheese

,

softened to room temperature

¼

cup

plain nonfat Greek yogurt

2

oz

50% reduced fat sharp cheddar cheese

,

shredded (I use Cabot)

2

tablespoons

salsa

1

tablespoon

taco seasoning

1

scallion

,

thinly sliced

4

oz

cooked boneless skinless chicken breast

,

finely shredded

3

(8-inch) lower calorie/carb tortillas or wraps

, (I used Tumaro's Multi Grain Carb Wise Wraps)
Instructions
In a mixing bowl, add the cream cheese, yogurt, shredded cheddar, salsa, and taco seasoning and then stir (I like to use a fork, but a spatula or spoon will also work) until well combined. Add the scallions and shredded chicken and mix the ingredients together until thoroughly combined.

Lay a tortilla flat on a clean surface like a cutting board and scoop about a ½ cup of chicken filling (it's actually a bit more, so a generous ½ cup) onto the center of the wrap. Use a spatula or butter knife to spread the filling across the entire surface of the tortilla in an even layer. Starting at one end, roll the tortilla up tightly over the filling. Repeat with the remaining ingredients to make three roll-ups. Wrap each one snugly in plastic cling wrap and place in the refrigerator for at least 4 hours or up to 24 hours.

When the roll-ups are well chilled, use a sharp knife to slice each one into 6 equal-sized pinwheels. If you want them to be perfect looking, feel free to trim the "rough edge" off the end pieces.
Notes
MYWW SMARTPOINTS PER pinwheel: (SP calculated using the recipe builder on weightwatchers.com)
*Green: 1 SmartPoints/ Blue: 1 SmartPoints/ Purple: 1 SmartPoints
*If you eat a whole wrap's worth (6 pieces) it will be 8 SP Green or 7 SP Blue or Purple
Weight Watchers Points Plus:

1 per pinwheel (PP calculated using a Weight Watchers PointsPlus calculator and the nutrition info below
Nutrition Information per pinwheel:
47 calories, 3 g carbs, 1 g sugars, 2 g fat, 1 g saturated fat, 4 g protein, 1 g fiber, 118 mg sodium (from myfitnesspal.com)
Inspired by Sweet Spicy Kitchen and The Recipe Critic