Three Cheese Broccoli Brunch Bake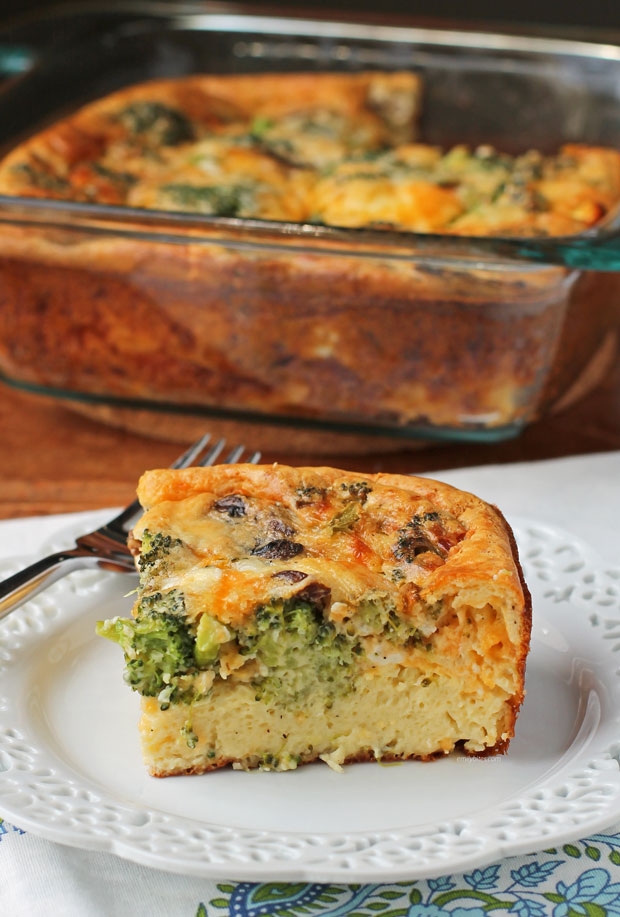 This Three Cheese Broccoli Brunch Bake is a tasty meatless egg dish that is perfect for a weekend breakfast or to make once and re-heat all week! This breakfast casserole has cream cheese, cottage cheese and cheddar cheese, so it's full of cheesy goodness. It also uses Bisquick baking mix that gives the eggs a firmer texture that I really love. I used broccoli and mushrooms and made this vegetarian, but you could definitely swap in different vegetables or add ham or bacon if you like.  As written, a big, satisfying serving of this brunch bake is just 260 calories or 5 WW Points. To view your WW Points for this recipe and track it in the WW app or site, click here!
I like to serve this Three Cheese Broccoli Brunch Bake as the main course for a weekend breakfast or brunch and pair it with fruit salad, toast, or bacon on the side. I do love when there is leftovers, however, because it re-heats really well and it's nice to wake up and know breakfast is already made.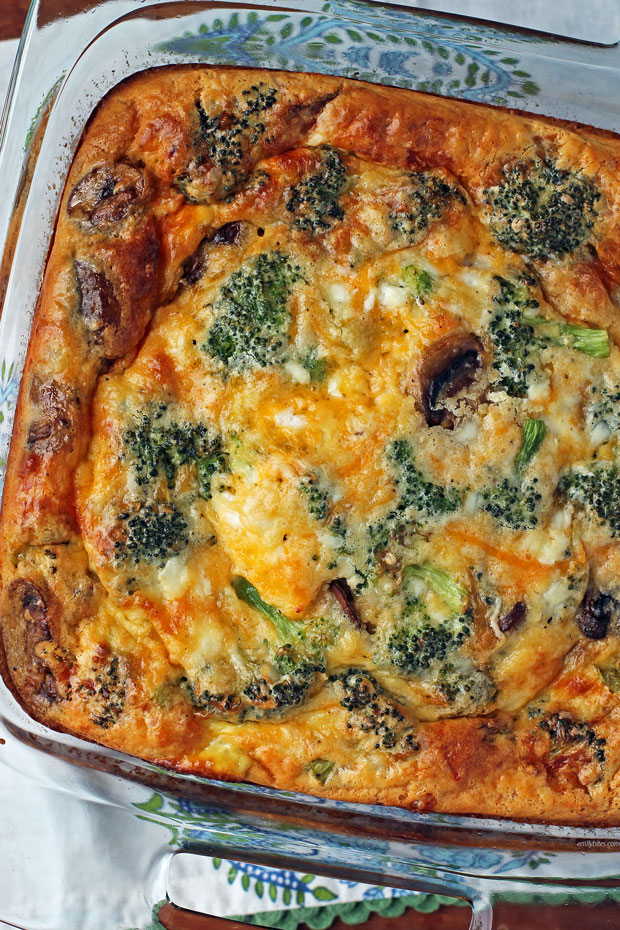 Cooking Time
I made this Three Cheese Broccoli Brunch Bake in an 8×8 square casserole dish, and mine took 65 minutes to be perfectly set. If you make it in a wider dish (like a 9×9 or 7×11) where the mixture isn't so thick, it will likely take a bit  less time to set in the middle. If you're using a wider dish I'd suggest checking it at 50 minutes and going from there to figure out the right timing for you.
Ingredient Notes and Substitutions
Vegetables: I really like the broccoli in this and thought the mushrooms paired really well, but if you're not a fan or just don't have them on hand, you can definitely substitute other veggies. I think spinach, bell peppers, tomatoes, zucchini, or asparagus could all work well!
Meat: I made this as a meatless recipe but you could absolutely add diced ham, cooked bacon, or crumbled breakfast sausage if you want it to be meaty! My recipe for easy homemade Turkey Breakfast Sausage would be great in this recipe.
Cheese: I used cheddar in this bake (along with cream cheese and cottage cheese), but you could swap in another shredded cheese if that's what you have! You could also substitute ricotta for the cottage cheese, though if you're not a cottage cheese person, I assure you that you cannot taste it at all in the finished product.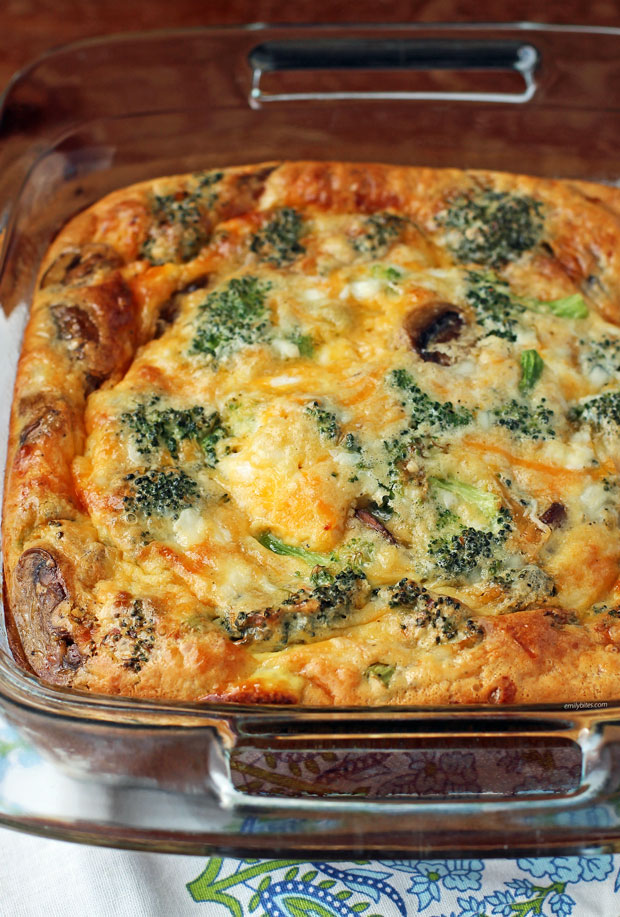 Looking for more tasty, lightened up breakfast recipes? Check out my Bacon Broccoli Quiche, Sheet Pan Blueberry Pancakes, Turkey Sausage Breakfast Burritos, Chocolate Mocha Baked Oatmeal Singles, Turkey Sausage Mini Frittatas, Morning Glory Muffins, Ultimate Tater Tot Breakfast Casserole, Sausage and Pepper Egg Bake, Ham and Cheese Hash Brown Quiche, Pear Gingerbread Baked Oatmeal Singles, Bubble Up Breakfast Casserole, Strawberry Banana Baked Oatmeal Singles, Hummus and Feta Omelet, Mini Dutch Baby Pancakes, Sausage Egg and Cheese Hash Brown Cups and many more in the breakfast category of my recipe index!
Three Cheese Broccoli Brunch Bake
This Three Cheese Broccoli Brunch Bake is a tasty meatless egg dish that is perfect for breakfast or brunch!
Ingredients
1

tablespoon

light butter

,

(I use Land O'Lakes light butter spread with canola oil in the tub)

1

cup

sliced white mushrooms

2

cups

small broccoli florets

6

large

eggs

2

oz

1/3 less fat cream cheese

,

softened

1

cup

skim milk

¾

cup

Bisquick Pancake and Baking Mix

4

oz

50% reduced fat sharp cheddar cheese

,

shredded (I use Cabot)

1

cup

1% low fat cottage cheese

½

teaspoon

salt

¼

teaspoon

black pepper
Instructions
Pre-heat your oven to 350. Mist a 2-QT baking dish with cooking spray (I used an 8x8).

Melt the butter in a skillet over medium heat. Add the sliced mushrooms and cook for 4-5 minutes, stirring occasionally, until softened and a bit golden. Set aside.

Place the broccoli florets in a microwave-safe bowl and cover the bowl with a damp paper towel. Place the bowl in the microwave and cook for 2 minutes on high. The broccoli should be bright green and softened. Set aside.

Break the eggs into a large mixing bowl and add the cream cheese, milk, and Bisquick. Use an electric mixer or a whisk with some elbow grease to beat the mixture until combined. Add the shredded cheddar, cottage cheese, salt, and pepper and stir together. Add the mushrooms and broccoli and stir to combine.

Transfer the mixture to the prepared baking dish and make sure the ingredients are evenly distributed. Place the baking dish in the oven uncovered and bake for 55-65 minutes until the eggs are set and a toothpick inserted in the center comes out clean. Allow to cool for 10 minutes before cutting into 6 servings.
Notes
WW Points:

5 per slice (PP calculated using the recipe builder on weightwatchers.com)
To view your WW Points for this recipe and track it in the WW app or site, click here!
Nutrition Information per slice:
260 calories, 19 g carbs, 6 g sugars, 12 g fat, 6 g saturated fat, 20 g protein, 1 g fiber, 526 mg sodium (from myfitnesspal.com)
Weight Watchers Points Plus:

7 per slice (P+ calculated using a Weight Watchers brand PointsPlus calculator and the nutrition information below)
Adapted from Taste of Home