Corn and Tomato Salad
This simple Corn and Tomato Salad is a fresh and delicious side dish that pairs especially well with meat off the grill! With sweet corn, juicy tomatoes, rich Feta cheese, fresh herbs, and a simple vinaigrette that lets the ingredients shine, I can't get over how good this is. My husband loved it too and now we keep lamenting that we didn't make it for the party we had earlier this summer…we've been missing out! You should probably make this recipe as soon as you see it so you don't have similar regrets. I'm just saying.
This Corn and Tomato Salad is perfect for corn season because it uses fresh corn cut off the cob. We are lucky to have a corn stand right around the corner from our house that sells fresh corn on the cob every day in the late summer. Though it's delicious on it own, I'm always looking for tasty new ways and excuses to use it! This recipe makes a great easy weeknight side dish, but I also love this as a go-to dish to bring to picnics, potlucks and cookouts. It's the perfect dish to bring for a crowd because it's fresh, flavorful, goes with everything, and doesn't need to be heated or kept warm. It's sure to be a hit at your next gathering!
Not only is this Corn and Tomato Salad easy to make and absolutely delicious, but each serving is just 179 calories or 2 WW Points on the current Weight Watchers program (or 5 WW Points if following the diabetic WW plan). To view your current WW Points for this recipe and track it in the WW app or site, click here!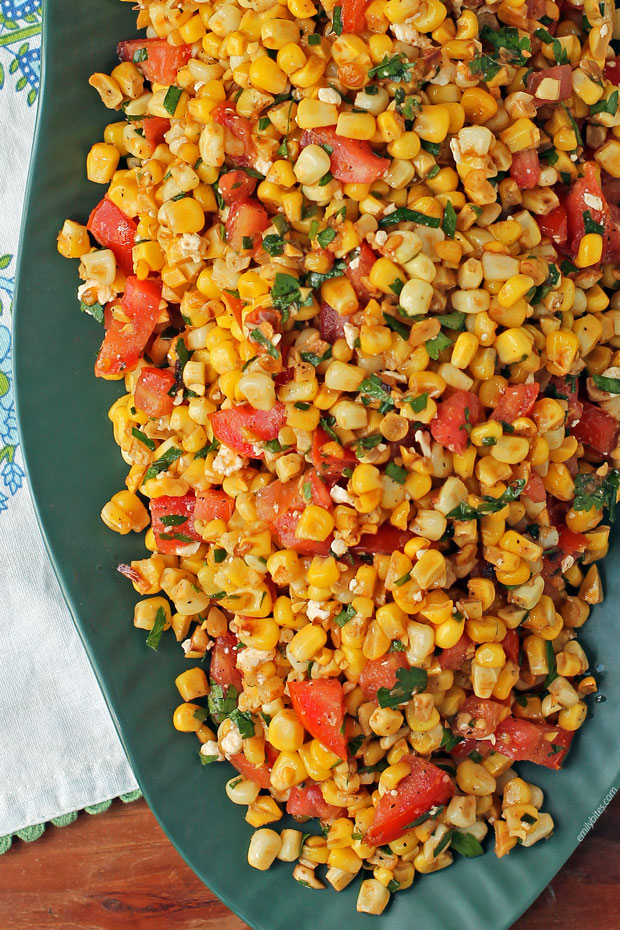 Serving Size
The entire recipe for me made about 5 ¾ cups, so I decided to list this as six servings at 1 scant cup each. If you're not sure what that means, a scant cup is just slightly under a full cup. However, if you use larger tomatoes than I did, or toss in a little extra corn from stripping your cobs, you may end up with full cup servings. Feel free to measure out your end result if it's important to you to be exact and then divide that by six servings.
More Tasty Side Dish Ideas
Looking for more tasty, lightened up side dish recipes? Check out my Mediterranean Couscous Salad, Apple Coleslaw, Air Fryer Ranch Corn on the Cob, Broccoli Cheddar Twice Baked Potatoes, Stovetop Cinnamon Apples, Caprese Pasta Salad, Air Fryer Cajun Potatoes, Broccoli Salad, Stovetop Green Beans with Almonds, Creamy Corn with Bacon and Jalapenos, Caprese Salad, Vegetable Fried Rice, Garlic Herb Mushrooms, Avocado BLT Pasta Salad, Easy Salsa Rice, Roasted Fingerling Potatoes, Easy Garlic Knots, and so many more in the Side Dishes category of my recipe index!
Corn and Tomato Salad
This simple Corn and Tomato Salad is a delicious side dish that's easy to make and full of fresh flavor!
Ingredients
2

medium

tomatoes

,

cored and chopped into ½" chunks

1 ¼

teaspoons

salt

,

divided

2 ½

tablespoons

olive oil

,

divided

5

cups

fresh corn kernels

,

cut off the cob preferred (this is 4-5 ears of corn)

2

tablespoons

chopped fresh chives

½

teaspoon

black pepper

1 ½

tablespoons

white wine vinegar

¼

cup

chopped fresh parsley

1

oz

crumbled Feta cheese
Instructions
Place your chopped tomatoes in a mixing bowl and sprinkle with ½ teaspoon of the salt. Stir to combine and transfer the tomatoes to a colander. Set the colander on top of the bowl to let the tomatoes drain for 30 minutes while completing step two.

Drizzle one tablespoon of the olive oil into a large skillet or sauté pan and bring over medium-high heat. Once the oil is hot, add the corn and stir to coat. Cook for 6-7 minutes, stirring occasionally, until the corn is cooked and has some brown spots throughout.

Transfer the cooked corn kernels to a large mixing bowl and add the chopped chives, black pepper, white wine vinegar, the remaining ¾ teaspoon of salt, and the remaining 1 ½ tablespoons of olive oil. Stir to combine and spread the mixture out a bit in the bowl. Allow to cool (about 20 minutes).

When the corn mixture is cooled, add the tomatoes from the colander and the chopped parsley and stir into the corn. Allow everything to sit in the mixing bowl for another 30 minutes to let the flavors incorporate.

Stir in the crumbled Feta cheese and serve.
Notes
WW Points per salad (1 scant cup): 2* (SP calculated using the recipe builder on weightwatchers.com)
*5 WW Points if following the diabetic WW Plan
To view your current WW Points for this recipe and track it in the WW app or site, click here!
Nutrition Information per salad (1 scant cup):
179 calories, 25 g carbs, 9 g sugars, 8 g fat, 2 g saturated fat, 5 g protein, 3 g fiber, 81 mg sodium (from myfitnesspal.com)
Weight Watchers Points Plus:
5 per (1 scant cup) salad (PP calculated using a Weight Watchers PointsPlus calculator and the nutrition info below)
Lightly adapted from America's Test Kitchen Best Ever Salads