Deviled Egg Dip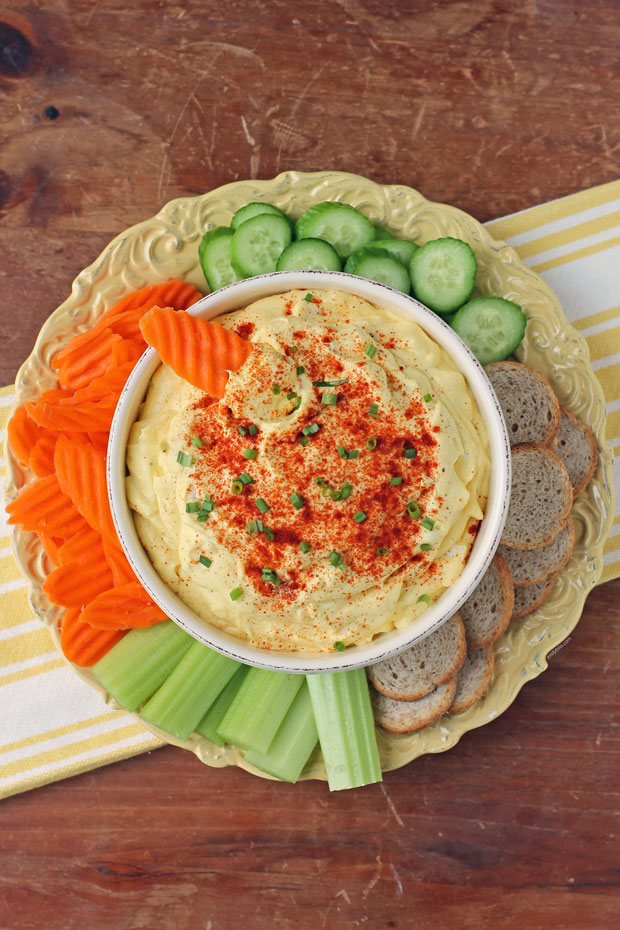 This low carb, lightened up Deviled Egg Dip has all the deviled egg flavor you love, but in a rich, creamy, easy-to-make dip! With this recipe, there's no need to individually fill each egg white or figure out how to transport wiggly deviled eggs. Just hard boil the eggs, toss the ingredients into a food processor and you're ready to eat! This dip is also here to save the day if you planned to make deviled eggs but your eggs don't peel "pretty." Easy, fun, and super tasty, this Deviled Egg Dip is also only 89 calories, 1 gram of carbs, or 1 WW Point per ¼ cup serving! To view your current WW Points per tartlet and track it in the WW app or site, click here!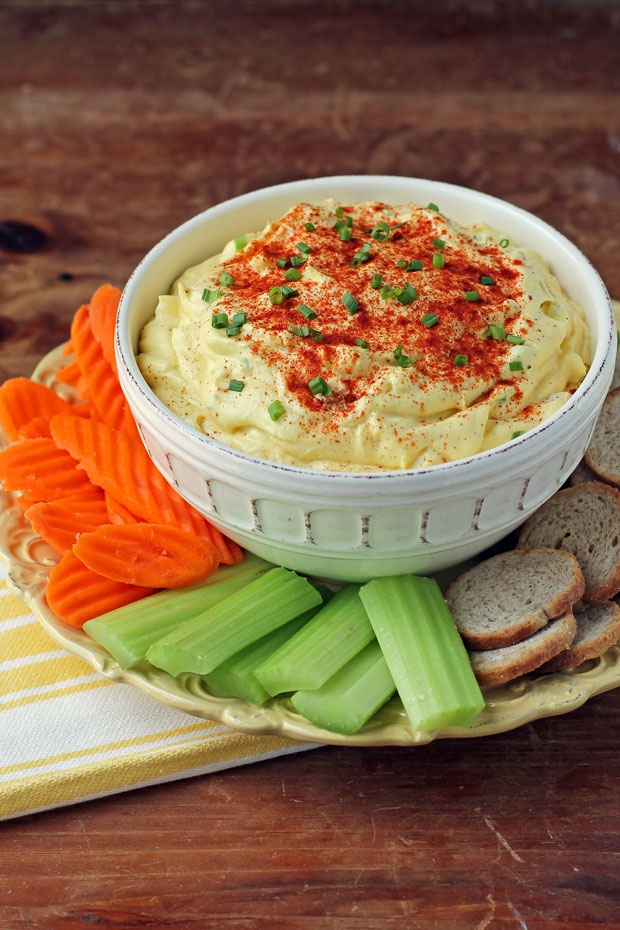 Deviled Egg Dip is great for serving at a party or bringing to a get together! It pairs well with crunchy fresh veggies, pretzels, crackers, or toasted pita or naan for dipping. It also works great as a spread on crackers or toast. My five-year-old daughter who loves deviled eggs has been dipping everything in it, though she asked me to make it without the "green things" (chives) next time.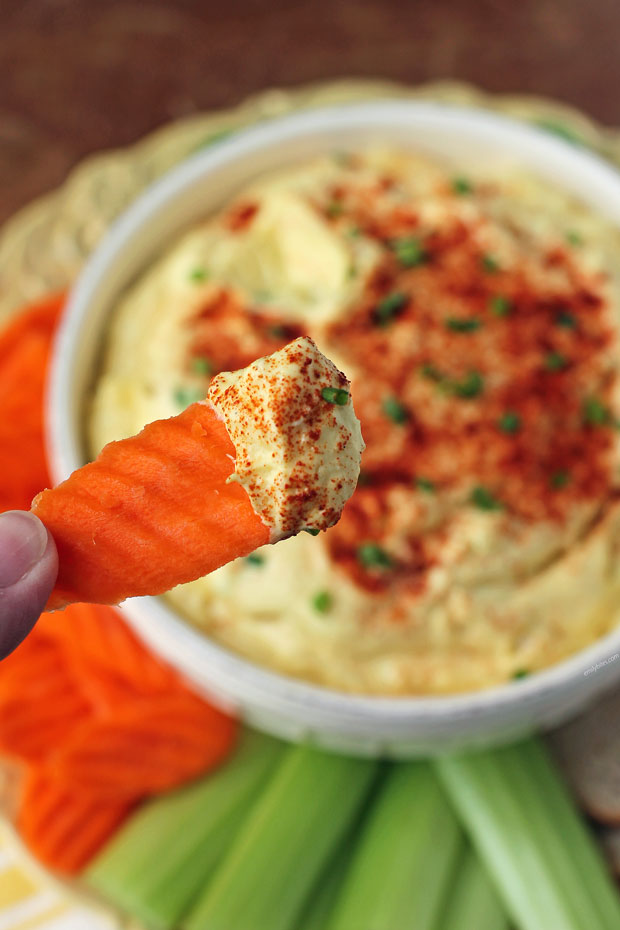 Spicing
I find that people have all different variations on how they like their deviled eggs, so feel free to use this recipe as a base and experiment a little until it's just how you like it. You can customize the spicing by using more or less paprika, salt, pepper, vinegar, mustard or hot sauce. My husband likes deviled eggs with a lot of vinegar, so he'd probably add a bit more of that. You can also try different types of mustard. I'm not a big Dijon fan, so I use yellow mustard, but definitely use your favorite type. I tried to spice this dip with enough of everything that it's tasty and flavorful but leaves room to add a little more of the flavors you like best. I've also seen people add ingredients like pickle juice or bacon to their deviled eggs, so if that's your thing, you do you!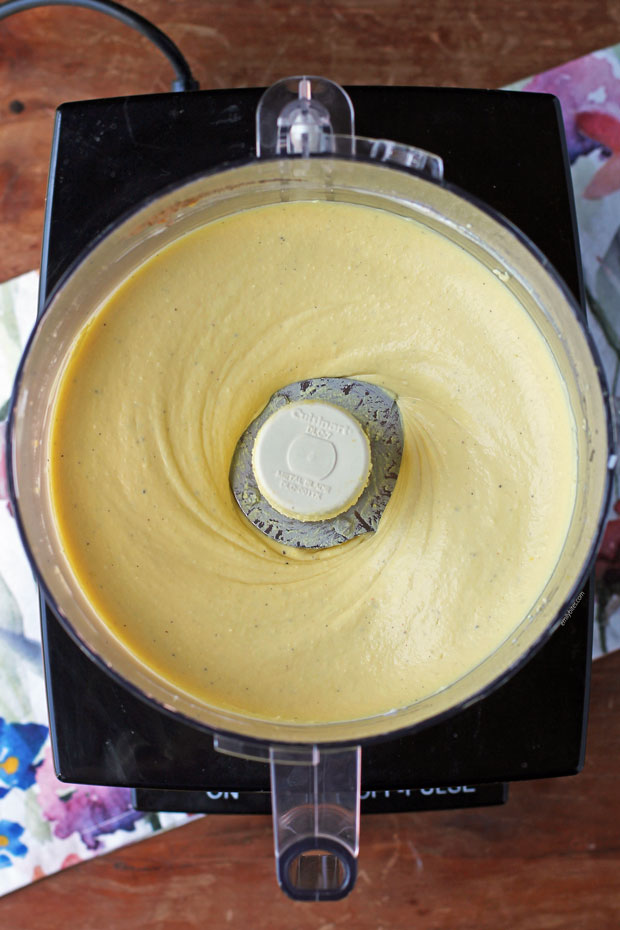 More Tasty Lightened Up Dips
Looking for more tasty, lightened up dip recipes like this Deviled Egg Dip? Check out my Dill Pickle Dip, Everything Cream Cheese Dip, Pepperoni Pizza Dip, Creamy Veggie Dip, Buffalo Chicken Dip, Easy Cheesy Bean Dip, Loaded Guacamole, 7 Layer Dip, Taco Spiced Hummus, Greek Layer Dip, Cheesecake Fruit Dip, and many more in the Dips section of my recipe index!
Deviled Egg Dip
This low carb, lightened up Deviled Egg Dip has all the deviled egg flavor you love, but in a rich, creamy, easy-to-make dip!
Ingredients
12

large

eggs

2

oz

1/3 less fat cream cheese

,

softened to room temperature

⅓

cup

plain nonfat Greek yogurt

,

(I use Fage 0%)

⅓

cup

light mayonnaise

,

I use Hellmann's light

2

tablespoons

mustard

,

use your favorite type

1

tablespoon

white vinegar

1

teaspoon

hot sauce

½

teaspoon

paprika

,

plus a bit more for garnish

½

teaspoon

salt

⅛ - ¼

teaspoon

black pepper

,

to taste

1

teaspoon

chopped chives

,

separated
Instructions
To hard boil the eggs, place the raw eggs at the bottom of a large pot. Pour water in the pot until the water is 1-2 inches over the top of the eggs. Place the pot on the stovetop uncovered and turn the burner to high heat. Bring the water in the pot to a boil. When the water comes to a boil, cover the pot with a lid and turn off the heat to the burner. Leave the pot on the burner, covered, for 12 minutes.

While the eggs sit in the covered pot, fill a mixing bowl ¾ way with ice water. When the time is up on the eggs, use a slotted spoon to remove them from the pot and transfer them to the bowl of ice water to stop them from cooking. Leave them in the bowl of ice water for a few minutes until fully cold.

Peel the eggs under cold running water (I've found it's much easier) and transfer the peeled eggs to a cutting board. Slice the eggs in half lengthwise and scoop the yolks out into the bowl of your food processor. Set aside four eggs worth of the egg whites and place the remaining whites into the food processor bowl with the yolks. Add the cream cheese, Greek yogurt, mayonnaise, mustard, vinegar, hot sauce, paprika, salt, and pepper to the food processor bowl. Run the food processor for 2-3 minutes until the mixture is blended and smooth.

Chop up the reserved egg whites and transfer them to a mixing bowl. Add most of the chopped chives, reserving some for garnish. Transfer the smooth mixture from the food processor to the mixing bowl and stir to incorporate the egg whites and chives. Taste and add additional seasoning if desired.

Transfer to a serving dish and top with a few shakes of paprika and the remaining chives for garnish before serving. Refrigerate if not serving immediately.
Notes
WW Points per (1/4 cup) serving: 1 (Points calculated using the recipe builder on weightwatchers.com)
To view your current WW Points for this recipe and track it in the WW app or site, click here!
Nutrition Information per (1/4 cup) serving:
89 calories, 1 g carbs, 0 g sugars, 6 g fat, 2 g saturated fat, 6 g protein, 0 g fiber, 160 mg sodium (from myfitnesspal.com)
Weight Watchers Points Plus:
2 per (1/4 cup) serving (PP calculated using a Weight Watchers PointsPlus calculator and the nutrition info below)
Adapted from Sweet & Savory Meals