Loaded Spaghetti Bake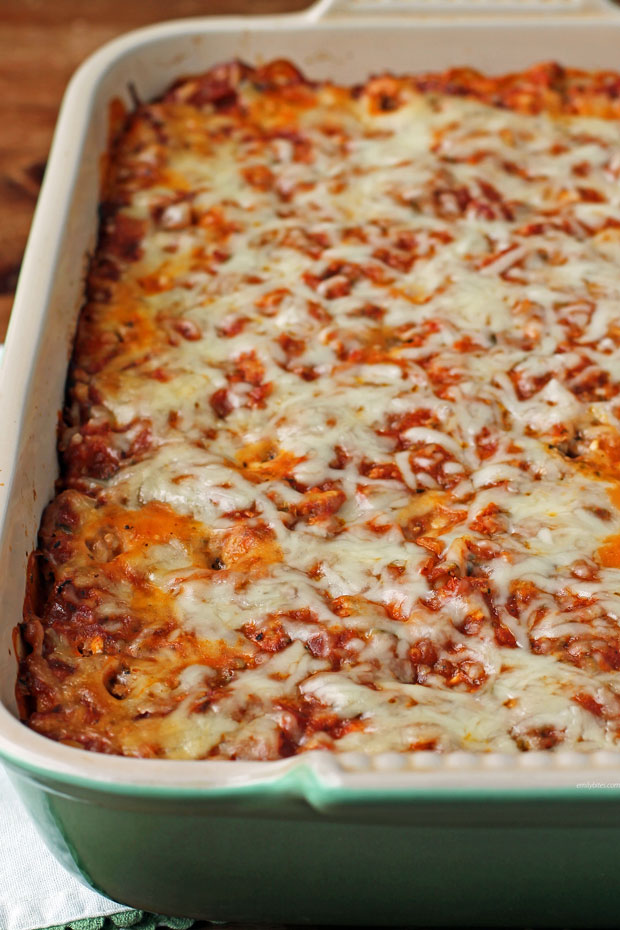 This Loaded Spaghetti Bake is tasty and hearty comfort food, perfect to warm and fill your belly in the colder months! This dish is a layered pasta bake, almost like a spaghetti lasagna. As a matter of fact, that's actually what my family is calling it, but since I used cottage cheese instead of ricotta I decided to officially call it Loaded Spaghetti Bake. I don't want ricotta enthusiasts coming at me in the comments about my inauthentic spaghetti lasagna! I think some regions of Italy use béchamel anyway. I digress. Feel free to refer to it as Spaghetti Lasagna if that's your preference! By either name, this pasta bake has rich meaty sauce, layers of cheese, lots of pasta, and hidden veggies. Better still, a very satisfying serving of this dish is just 413 calories or 9 WW Points on the current Weight Watchers plan (or 10 Points if following the diabetic Weight Watchers plan)! To view your current WW Points for this recipe and track it in the WW app or site, click here!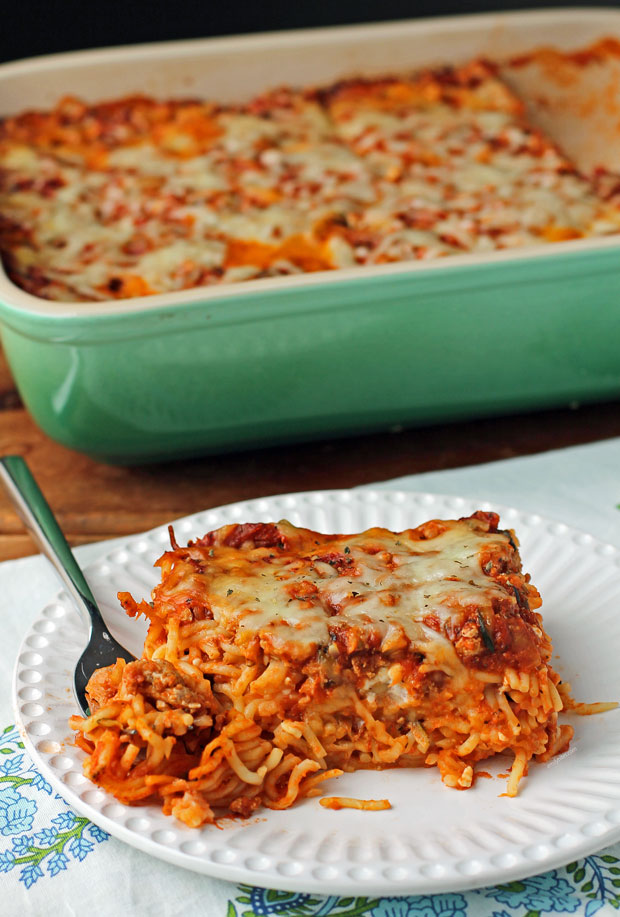 Timing/Make-Ahead Options
I do want to mention upfront that this recipe does take a while to prep and bake, but it is worth it! Just make sure you try it out when you have some extra time for cooking, not when you're rushing to get dinner on the table. Alternatively, you can easily prepare the entire dish the night before up until the baking so that all you have to do at dinner time is pop it in the oven. You could even freeze it pre-baked and then just thaw during the day and bake when you want to serve it. The nice thing is that this Loaded Spaghetti Bake is super filling and basically a meal on its own. Just pair it with an easy side salad if you like and once it's done you're ready to go!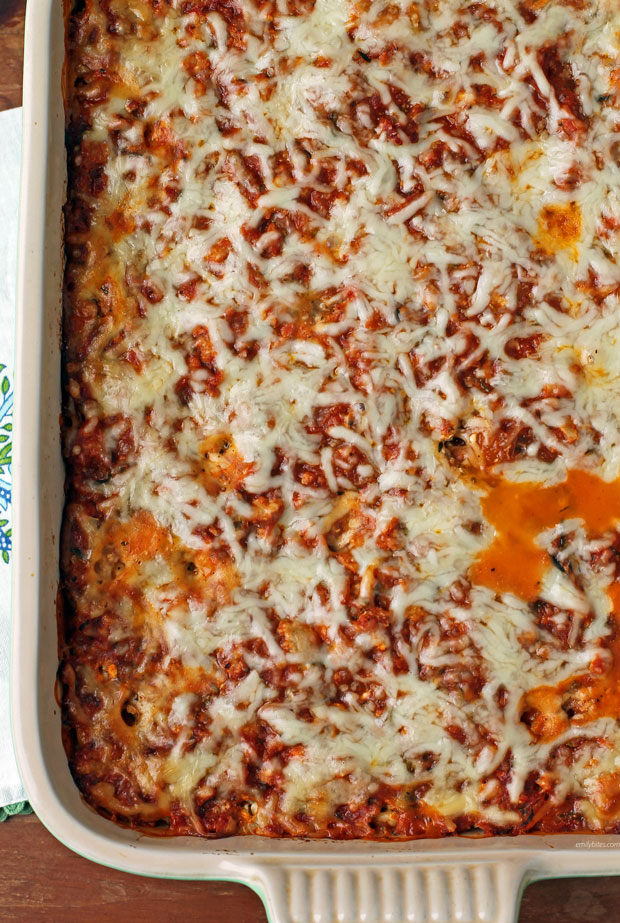 Recipe Notes:
Vegetables: You can add 8 oz of chopped or sliced mushrooms instead of zucchini, depending on your preferences. I usually add shredded zucchini when I make a meaty pasta sauce because it's a great way to get more vegetables in, and my husband won't eat mushrooms! I think you'll find it blends right in with the other ingredients. Mushrooms would be a great alternative though, if everyone in your family will eat them!
Cottage Cheese: I used nonfat cottage cheese in this and I think it turned out great, but if you would like to use ricotta instead you certainly can. Just a note that it will affect the WW Points for this recipe if you're tracking those.
Shredded Cheeses: This uses both freshly shredded Parmesan and shredded 2% milk Mozzarella cheese. I always shred the Parmesan myself because I think it tastes and melts better that way, but I am perfectly happy buying a bag of pre-shredded Mozzarella made with 2% milk.
Meat: I used 99% lean ground turkey breast because it's zero Points on the current WW plan, but feel free to substitute ground beef or sausage if you like. I think the ground turkey worked out great!
Serving Size: After letting this Layered Spaghetti Bake rest for 15 minutes I just cut it into 8 pieces and serve, so a serving is 1/8th of the recipe. I did measure out one of those servings and it was about 1 ½ cups, so that should help if you prefer to measure it out that way. Either way I found a serving very satisfying and filling!

More Tasty Lightened-Up Pasta Recipes
If you're looking for more tasty Pasta recipes like this Loaded Spaghetti Bake, check out my One-Pot Chicken Parmesan Pasta, One-Pot Cheeseburger Pasta, One-Pot Meatballs and Macaroni, Ricotta and Spinach Pasta with Chicken, One-Pot Turkey and Veggie Spaghetti, Bruschetta Chicken Pasta, One-Pot Chicken Florentine Mac and Cheese, One-Pot Creamy Tomato Pasta with Chicken and Spinach, One-Pot Cheesy Chili Mac, One-Pot Cajun Chicken and Sausage Pasta, One-Pot Buffalo Chicken Mac and Cheese, Butternut Squash Pasta with Bacon, Turkey Sloppy Joe Pasta, Chicken Pot Pasta, Lemon Chicken Orzo, Beefy American Goulash, and so many more in the Pasta category of my recipe index!
Loaded Spaghetti Bake
This Loaded Spaghetti Bake is tasty and hearty comfort food, layered like a spaghetti lasagna!
Ingredients
12

oz

dry thin spaghetti

1

lb

99% lean ground turkey breast

½

teaspoon

salt

¼

teaspoon

black pepper

1

medium

onion

,

diced

1

medium

zucchini

,

shredded

3

garlic cloves

,

minced

1

teaspoon

Better Than Bouillon Beef Base

24

oz

jar pasta sauce

1

tablespoon

Italian seasoning

½

teaspoon

seasoned salt

⅛

teaspoon

crushed red pepper flakes

2

large

eggs

8

oz

can tomato sauce

1 ½

oz

Parmesan cheese

,

finely shredded

2

cups

nonfat cottage cheese

6

oz

(1 ½ cups) shredded 2% milk Mozzarella cheese
Instructions
Pre-heat the oven to 350 degrees Fahrenheit. Lightly mist a 9x13 baking dish with cooking spray and set aside.

Cook the spaghetti to al dente according to package directions*, then drain.

*While the spaghetti is cooking, mist a large sauté pan or skillet with cooking spray and bring over med-high heat. Add the ground turkey and break into small chunks using a cooking spoon or spatula. Sprinkle the meat with salt and pepper. Once the chunks start to brown a bit, add the chopped onion and shredded zucchini and stir together. Cook for around 10 minutes total, draining as needed as the zucchini will release water, until the meat is cooked and the onions are softened. Add the minced garlic and the Better Than Bouillon Beef Base and stir into the meat mixture. Allow to cook for another minute. Add the pasta sauce, Italian seasoning, seasoned salt, and crushed red pepper and stir together. Reduce the heat to low until needed in step five.

Crack the eggs into a large mixing bowl and beat with a fork or whisk. Add the can of tomato sauce and the shredded parmesan and stir together. When the spaghetti is drained but still hot, add the spaghetti to the bowl and stir or toss to coat the pasta in the tomato sauce mixture.

Transfer half of the sauced spaghetti to the prepared baking dish and spread into an even layer across the bottom. Take one cup of the cottage cheese and drop spoonfulls over the spaghetti in the dish and then smooth it out into an even layer using a spatula. Top that with half of the meat sauce mixture made in step three and spread into a smooth layer. Sprinkle a half cup of the Mozzarella cheese over the top. Repeat the layers with the remaining spaghetti mixture, cottage cheese, and meat sauce, and then sprinkle the remaining cup of Mozzarella over the top.

Cover the dish with foil and bake for 35-40 minutes. Remove the foil and continue to bake uncovered for another 20 minutes until heated through and bubbly. Let sit for 15 minutes before serving. I like to cut it into 8 equal pieces when the resting period is complete.
Notes
WW Points per (1 ½ cup) piece: 9* (SP calculated using the recipe builder on weightwatchers.com)
*10 Points if following the diabetic Weight Watchers plan
To view your current WW Points for this recipe and track it in the WW app or site, click here!
Nutrition Information per (1 ½ cup) piece:
413 calories, 48 g carbs, 10 g sugars, 8 g fat, 3 g saturated fat, 37 g protein, 4 g fiber, 1175 mg sodium (from myfitnesspal.com)
Weight Watchers Points Plus:
10 per (1 ½ cup) piece (PP calculated using a Weight Watchers PointsPlus calculator and the nutrition info below)
Adapted from Taste of Home