One-Pot Meatballs and Macaroni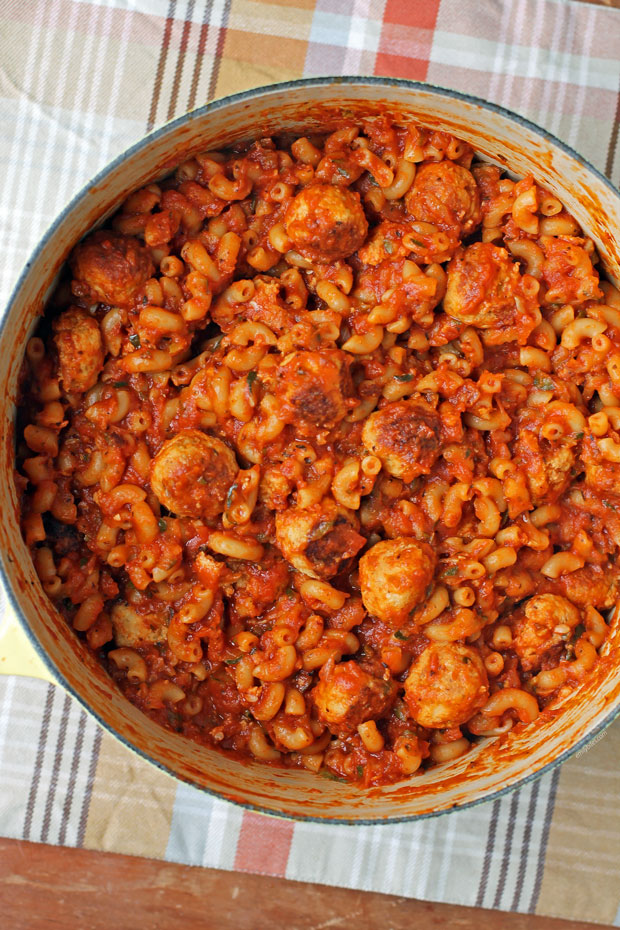 This One-Pot Meatballs and Macaroni is, in my opinion, the ultimate lightened up comfort food! Meatballs are one of my favorite foods, and a satisfying serving of pasta with meatballs in a rich and flavorful tomato sauce is exactly what my taste buds crave. The fact that it all comes together in one pot for easy clean up is just the cherry on top! Not only is this recipe right up my alley personally, but it's super family-friendly with hidden veggies your kids (probably) won't even notice. My 3-year-old takes after me with her love for meatballs and she gobbles this recipe right up. She even asks to eat leftovers the next day! Need another reason to make this? A serving of this One-Pot Meatballs and Macaroni is just 306 calories or 8 WW Points! To view your current WW Points for this recipe and track it in the WW app or site, click here!
I find rolling meatballs to be kind of relaxing, and it's a great way to involve kids in helping to make dinner! I know 50 meatballs may sound intimidating, but they are small meatballs and it doesn't take nearly as long as you'd think. For this recipe, I prefer making lots of smaller meatballs rather than making fewer larger ones. The smaller meatballs cook faster and it allows you to get meatballs in every bite!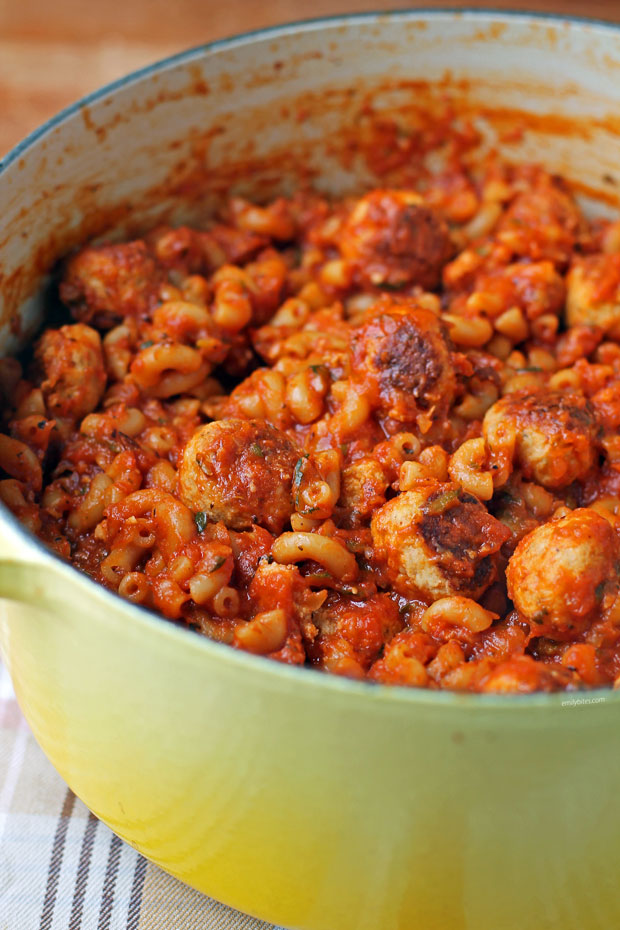 I love a pasta dish that also contains meat and veggies for a complete meal, and this One-Pot Meatballs and Macaroni delivers. You can use either ground turkey breast or ground chicken breast for the meatballs, they will both be great. I usually choose based on what my grocery store is stocking that day! I used zucchini and onion as the veggies in this recipe, but if you don't have zucchini on hand you can certainly swap in another vegetable of your choice. I think mushrooms, carrots, or bell pepper would all work great. You could even add in any of these as extra veggies on top of the zucchini if you wish. The more hidden veggies the better! I would put mushrooms in, but my husband would know somehow and refuse to eat it. Use what you and your family will like!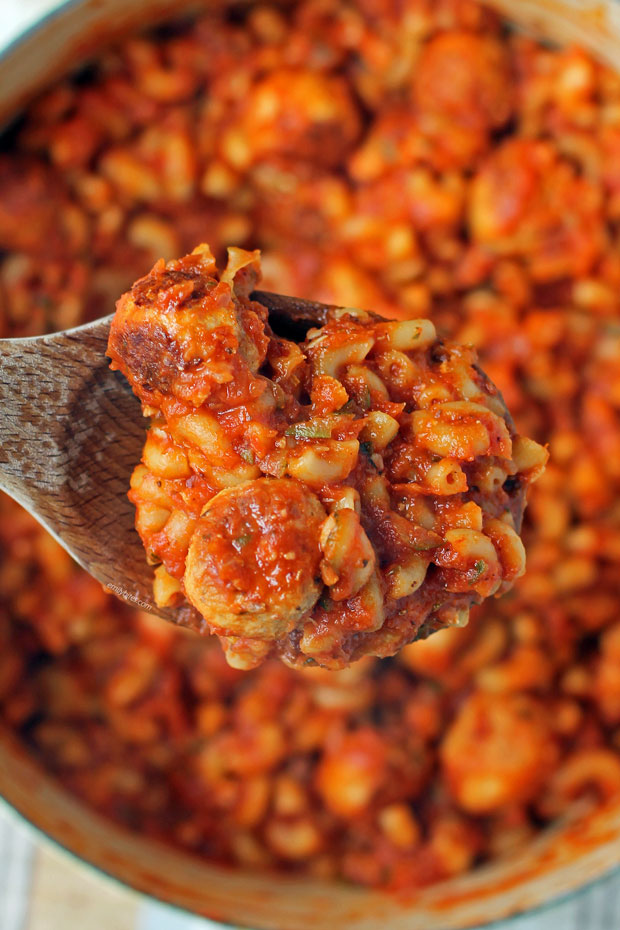 Looking for more tasty one-pot comfort food recipes to warm up to this winter? Check out my One-Pot Cheesy Chili Mac, One-Pot Creamy Tomato Pasta with Chicken and Spinach, Maple Dijon Chicken and Squash Skillet, One-Pot Turkey and Veggie Spaghetti, One-Pot Chicken Florentine Mac and Cheese, One-Pot Cajun Chicken and Sausage Pasta, One-Pot Buffalo Chicken Mac and Cheese, Lemon Garlic Chicken and Beans Skillet, One-Pot Creamy Garlic Chicken Pasta, One-Pot Spicy Dirty Rice with Chicken and Sausage, Spanish Chicken and Rice Skillet, White Chicken Chili, Turkey Sloppy Joe Pasta, Chicken Pot Pasta, Beef Enchilada Pasta Skillet, Mexican Chicken Cauliflower Rice Skillet, and so many more in the One-Pot Meals category of my recipe index!
One-Pot Meatballs and Macaroni
This easy, tasty One-Pot Meatballs and Macaroni has meat, veggies, and pasta for a complete meal in one pot!
Ingredients
1

lb

raw 99% lean ground turkey breast or lean ground chicken breast

1

large

egg

⅓

cup

plain breadcrumbs

3

tablespoons

grated Parmesan cheese

1 ½

tablespoons

skim milk

2 ½

teaspoons

Italian seasoning

,

divided

¼

teaspoon

garlic powder

1

tablespoon

olive oil

1

medium

onion

,

chopped

1

medium

zucchini

,

shredded (I use the largest holes on a box grater)

2

garlic cloves

,

minced

1 ½

cups

reduced sodium chicken broth

15

oz

can tomato sauce

24

oz

jar pasta sauce

,

(I used Francesco Rinaldi)

½

teaspoon

dried basil

¼

teaspoon

salt

12

oz

elbow macaroni

,

(use whole wheat macaroni if following the WW Purple plan)
Instructions
In a large mixing bowl, add the ground turkey/chicken, egg, breadcrumbs, Parmesan cheese, milk, 1 ½ teaspoons of the Italian seasoning, and the garlic powder. Using clean hands or a fork, mix all the ingredients together until well combined. Transfer the meat mixture to a clean cutting board and roll the meat mixture into 50 individual meatballs, about1-inch in diameter.

Drizzle the oil in a 5 QT Dutch oven or large pot and bring to medium heat. Working in two batches so as not to crowd the pot, place the meatballs into the pot and cook, flipping the meatballs occasionally to brown the outsides. Each batch should brown in 4-5 minutes. Don't worry about whether they are 100% cooked through in the center at this point. Transfer the meatballs to a side plate to rest.

Mist the same pot with cooking spray and add the onion and zucchini. Cook for 4-5 minutes, stirring occasionally. The vegetables will release a bit of moisture which will allow you to scrape up any brown bits stuck on the bottom of the pot from cooking the meatballs while stirring. Add the garlic and cook for another 30-60 seconds until the veggies are softened.

Add the broth, tomato sauce, pasta sauce, remaining teaspoon of Italian seasoning, basil, and salt and stir to combine. Add the meatballs back in along with the uncooked macaroni. Stir until meatballs and pasta are covered in sauce. Increase the heat to med-high and bring the mixture to a boil. When the mixture is boiling, reduce the heat to medium-low and simmer for 10-12 minutes, stirring occasionally, until the pasta is cooked and the sauce has thickened.

Remove from heat and allow to sit for 5 minutes to allow sauce to thicken further before serving.
Notes
To view your current WW Points for this recipe and track it in the WW app or site, click here!
WW Points per (1 ¼ cup) serving: 8 (Points calculated using the recipe builder on weightwatchers.com)
Nutrition Information per (1 & ¼ cup) serving:
306 calories, 48 g carbs, 10 g sugars, 4 g fat, 1 g saturated fat, 23 g protein, 5 g fiber, 536 mg sodium (from myfitnesspal.com)
MYWW SMARTPOINTS PER (1 & ¼ cup) SERVING: (SP calculated using the recipe builder on weightwatchers.com)
Green: 9 SmartPoints/ Blue: 8 SmartPoints/ Purple: 4 SmartPoints
Weight Watchers Points Plus:

8 per (1 & ¼ cup) serving (PP calculated using a Weight Watchers PointsPlus calculator and the nutrition info below)