Hot Turkey Sandwich with Gravy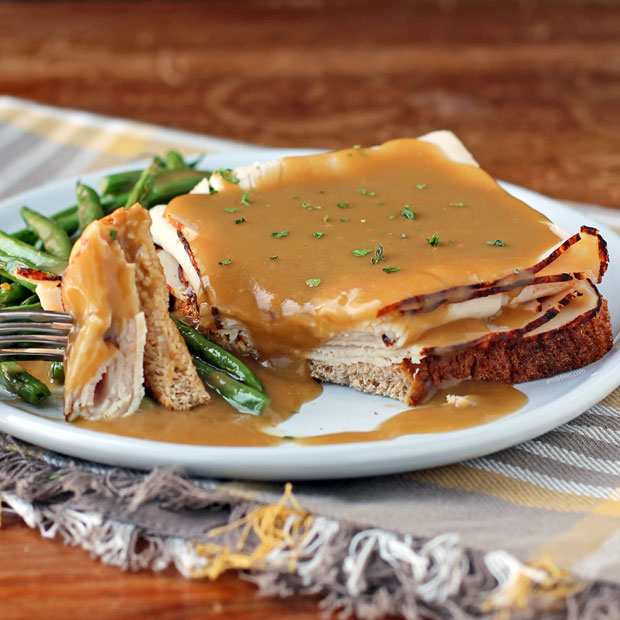 This open-faced Hot Turkey Sandwich with Gravy is a quick and easy diner-inspired comfort food recipe. My husband loves going to diners, and a hot turkey sandwich (or it's roast beef counterpart) smothered in gravy is one of my favorite meals to order there. Since we haven't been going to restaurants for a while now, I found myself craving those flavors and decided to try making it at home! The sandwich is pretty simple, after all. Soft bread, sliced turkey, and gravy. There are variations of course. Some are open-faced and some have another slice of bread on top. Some use carved turkey and some use deli turkey. I decided to keep mine simple, but if you have carved turkey breast on hand or want to add another slice of bread on top, you do you! You could even add a bit of cranberry jelly for a Thanksgiving dinner vibe. The way I've made it below, each sandwich with gravy is just 240 calories or 5 Green, 4 Blue or 4 Purple WW SmartPoints!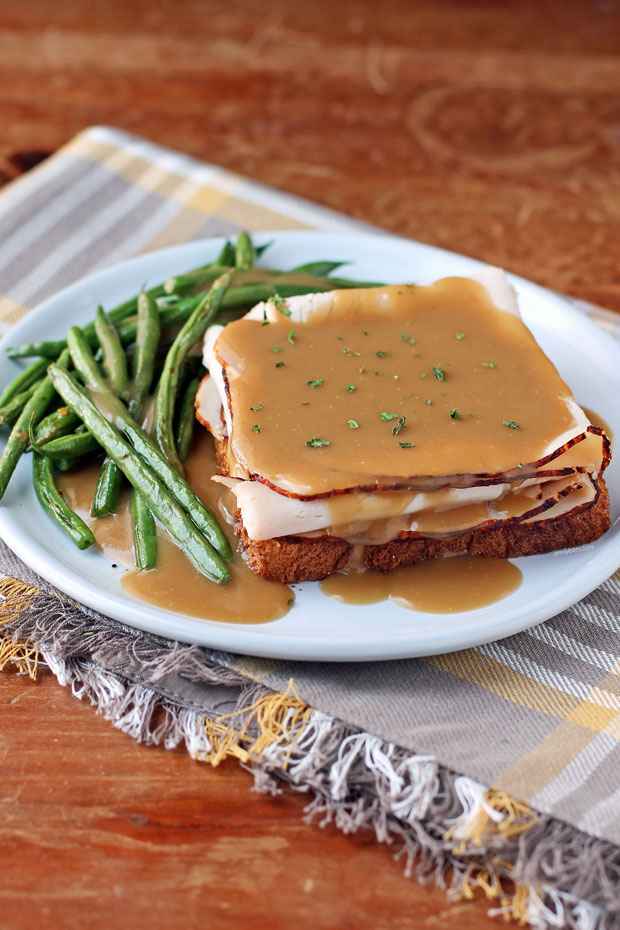 I love this Hot Turkey Sandwich with Gravy for nights when I realize I have nothing planned for dinner, because it's quick and easy using ingredients I usually have on hand. All you have to do is make gravy! At most diners I've been to this sandwich is served with a choice of either mashed potatoes or French fries. Those are both delicious options, but it's also good with green beans, roasted carrots, any other type of potatoes, or a cauliflower mash.
The only things you may not have in your kitchen to make this Hot Turkey Sandwich with Gravy are Better Than Bouillon and Gravy Master (or Kitchen Bouquet). Like I mention in the ingredient listing, you can substitute powdered bouillon for the Better Than Bouillon, but I highly recommend purchasing it. I've seen it in pretty much every grocery store I've been to, including a small local store in my area, so you should be able to find it pretty easily. I have the chicken, beef and vegetable bases in my fridge at all times. BTB is sort of a paste rather than a powder, and the flavor is just unmatched in my opinion. The other ingredient, Gravy Master (I use that product, but Kitchen Bouquet is a different brand's product that is similar), adds flavor and browning to your gravy in a way that enhances the whole thing. I always add it when I make gravy, it's a must!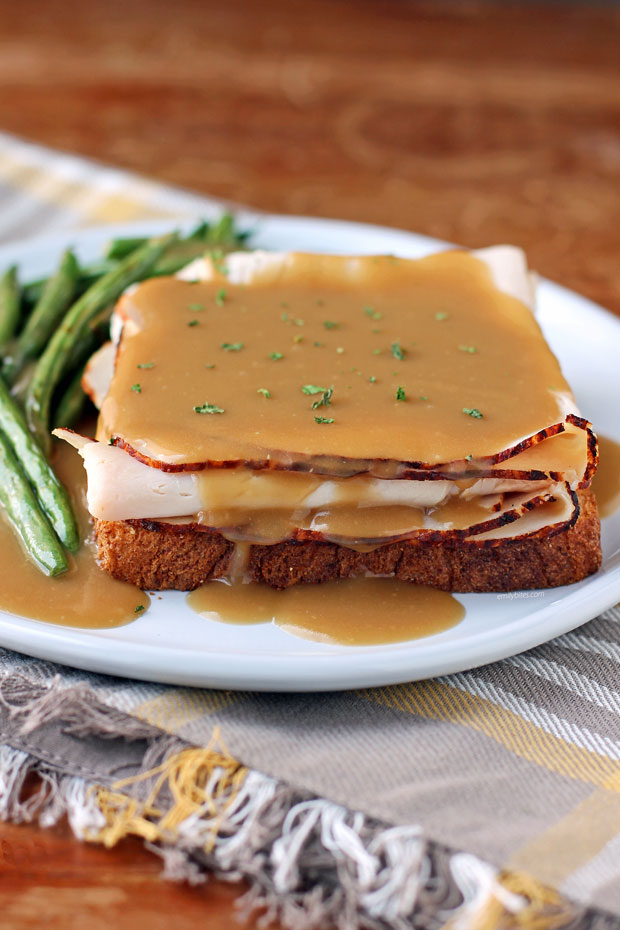 Looking for more tasty comfort food recipes? Check out my Meatloaf with Gravy, Creamy Chicken Stew, One-Pot Cheesy Chili Mac, One-Pot Creamy Tomato Pasta with Chicken and Spinach, Sheet Pan Meatloaves with Roasted Potatoes and Green Beans, One-Pot Buffalo Chicken Mac & Cheese, Swedish Turkey Meatballs, Chicken and Dumplings Casserole, One-Pot Creamy Garlic Chicken Pasta, Chicken Divan, Bubble Up Cheesy Chicken and Broccoli Bake, Stuffed Turkey Bundles with Gravy, One-Pot Dirty Spicy Rice with Chicken and Sausage, Crispy Cheddar Chicken with Cream Sauce, Chicken Pot Pasta, Rustic Sausage and Potatoes Skillet, Beef Stroganoff, Beefy American Goulash, and so many more in the Comfort Food category of my recipe index!
Hot Turkey Sandwich with Gravy
This open-faced Hot Turkey Sandwich with Gravy is a quick and easy diner-inspired comfort food meal!
Ingredients
3

tablespoons

light butter

,

(I use LandO'Lakes light butter with canola oil in the tub)

3

tablespoons

flour

1 ½

cups

reduced sodium chicken broth

¾

teaspoon

Better Than Bouillon Chicken or Turkey base

½

teaspoon

Gravy Master seasoning & browning sauce

,

or Kitchen Bouquet

1

lb

sliced deli turkey breast

,

(I used Wegmans deli 98% fat free turkey breast)

4

slices

soft wheat bread

,

(I used Wegmans Soft 100% Whole Wheat Bread)
Instructions
Melt the butter in a medium saucepan over medium heat. When the butter is melted, whisk in the flour a little at a time. Cook for 1-2 minutes, stirring occasionally. Add the broth a little bit at a time, whisking it into the flour mixture until smooth and well combined. Add the bouillon paste and Gravy Master. Whisk regularly until the gravy comes to a boil and thickens. Remove from heat and allow to sit for 5 minutes to thicken.

While the gravy is thickening, separate the deli turkey slices onto a plate and microwave them on high for 30-60 seconds until warm.

To build each sandwich, place a slice of bread on a plate and top with 4 ounces of warm sliced turkey. Pour 1/3 cup of warm gravy over the top and serve.
Notes
MYWW SMARTPOINTS PER (sandwich + 1/3 cup gravy) SERVING: (SP calculated using the recipe builder on weightwatchers.com)
Green: 5 SmartPoints/ Blue: 4 SmartPoints/ Purple: 4 SmartPoints
Weight Watchers Points Plus:

6 per (sandwich + 1/3 cup of gravy) serving (PP calculated using a Weight Watchers PointsPlus calculator and the nutrition info below
Nutrition Information per (sandwich + 1/3 cup of gravy) serving:
240 calories, 19 g carbs, 3 g sugars, 7 g fat, 2 g saturated fat, 29 g protein, 2 g fiber, 485 mg sodium (from myfitnesspal.com)