Honey Mustard Chicken Wraps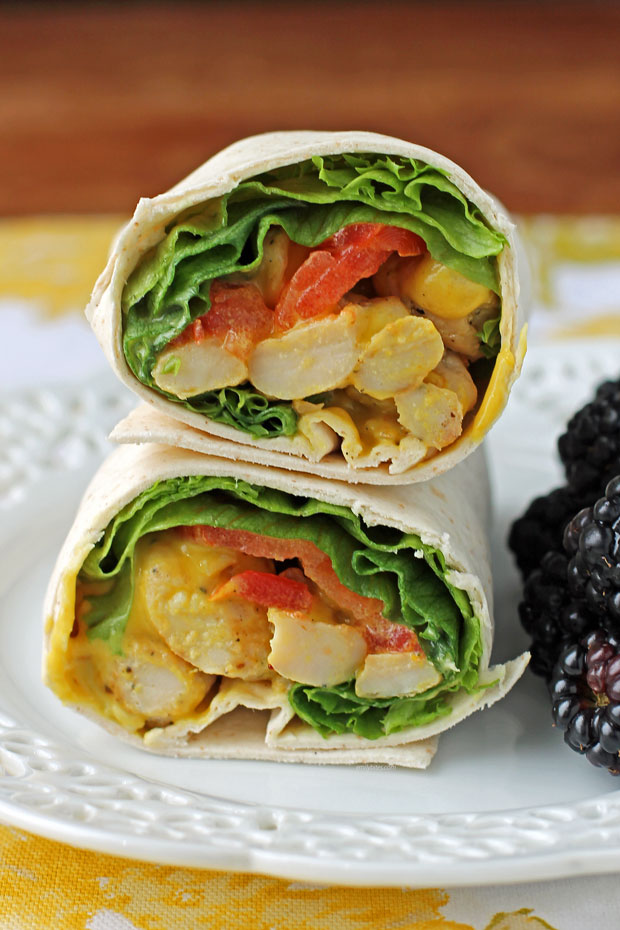 These easy, tasty Honey Mustard Chicken Wraps are full of flavor and great for lunch or dinner. The chicken is tossed in a super simple 5-ingredient homemade brown sugar mustard seasoning and cooked to perfection on the stovetop. Then you'll just stir together a quick and creamy 4-ingredient honey mustard sauce and spread it in a wrap with the chicken, lettuce and tomato. It's that easy! This recipe makes four wraps so you can prepare the ingredients once and then pack the wraps for lunch for a few days, or serve them all together to friends or family. Not only are these Honey Mustard Chicken Wraps easy and delicious, each wrap is just 263 calories or 4 WW Point on the current Weight Watchers program. To view your current WW Points for this recipe and track it in the WW app or site, click here!
Recipe Notes
Tortilla/Wrap: I used La Banderita Carb Counter Whole Wheat Wraps for these, which are found by the Mexican ingredients in my local grocery store (Wegmans). They taste great here! You can definitely substitute your preferred low calorie/carb wraps or tortillas in this recipe if you like. It may of course change the nutrition information or WW Points if you're tracking either of those.
Honey Mustard Sauce: I like to make a quick and creamy honey mustard sauce using yellow mustard, honey, Greek yogurt, and light mayonnaise. It turns out tasty and has a great flavor balance! If you have a different type of mustard on hand (such as Dijon or spicy mustard) you can certainly try using that in the sauce instead. Alternatively, if you have a honey mustard dressing on hand and you want to use that instead of making the sauce yourself, you certainly can. It may change the nutrition info/WW Points.
Chicken Seasoning: I'm kind of obsessed with the seasoning I used on this chicken. I'll probably post the chicken recipe separately sometime as chicken bites because I'm going to be making the these all the time. My husband popped a piece of the chicken in his mouth while I was making the wraps and was like "oh wow." So, basically what I'm getting at is that you should definitely use this chicken seasoning! If you don't have any dry mustard powder on hand, Colman's can be found pretty much everywhere groceries are sold in a small yellow rectangular tin that can be found near the other spices. I also love adding a little bit of it to cheese sauces for a flavor punch!
Leftovers: If you won't be serving these wraps all at once, I'd recommend cooking the chicken and making the sauce and then storing all the ingredients separately and building each wrap as needed.
Cutting up the chicken
I often buy a big pack of boneless, skinless chicken breasts at the store and then use kitchen shears to trim them down to make 5-6 oz cutlets to use in recipes. Everything I cut off to make the cutlets gets cut into chunks to make chicken bites! It's easy to weigh out 1 lb or 1.5 lb of chicken chunks and freeze them for later in a quart size freezer bag. That way, I always have some on hand! Buying the bulk packs of chicken breasts is cost-effective, and cutting them into cutlets and bites ensured I have what I need on hand when I go to make a recipe. I find that kitchen shears make this task go quicker and easier than using a knife, so I highly recommend using shears.
More tasty chicken recipes
Looking for more tasty, lightened up, chicken recipes? Check out my Blackened Chicken Bites, Nashville Hot Chicken Bites, Lemon Pepper Chicken Bites, Chili Lime Chicken Bites, Greek Chicken Bites, Barbecue Chicken Bites, Apple and Brie Stuffed Chicken, Slow Cooker Chicken and Stuffing, Strawberry Balsamic Grilled Chicken, Ricotta Stuffed Chicken Bake, Lemon Garlic Chicken and Beans Skillet, Cream Cheese and Herb Stuffed Chicken, Tuscan Olive Chicken, Crispy Cheddar Chicken with Cream Sauce, Pimento Cheese Stuffed Chicken, Cream Cheese Stuffed Everything Chicken, and so many more in the Chicken category of my recipe index!
Honey Mustard Chicken Wraps
These easy, tasty Honey Mustard Chicken Wraps are full of flavor and perfect for lunches!
Ingredients
2

teaspoons

dry mustard powder

,

(I use Colman's, found by the spices)

1

teaspoon

packed brown sugar

½

teaspoon

salt

¼

teaspoon

black pepper

¼

teaspoon

garlic salt

1

lb

raw boneless, skinless chicken breasts

,

cut into small bite-sized pieces

1

tablespoon

olive oil

4

teaspoons

yellow mustard

,

(can also be measured as 1 tablespoon + 1 teaspoon)

1

tablespoon

honey

1

tablespoon

plain nonfat Greek yogurt

1

tablespoon

light mayonnaise

4

light/low carb tortillas or wraps

,

(I used La Banderita Carb Counter Whole Wheat wraps)

4-8

leaves

green leaf lettuce

1

medium

tomato

,

thinly sliced
Instructions
In a small dish, stir together the dry mustard powder, brown sugar, salt, pepper, and garlic salt. Place the cut up chicken pieces into a gallon zip-seal plastic bag or a mixing bowl. Add the spice mix to the chicken pieces. Seal the bag and shake/massage the contents OR stir the contents of the bowl until the chicken pieces are coated with the spices.

Add the oil to a large saute pan/walled skillet and bring over med-high heat. Once the oil is hot, add the chicken pieces (you don't want to overcrowd the pan) and stir to break them up and coat them in the oil. Cook the chicken for 5-8 minutes, stirring every couple minutes (you don't want to stir super frequently because the chicken needs time to brown on each side). Once the chicken is cooked through and browned on the outside, remove from heat.

In a small bowl, stir together the mustard, honey, Greek yogurt, and mayonnaise until well combined.

To build each wrap, lay a tortilla on a clean dry surface and top with 1-2 lettuce leaves and then 1-2 tomato slices, stacked in a line down the center of the wrap. On top of the tomatoes, drizzle 1 tablespoon of the honey mustard sauce from step three. Spread 3.25 ounces of the chicken (1/4 of the batch) on top of the honey mustard, still keeping all of your ingredients stacked in a row down the center of the tortilla. Fold the tortilla edges in at either end of the row and then roll the tortilla over the ingredients to wrap them inside. Repeat with remaining ingredients to form 4 wraps. I like to cut each wrap into two halves before serving.
Notes
WW Points per wrap: 4 (Points calculated using the recipe builder on weightwatchers.com)
To view your current WW Points for this recipe and track it in the WW app or site, click here!
Nutrition Information per wrap:
263 calories, 24 g carbs, 7 g sugars, 10 g fat, 1 g saturated fat, 31 g protein, 12 g fiber, 552 mg sodium (from myfitnesspal.com)
Weight Watchers Points Plus:
7 per wrap (PP calculated using a Weight Watchers PointsPlus calculator and the nutrition info below)