Honey Mustard Chicken Tenders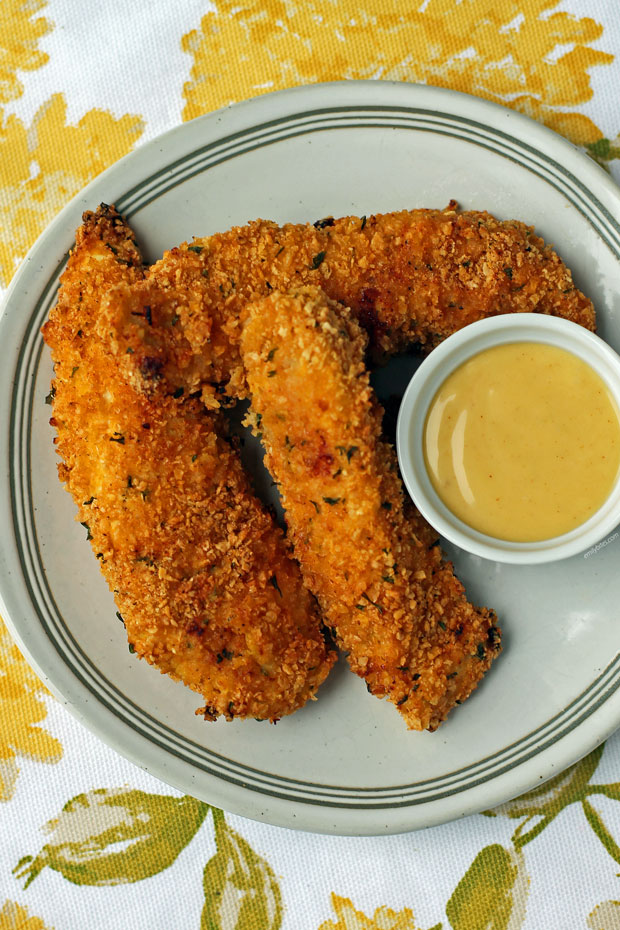 These easy homemade Honey Mustard Chicken Tenders are full of flavor and can be cooked in the air fryer or baked in the oven! You'll love that these tenders have honey mustard flavor built right into the coating for maximum taste. My 4.5 year old recently decided she doesn't like "home chicken" (aka chicken that's not a fried nugget), but even she liked these! Honey Mustard Chicken Tenders taste great on their own, with your favorite dipping sauce, cut up on a salad, or bundled in a wrap with lettuce and tomato. They're so versatile! Plus, a serving of these tenders is just 254 calories or 3 Points on the WW program. To view your current WW Points for this recipe and track it in the WW app or site, click here!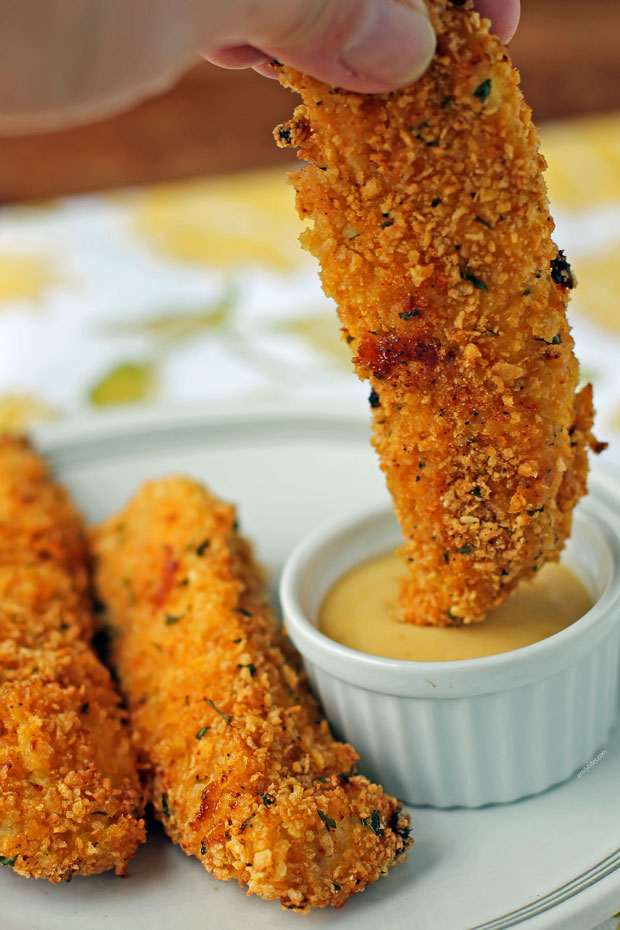 Recipe Notes
Oven-Baked or Air-Fried? I tested this recipe in the oven and the air fryer and they both turned out great! I slightly prefer the air fryer because it gets them a bit crispier all the way around, so that's my preferred method. However, if you don't have an air fryer don't fret, your oven will still do a great job on these.
Do I need to pre-heat my air fryer? I've seen lots of mixed information about this. Some sources say you absolutely must pre-heat your air fryer and some say you needn't bother. I think it probably depends on the brand of air fryer you own, so you may want to check your manual. I have a COSORI brand air fryer and do not pre-heat for this recipe. I see that Philips brand also says you don't need to pre-heat. If you're not sure about your particular model, feel free to just run it for a few minutes before you add the chicken tenders to be sure.
Mustard: You can use your favorite type of mustard in this recipe! I used yellow mustard (I love yellow mustard), but feel free to use Dijon or brown mustard if that's what you prefer or have on hand. If you'd like a stronger mustard flavor you can also replace one tablespoon of the Greek yogurt with an additional tablespoon of mustard.
Bread Crumbs: I love using cornflake crumbs because they add a bit of sweetness and flavor with the crunch and taste great with honey mustard. Cornflake crumbs are sold in stores already in crumb form, so there's no need to crush your own! Look by the other breadcrumbs. If you'd like to substitute panko or regular bread crumbs that should work just fine.

Serving Size
I know people will want to know "how many chicken tenders are in a serving?" I decided to post the serving size by weight, because whether you buy chicken tenderloins pre-cut or cut your own tenders from chicken breasts, the size of each tender may vary. This recipe uses 20 ounces of raw chicken strips and for me this was 12 tenders. When breaded and cooked, the finished tenders weighed a little over 21 ounces total, so each serving was about 5.25 ounces by weight. For me, this was three tenders each. If your chicken strips are larger or smaller the number per serving may vary.
Chicken Tenders
Raw chicken tenderloins are sold in the meat section of most grocery stores, so definitely feel free to just grab those for this recipe. I often buy big bulk packs of boneless, skinless chicken breasts at my grocery store and then use kitchen shears to trim them down into the shapes and sizes I use frequently in recipes. It's cheaper to buy the breasts in bulk and since I use chicken breasts a lot in my recipes it makes sense for me! I generally cut the big chicken breasts into either 5-6 ounce cutlets or into strips like the ones used in this recipe (between 1.5-1.8 ounces each). Anything chicken that is cut off to make those I then cut into small chunks to make chicken bites. It's easy to weigh out 1 lb or more of chicken chunks or tenders and some 5 oz cutlets and freeze them for later in quart size freezer bags. That way, I always have some cutlets, tenders, and chicken bites on hand to use in my recipes!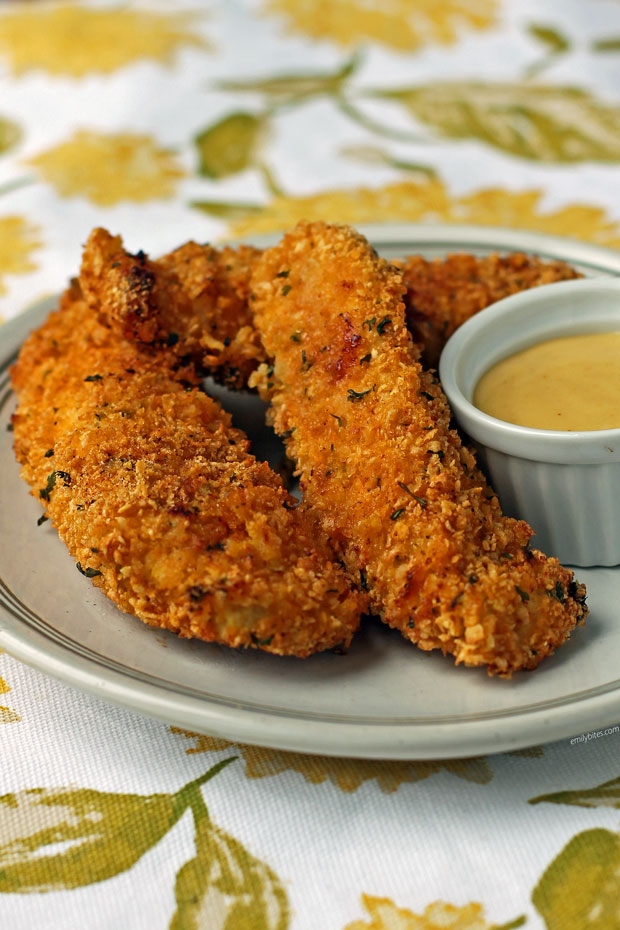 Looking for more tasty, lightened up recipes using chicken breasts? Check out my Mexican Street Corn Chicken, Cheesy Broccoli Stuffed Chicken, Lemon Pepper Chicken Bites, Baked Chicken Tenders, Crispy Onion Dip Chicken, Nashville Hot Chicken Bites, Crispy Chicken Parmesan, Apple and Brie Stuffed Chicken, Maple Dijon Chicken and Squash Skillet, Strawberry Balsamic Grilled Chicken, Blackened Chicken Bites, Ricotta Stuffed Chicken Bake, Lemon Garlic Chicken and Beans Skillet, Cream Cheese and Herb Stuffed Chicken, Tuscan Olive Chicken, Barbecue Bacon Wrapped Chicken Tenders, Pimento Cheese Stuffed Chicken, Cream Cheese Stuffed Everything Chicken, and many more in the Chicken section of my recipe index!
Honey Mustard Chicken Tenders
These easy homemade Honey Mustard Chicken Tenders are full of flavor and can be cooked in the air fryer or oven!
Ingredients
2

tablespoons

plain nonfat Greek yogurt

2

tablespoons

mustard

,

(I used yellow mustard, but Dijon or brown mustard can be substituted)

1

tablespoon

honey

1

tablespoon

light mayonnaise

1.25

lbs

raw boneless skinless chicken breast tenderloins

,

(you can also buy breasts and cut them into strips)

⅔

cup

cornflake crumbs

,

(these are sold by the other bread crumbs)

1

teaspoon

dry mustard powder

,

(such as Colman's – found by the spices)

½

teaspoon

dried parsley flakes

½

teaspoon

paprika

½

teaspoon

salt

¼

teaspoon

black pepper
Instructions
In a mixing bowl, add the yogurt, mustard, honey, and mayonnaise and stir together to combine. Once fully mixed, add the uncooked chicken tenders to the bowl and stir to coat. Cover the bowl or transfer to a sealed container and refrigerate for at least 30 minutes, or up to a day.

When ready to make the tenders, in a shallow dish, stir together the cornflake crumbs, dry mustard, parsley, paprika, salt, and pepper until thoroughly mixed.

One at a time, take the honey mustard-coated chicken strips and press them into the dish of corn flake crumbs and flip so that both sides are coated in crumbs.

Air Fryer: Transfer the crumb-coated strips to the basket of your air fryer in a single layer without the tenders touching each other. My air fryer basket fit six tenders comfortably with space around them, so I was able to cook the tenders in two batches of six (12 tenders total). When you have a batch of chicken tenders positioned correctly in the air fryer basket, lightly mist them with cooking spray. Set the air fryer to 390 degrees Fahrenheit and cook for 5-6 minutes. Flip the tenders over and continue to cook your tenders for another 5-6 minutes until cooked through. Oven: Pre-heat the oven to 375 degrees and line a large baking sheet with parchment paper. When all the chicken tenders are coated and on the baking sheet, spray the tops of them with cooking spray and place in the oven to bake for 18-20 minutes until cooked through.
Notes
WW Points per serving*: 3 (SP calculated using the recipe builder on weightwatchers.com)
To view your current WW Points for this recipe and track it in the WW app or site, click here!
Nutrition Information per serving*:
254 calories, 17 g carbs, 6 g sugar, 5 g fat, 1 g saturated fat, 34 g protein, 0 g fiber, 257 mg sodium (from myfitnesspal.com)
Weight Watchers Points Plus (an older plan):
6 per serving* (PP calculated using a Weight Watchers PointsPlus calculator and the nutrition information below)
*Since people may cut/buy different sized chicken tenders, I recommend determining the servings by weight. My finished tenders weighed a little over 21 ounces, so each serving was about 5.25 ounces by weight. For me this was around 3 tenders.
Inspired by Life's Ambrosia and The Comfort of Cooking