Best of 2018 Reader's Choice Award Winners
Thank you SO much to all of you who voted in my 8th annual Reader's Choice Awards (holy moly, can you believe I've been doing this for 8 years??)! It means so much to me and I love seeing which recipes you liked best. My site always gets new readers in January and it's also helpful to be able to point them to this post as a starting place for my "greatest hits" of the year, so I really appreciate you taking the time to give input and share your thoughts. In case you missed it, you can look at past reader favorites (many of which are still some of my most popular recipes today!) by checking out the 2017 winners, 2016 winners, 2015 winners, 2014 winners, 2013 winners, 2012 winners and 2011 winners.
Whether or not you voted, I really, genuinely want to thank YOU. Whether it's your first time visiting my blog or you've been cooking along with me since the beginning, thank you so much for being here. I can't express how important you truly are to me, but trust me, it's a lot. Thank you for reading my posts and for cooking my recipes. Thank you for asking questions, leaving comments and giving your feedback. Thank you for sharing my site with friends, posting pictures of what you've made on Instagram, pinning the recipes you want to try and sharing my posts on Facebook. Thanks for emailing me your stories and ideas and for sharing your successes. You motivate and inspire me so much and I'm genuinely thrilled that you're here. I am so grateful for you.
Eight years ago on Christmas Eve 2010, I decided to start a blog. I was on Weight Watchers and had just recently started cooking more and I was so excited to discover how delicious and fun creating lightened up meals could be. I couldn't wait to share my findings, but I never imagined so many of you would find my site and cook along with me. This site is now such a huge and important part of my life and who I am that it's hard to remember what life was like before Emily Bites! This blog is my passion and your presence here makes it possible for me to keep living my dream. Again, thank you!
I'm so excited to start 2019 with some fresh new recipes, but it's also really fun for me to look back on how far my site has come. For the past few years I have recapped some readership, social media and posting stats, mostly for me to look back on. While I certainly don't blog for the numbers, it's fun to check in every year and see how much we've grown. Here we go again: Eight years. 618 posts. 57 million+ blog pageviews (according to Google Analytics). 144,000 of you like me on Facebook. 151,000 of you are my Instagram friends (my favorite!). 86,000 of you follow me on Pinterest. 24,600 of you subscribe to my recipes by email (if you haven't done this yet, subscribing by email is a great way to make sure you don't miss a recipe!).
I can't say this enough: It overwhelms me that so many of you out there read my blog, make my recipes and give me such great feedback, encouragement and inspiration. THANK YOU!! If you don't already and you want to follow my site on social, here are the links: Facebook, Instagram, Pinterest, Email Club.
Without further ado, on to the Reader's Choice Award Winners! The results are below and for each category I've pictured the winner and then listed the runner up along with my own vote (which didn't count in the standings, I'm just listing it for fun).
Best Breakfast Recipe: Sausage and Pepper Egg Bake (by a landslide, you loved this one!)
Runner Up: Bacon Sausage Egg and Cheese Braid
Emily's Pick: This one got ZERO votes, but I have to give a shout out to the Strawberry Avocado Smoothie that I drank every single day during the first half of my pregnancy. I craved it all the time! I also eat the Triple Berry Yogurt Bowl pretty often.
Runner Up: It was a tie between Buffalo Cauliflower Wings and Meatball Slider Bombs! Hotly contested category.
Emily's Pick: I loved both the Buffalo Cauliflower Wings and the Turkey Sausage Stuffed Mushrooms. My husband hates mushrooms so if I make those I get to eat all of them myself.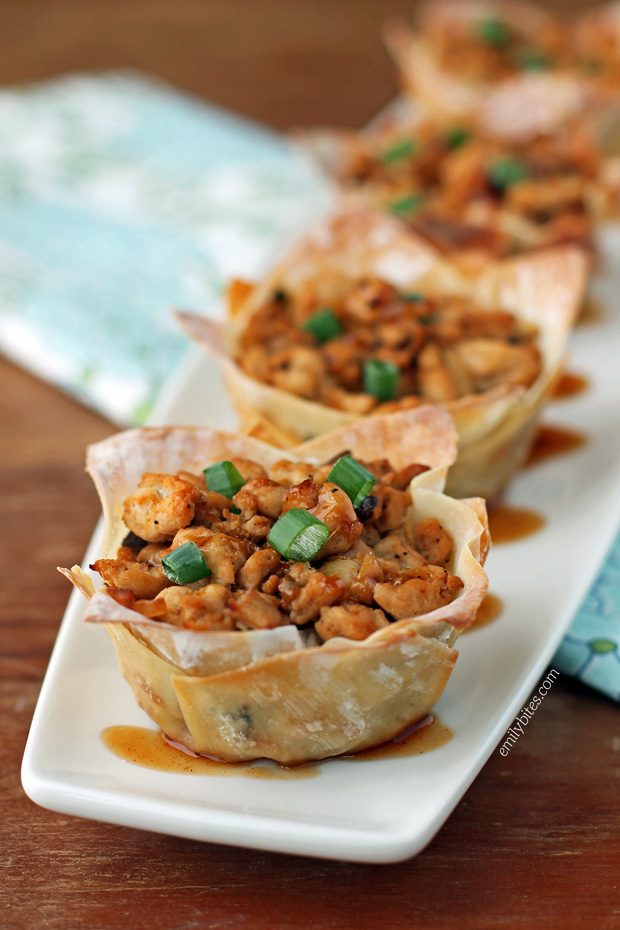 Runner Up: Buffalo Chicken Braid
Emily's Pick: I agree with the winner, I love those wonton cups!
Runner Up: Turkey and Pear Autumn Salad
Emily's Pick: I do love my mom's egg salad but I also want to shout out the Greek Chicken Quinoa Salad. Yum.
Runner Up: Roasted Corn Soup
Emily's Pick: I agree, that Creamy Chicken and Gnocchi Soup is amazing. I think my second place is the Black Bean Soup.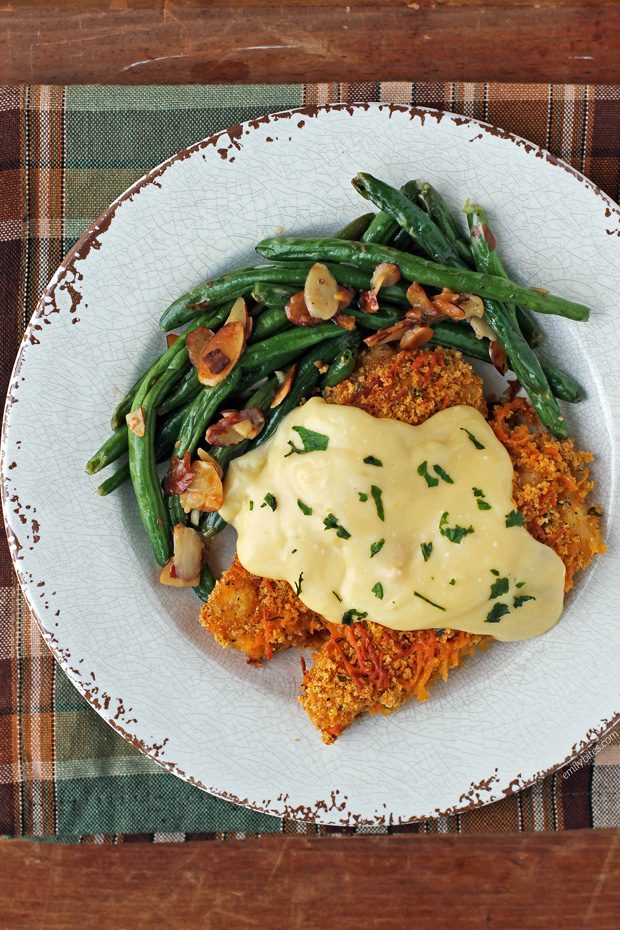 Runner Up: Chicken Teriyaki Stir Fry
Emily's Pick: So many good options here, but I have to pick the Stuffed Turkey Bundles with Gravy, because I LOVE GRAVY. I am also shocked that my Barbecue Bacon Wrapped Chicken Tenders did not win this category because I see people making/posting/LOVING that recipe on Instagram pretty much every single day!
Runner Up: It's a tie between Spanish Chicken and Rice Skillet and Easy Salsa Rice!
Emily's Pick: I knew the One-Pot Dirty Rice with Chicken and Sausage would win. AGREED. So good.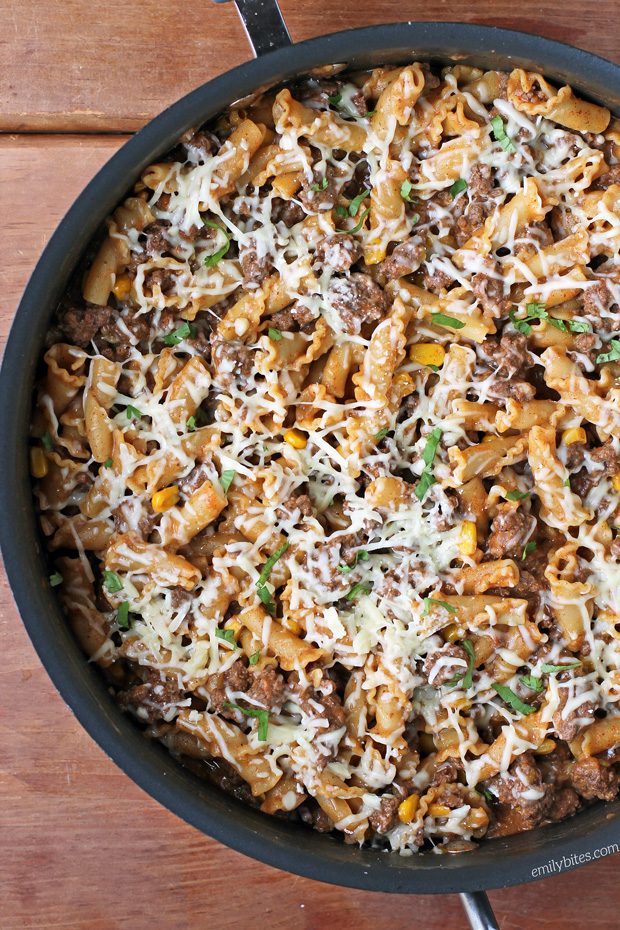 Runner Up: Turkey Sloppy Joe Pasta
Emily's Pick: I loved all of these, so I will agree with y'all. I could eat that Beef Enchilada Pasta Skillet all the time.
Runner Up: Bubble Up Chili Cheese Dog Casserole (you guys love bubble ups!)
Emily's Pick: I did really love the chicken and beans bubble up, so I will pick that, but tied with the Spinach and Chicken Phyllo Bake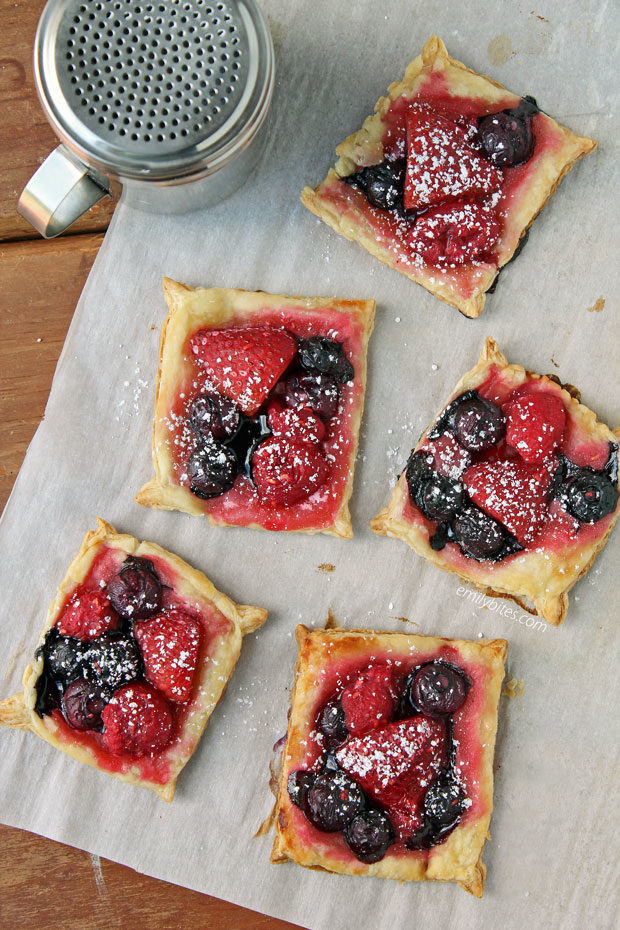 Runner Up: Baked Stuffed Apples
Emily's Pick: I love both of the ones you picked so I will just agree!
Thank you so much again for reading my blog, cooking my recipes and encouraging and inspiring me with your comments. I wish you all a happy and healthy 2019 and I hope you'll stay tuned for more lightened up comfort food recipes in the new year!